Photo exhibit depicts life in former Hawaii settlement for Hansen's disease patients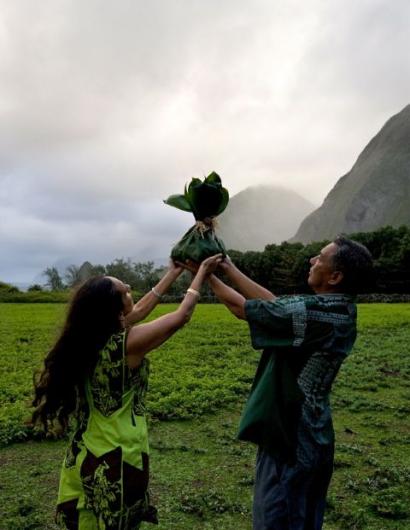 A photography exhibit detailing life at a former settlement for Hansen's disease (leprosy) patients at the Kalaupapa Peninsula of Molokai, is now on display at Maui Arts & Cultural Center in Kahului.
A Reflection of Kalaupapa — Past, Present and Future, with photography by Wayne Levin, features portraits of Kalaupapa patients and their families. Supplemented by archival documents and interviews, along with rarely seen historical photographs, Levin's work depicts residential life in this remote northern peninsula on Molokai. Levin began taking photographs at the former settlement in 1984 — about 15 years after the state's Hansen's disease segregation laws were lifted. At that time, many patients were continuing to reside at the former settlement site. Even today, a small group of Hansen's disease patients live there.
The exhibit is organized by Ka' Ohana O' Kalaupapa, a nonprofit dedicated to advocacy and remembrance of the estimated 8,000 patients banished to the leprosy settlement. A Reflection of Kalaupapa is supported by Hawaii Council for the Humanities, Office of Hawaiian Affairs, Hawaii Tourism Authority, Atherton Family Foundation, Fred Baldwin Memorial Foundation and IDEA (International Association for Integration, Dignity and Economic Advancement for people with Hansen's disease).
Maui Arts & Cultural Center's Schaefer International Gallery is open Wednesday through Sunday from 11 a.m. to 5 p.m., and before shows in Castle Theater. Admission is free. For more information, call gallery director Neida Bangerter at 808-243-4288 or click here.
A Reflection of Kalaupapa will be on display at the Maui Arts & Cultural Center through Sept. 30, 2012. A related exhibit, which focuses on the relationship between the people of Kalaupapa and the Kingdom of Hawaii's leaders, is on display in Iolani Palace (through December), near downtown Honolulu. For additional information about the exhibit at the palace, call (808) 236-9155.
Leprosy first surfaced in the Hawaiian Islands in the early 19th century. By that time, native Hawaiians had already been ravaged by other contagious diseases, ranging from measles to cholera, introduced to the long-isolated Islands in the late 1700s with the arrival of European explorers and other outsiders. By the mid-1800s, an estimated four-fifths of the pre-contact population of about 250,000 native Hawaiians had died from diseases for which they had little, if any, immunity.
In 1865, with the leprosy spreading at a rapid rate among native Hawaiians, King Kamehameha V instituted An Act to Prevent the Spread of Leprosy. As executed by the Board of Health, the law, by 1866, quarantined anyone diagnosed with the disease to a settlement at Kalaupapa Peninsula, virtually separated from the rest of Molokai by sheer 2,000-foot pali (cliffs).
The flat, five-square-mile triangular peninsula was created by a late-stage eruption occurring long after the north shore sea cliffs had majestically eroded to much the way they appear today, all but securing its isolation. With today's access to Kalaupapa (Hawaiian for "flat leaf") limited to small plane, boat, or a trek down the pali's narrow 2.9-mile trail — complete with 26 switchbacks — the feeling of isolation persists.
From 1866 until 1969, the State Board of Health's patient segregation laws were in effect. In some cases, patients were accompanied to the settlement by healthy relatives or friends known as nā kōkua (in Hawaiian, "the helpers"). The exiled were initially relegated to Kalawao, on the peninsula's windward side. The settlement was later relocated to Kalaupapa, situated on the more arid leeward side of the peninsula. Both sites are now part of Kalaupapa National Historical Park.
More details about life in the settlement is included in a HAWAII Magazine story (September/October 2012) about Mother Marianne Cope, who served the exiled patients in the late 1800s and early 1900s. The Roman Catholic sister will be canonized as Hawaii's second saint on Oct. 21, 2012.