PHOTO: The Black Pearl arrives in Hawaii for Disney's "Pirates of the Caribbean" 4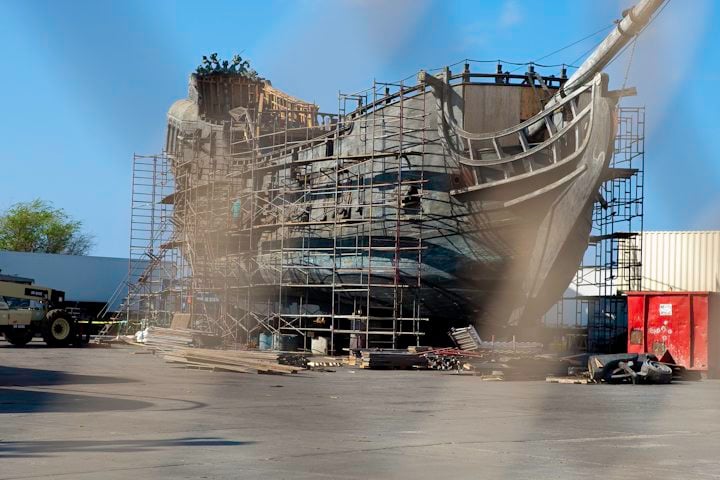 Here she is, matey! The Black Pearl.
The only lead star in Walt Disney Pictures' fourth Pirates of the Caribbean film likely working without a multi-million-dollar paycheck quietly cruised into Hawaii waters last week to await her next big-screen close-up in 2011.
Think she's looking a bit worse for wear in our photo above? The ship is actually in dry dock at West Oahu's Kalaeloa Barbers Point Harbor, where a multi-million-dollar makeover over the next few months will transform her—with some digital effects assistance—into the Black Pearl known by millions of moviegoers around the world (pictured, next page).
Walt Disney Pictures and Hawaii Gov. Linda Lingle announced last month that the latest film in the Pirates of the Caribbean adventure-comedy franchise, On Stranger Tides, would film on Kauai and Oahu this summer. Despite a lack of sails, Jolly Roger skull-and-crossbones flag or Johnny Depp in the guise of Captain Jack Sparrow on board, the ship's presence at Kalaeloa has proven as tempting as buried treasure for excited Pirates fans. Dozens of fans have flocked to the harbor each day since the Black Pearl's Feb. 14 arrival to try to see the ship up close.
This would be all well and good if the Black Pearl were on public display. It's not. Its location is actually a very private dry dock protected by around-the-clock security personnel who even warned our intrepid photographer David Croxford against getting too close for this photo. He snapped the photo through a chain-link fence.
But how do you hide a 200-ton, 130-foot, tri-mast pirate ship that, when actually docked in Kalaeloa Harbor, is clearly visible from neighboring Ko Olina Resort & Marina—also the site of Walt Disney Parks & Resorts' under-construction Aulani Resort & Spa? The answer: You don't. And you can't, really.
The Black Pearl that's here for On Stranger Tides isn't actually a real sailing ship. It's a tall ship set constructed over the hull of another vessel, the Sunset, which once earned its keep as a service ship for Gulf of Mexico oil platforms. Fully motorized—and obviously able to handle its recent journey across the Pacific from California to Hawaii like a champ—the ship set was also used in the second and third Pirates flicks Dead Man's Chest and At World's End.
The Pirates of the Caribbean: On Stranger Tides production is expected to generate an estimated $85 million in total spending while filming in Hawaii.
On board again are Depp as Captain Jack Sparrow, Geoffrey Rush as Sparrow nemesis Captain Hector Barbossa, blockbuster producer Jerry Bruckheimer and screenwriters Ted Elliott and Terry Rossio. New to the Pirates cast and crew for On Stranger Tides are director Rob Marshall (Chicago, Nine) and actors Penelope Cruz and Ian McShane (Deadwood).
On Stranger Tides has been slated for a May 20, 2011, release. Kauai and Oahu filming locations have not been announced.