Picnic On The Pier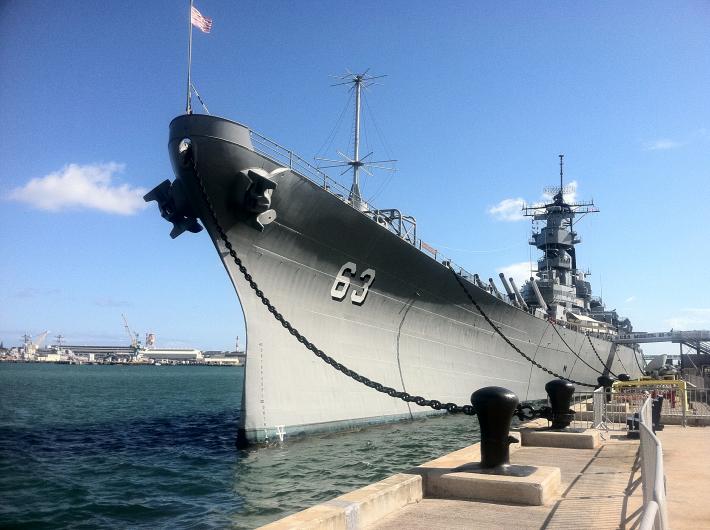 The Mighty Mo will come to life this summer with a limited series of fun picnic style events. Guests will experience the sun-filled "beach" tradition, while enjoying light entertainment, limited tours and spectacular views from Pier Foxtrot 5, where the battleship is berthed. Attendees will be encouraged to BYOFD (bring your own food and drinks) to enjoy a picnic style evening on the pier and Fantail of the historical USS Missouri.
Their first event kicks off on Friday, June 5 followed by the popular July 4 picnic with fireworks!
These events are open to public.
Ticket Information:
Adults: $10 pre-sale / $15 door
Kids (ages 4-12): $5 pre-sale / $10 door
Table pre-sale only: $100 includes admission for 8, reserved table in prime location and Mighty Mo swag
Free shuttle service will be available for guests without base access from the Pearl Harbor Visitor Center.
For more information or to purchase your tickets, visit: www.ussmissouri.org/picnic.
Since opening in January 1999, the Battleship Missouri Memorial has attracted more than six-million visitors from around the world with a fascinating tour experience showcasing the USS Missouri's unique place in history. Located a mere ship's length from the USS Arizona Memorial, the Mighty Mo completes a historical visitor experience that begins with the "day of infamy" and sinking of the USS Arizona in Pearl Harbor on December 7, 1941, and ends with Imperial Japan's surrender aboard the USS Missouri in Tokyo Bay on September 2, 1945.
The USS Missouri had an astounding career over five decades and three wars – World War II, the Korean War, and Desert Storm – after which it was decommissioned and donated to the USS Missouri Memorial Association, Inc., a 501(c)(3) non-profit organization. The Association operates the Battleship Missouri Memorial as a historic attraction and oversees her care and preservation with the support of visitors, memberships, grants, and donations.
The Battleship Missouri Memorial is open daily from 8 a.m. to 5 p.m. during summer (8 a.m. to 4 p.m. the rest of the year). General admission, which includes choice of an optional tour, is $25 per adult and $13 per child (4-12). Military, kamaaina (local resident) and school group pricing is available. For information or reservations, call (toll-free) 1-877-644-4896 or visit USSMissouri.org.