Play ball! Hawaii Winter Baseball begins 8th season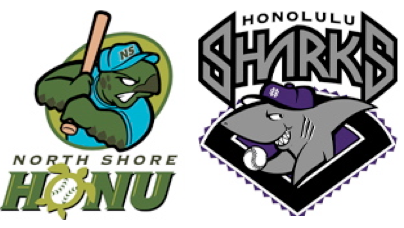 Hawaii loves baseball, but it doesn't have a Major League Baseball team.
Actually, it doesn't have any professional sports teams, that is except for the Hawaii Winter Baseball League. This winter league is always stocked with up-and-coming players from the Major League's farm teams and from Japan's professional leagues.
The eighth season of HWB league play begins Saturday on Oahu, with players from 23 Major League teams, 6 Nippon Professional Baseball teams and the Korea Baseball Organization.
The league's four teams—the Waikiki Beach Boys, the Honolulu Sharks, the North Shore Honu, the West Oahu Cane Fires (uh-huh, we dig their names, too)—will play a two-month season of games leading up to a Nov. 16 championship.
This year's HWB team rosters includes five first-round selections from the 2008 Major League draft—catcher Buster Posey (San Francisco Giants), first baseman Yonder Alonso (Cincinnati Reds), catcher Jason Castro (Houston Astros), shortstop/outfielder Reese Havens (New York Mets) and pitcher Jeremy Bleich (New York Yankees).
HWB has a history of hosting Major League players before they made it big. Famous HWB alumni include Ichiro Suzuki, Jason Giambi, Alex Ochoa and Benny Agbayani. (Click here for a more complete HWB history).
Games are played at the University of Hawaii-Manoa campus's Les Murakami Stadium and Hans L'Orange Field in Waipahu. This weekend's match-ups pit the Sharks against the Beach Boys at Les Murakami Stadium, and the Honu against the Cane Fires at Hans L'Orange Park.Games start at 7 p.m. Saturday and 1 p.m. Sunday, at both venues.
We liked HWB's spirited match-ups, cheap ticket prices ($3 to $6 per game) and kid-friendly environment so much, we named it "best family activity" in our recent HAWAII Magazine 2008 "Best of Hawaii" cover feature.

For a complete schedule of this season's games and more information on Hawaii Winter Baseball click here. And since I know you're grooving on the above logos and are about to e-mail me, here's a link to HWB's logo wear page.