Poi for Lunch? Waiahole Poi Factory is the Perfect Place to Stop
The popular Windward Oahu fixture serves up lunches focused on the Hawaiian staple.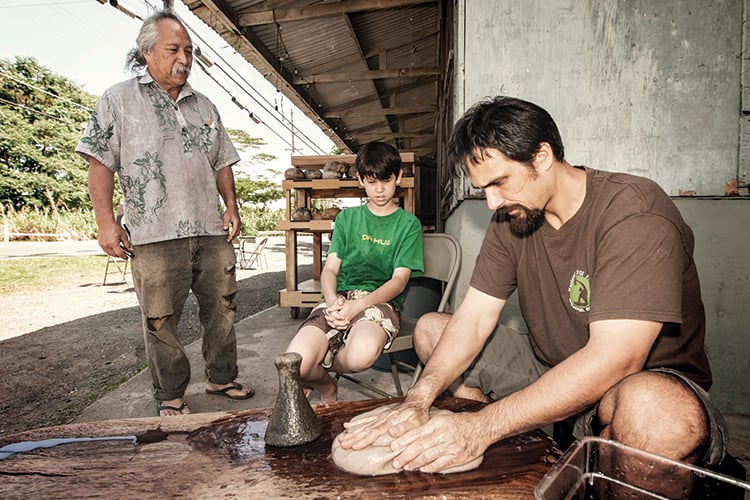 If you've driven through Windward Oahu, you've probably seen the rustic fixture that is the Waiahole Poi Factory, surrounded by greenery with the stunning Koolau mountains in the background and Mokolii (aka Chinaman's Hat) just off the coast.
But have you stopped there for lunch?
The spot, which sells fresh poi in bulk and by the cup, as well as delicious traditional Hawaiian foods such as laulau, kalua pork and squid luau, used to be open only a few days a week. But since they started opening for lunch, more and more people are discovering that it's the perfect place to stop.
In 1971, Hoe explains, the poi factory was closing down.
"My parents got the lease and ran it as an art gallery and did traditional Hawaiian instruments. Gradually, we returned to food. We are pounding poi on the poi board, traditional hand-pounded poi, paiai. You add the water mostly on the stone [pounder] in the beginning, otherwise the poi will be really sticky and grab the stone."
"Later in the process, you add water to the poi. Some of the taro is from Waiahole Valley, some from down the road in Heeia. Poi pounding is in a real revival. I learned from my dad and other people. My son is getting into it, too. He's excited to learn it."
Waiahole Poi Factory, 11 a.m. to 5 p.m. 48-140 Kamehameha Hwy., (808) 239-2222, waiaholepoifactory.com.  Visit Waiahole Poi Factory on Facebook for details on events.