Postal Service celebrates Hawaii's iconic aloha shirts with new postcard stamps set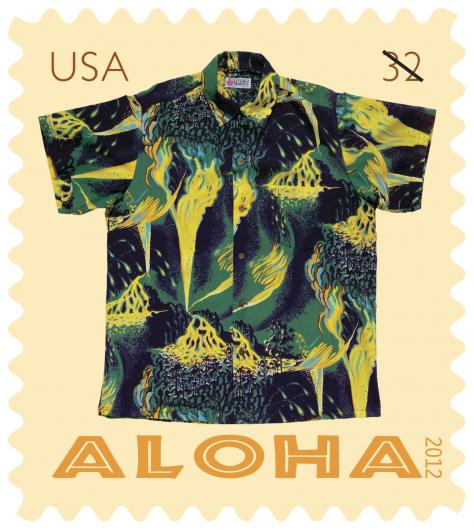 U.S. Postal Service is saluting Hawaii's most enduring symbol of the relaxed, laid-back, and tropical lifestyle: the aloha shirt.
Of the five vintage-shirt stamps issued this week, two feature surfers and boards. The other three depict Kilauea volcano (pictured, right), bird of paradise flowers, and fossil fish, shellfish and starfish, respectively.
Manufacturer Alfred Shaheen created four of the shirts depicted on the stamps. The red shirt showing surfers and a large wave (pictured, below) was manufactured by Malihini. The stamps themselves are now available for purchase on at Post Offices nationwide and by phone, 800-782-6724.
During the mid-1960s "Aloha Friday" — the precursor to casual Fridays — got under way in the Islands, with businessmen wearing colorful aloha shirts to work rather than suits and ties. By the end of that decade, the wearing of aloha shirts for business dress any day of the week was widely accepted — in Hawaii, anyway.
The exact origin of the aloha shirt is a bit of a mystery. According to the Hawaii Visitors and Convention Bureau, some say "roots can be traced to the kapa cloth found throughout the Pacific, made from pounding and dyeing tree bark. Others claim it was inspired by the tail-out shirts of Filipino immigrants, or elegant kimono cloth from Japan, or the vivid floral prints of Tahiti."
The bureau also notes this mid-20th century fashion news tied to the shirt.
"In 1946, the Honolulu Chamber of commerce appropriated $1,000 to study suitable designs for clothing businessmen could more comfortably wear in Hawaii's tropical climate. A resolution was passed to allow open-necked sports shirts during the hottest months from June through October. The aloha shirt was specifically excluded because of loud patterns. The following year during the annual Aloha Week celebration, an exception was made to allow the wearing of casual aloha attire — the more colorful the better — for the entire week." Soon after, visitors and residents alike were walking around in "wearable postcards awash with coconut trees, surfers, outrigger canoes, hula girls, and endless varieties of colorful tropical flowers, birds, and fish." 


For additional information about the U.S. Postal Service's aloha shirt stamps, click here.