POW! WOW! Hawaii street art festival ready for fifth year of coloring Honolulu's Kakaako district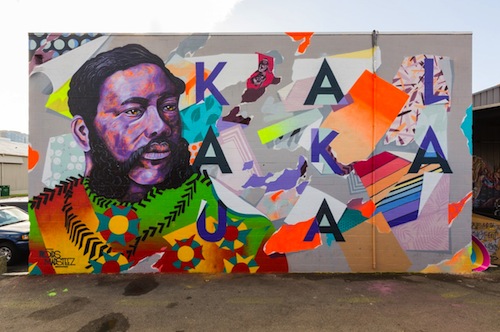 If you've driven through or walked the streets of the urban Honolulu district of Kakaako in recent years, you've probably seen the colorful work of POW! WOW! Hawaii.
For the last five years, the collective of Hawaii-based artists and art-minded individuals has set aside a week each February to craft wall-sized murals and street art on the once mono-colored walls of the light-industrial, commercial district between Ala Moana Shopping Center and downtown Honolulu. In doing so, POW! WOW! Hawaii has played a large role in the revitalization of the area, which has—thanks to other pioneering restaurants, bars, retailers and entities—become a gathering place and burgeoning residential area, also hosting night markets and food truck festivals.
POW! WOW! Hawaii was voted "Best Public Art" and Kakaako "Best Up-and-Coming Neighborhood" by HAWAII Magazine's editorial and production staff in the magazine's 2013 "Best of Hawaii" issue.
POW! WOW! Hawaii's fifth-annual street art festival kicks off a week of mural painting, music, art lectures, gallery shows, live instillations, after hours events and more mural painting on Sat., Feb. 8 (see below). The celebration then runs near daily through Feb. 16 at various Kaakako sites, bringing more than 100 international and local artists together to create murals and other forms of art. You can watch mural painting on multiple buildings and facades begin in Kakaako on Feb. 10.
Originally founded in Hong Kong several years ago, the concept of POW! WOW! was brought to the Islands to offer a more hands-on approach to art with major community involvement.
Highlights of this year's POW! WOW! Hawaii week include:
• "POW! WOW! Exploring the New Contemporary Movement" Opening Exhibition
6-10 p.m. Feb. 8 at the Honolulu Museum of Art School, 111 Victoria St.
Curated by Andrew Hosner of Thinkspace Gallery, Culver City, Calif, the show will feature new contemporary art from dozens of artists. Exhibition continues through Feb. 15.
• Pow! Wow! Hawaii mural painting begins
Feb. 10 through the 15 at various locations in Kakaako
Visit Pow!Wow!Hawaii's website or follow its Facebook, Twitter and Instagram accounts for updates and locations. Free and open to the public.
• Pow! Wow! Hawaii Block Party Finale
6 p.m.-midnight Feb. 15 on Auahi Street in Kakaako
This event is paired with Honolulu Night Market, spans two city blocks near Auahi Street and will feature live art and music performances. Free and open to the public.