Pray for (monster) surf! Holding period begins Dec. 1 for 2013-14 Eddie Aikau big-wave surfing contest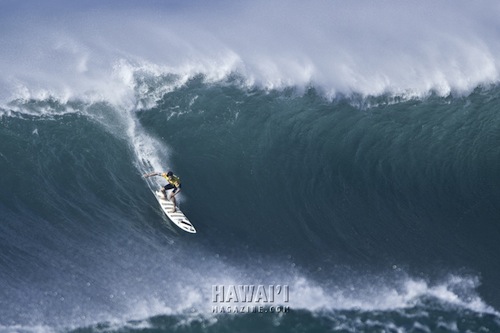 Start praying for big waves, oh, right about now.
The holding period for the Quiksilver In Memory of Eddie Aikau surfing contest begins on Sun., Dec. 1 at Waimea Bay on Oahu's famed North Shore.
The world's longest-running and most prestigious big-wave invitational, "The Eddie," as the contest is affectionately nicknamed, honors legendary Hawaiian surfer and North Shore lifeguard, Eddie Aikau. Aikau was a member of the crew of Hawaiian long-distance voyaging canoe Hokulea's 1976 second voyage, bound for Tahiti. Six hours into the voyage, high winds and turbulent seas capsized Hokulea 12 miles south of Molokai. With no rescue in sight for the crew, Aikau volunteered to paddle a surfboard to Lanai, about 10 miles away, for help. The crew was rescued hours later, but the 31-year-old waterman was never seen again after paddling off.
The invitation-only Eddie competition annually lures the world's top surfers to compete for the prestigious title. The one-day event requires consistent open-ocean waves throughout the day measuring in excess of 20 feet. That kind of surf generally transforms into 30 to 40 foot monster waves once they reach Waimea Bay. No big waves. No contest.
No surprise, then, that The Eddie has only been staged eight times in its 27-year history. The most recent competition was held on Dec. 8, 2009, with Californian Greg Long taking the title. (Click here for HawaiiMagazine.com photos from the 2009 contest.)
Surfers are also required to paddle out into the massive surf on their own, which means no tow-in assistance from jet skis to move them into perfect riding positions. The Eddie is also the only big wave invitational sanctioned by the Association of Professional Surfers (ASP), the governing body of professional surfing.
The holding period for this year's Eddie ends on Feb. 28, 2014.
Opening ceremonies of 2011-12 Quiksilver in Memory of Eddie Aikau, Waimea Bay, Oahu. Photo: Quicksilver in Memory of Eddie Aikau
.
The 2013-14 Quiksilver in Memory of Eddie Aikau opening ceremony is set for 3 p.m. on Thursday, Dec. 5 at Waimea Bay. Surfers and members of the Aikau family will paddle out into the waters of Waimea bay, form a circle, join hands and pay tribute to the late big-wave surfer.
Among the 2013-14 contest's 28 international invitees are Kelly Slater (Florida), Bruce Irons (Hawaii), Jamie O'Brien (Hawaii), Ian Walsh (Hawaii), Garrett McNamara (Hawaii), Makua Rothman (Hawaii), John John Florence (Hawaii), Tom Carroll (Australia), Shane Dorian (Hawaii) and Sunny Garcia (Hawaii). There is only one newcomer on the invitee list: the North Shore of Oahu's Aaron Gold, 31.
"It's hard to put into words," said Gold, who started surfing Waimea Bay when he was 13, in a news release. "My whole life, growing up as a kid here in Hawaii, that's the ultimate prize, to be invited to the Eddie. When you get that invite, it's like you've accomplished what you set out for. Crazy dream. Dream come true, for sure."
Should Eddie competition begin, expect all the action of the day to be covered live and streaming online. Follow HawaiiMagazine.com on Facebook and Twitter for updates on the start of competition.
Also continuing simultaneously on Oahu's North Shore, through Dec. 20, is the 31st annual Vans Triple Crown of Surfing, the surf world's most prestigious annual contest series.