President Obama and family return to Hawaii for the holidays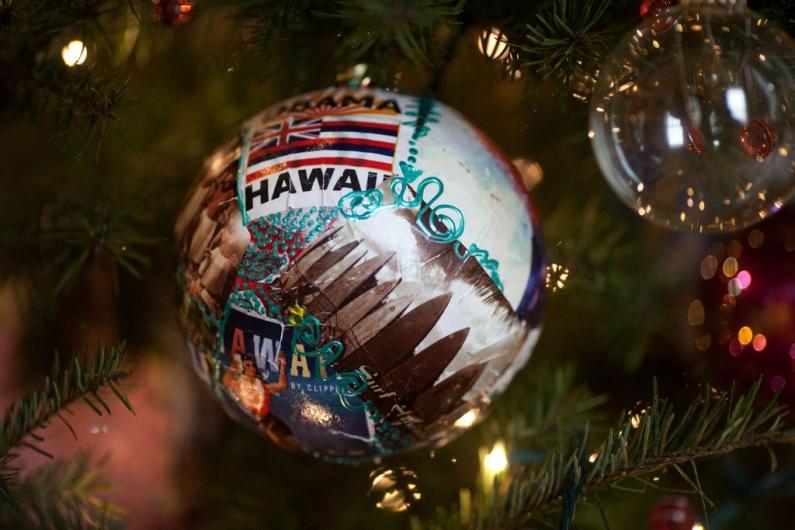 Following tradition, it's going to be a warm holiday season for President Barack Obama and family.
The Obama's first Christmas as the First Family won't be spent in the White House, or in Washington, D.C. Instead, they'll be celebrating Christmas and ringing in the New Year in the same place they have for many years: right here in President Obama's home state of Hawaii.
The President, First Lady Michelle Obama and daughters Sasha and Malia are scheduled to depart Washington, D.C., on Thursday morning, and arrive in Honolulu, Oahu, in time for Christmas Eve. The First Family's long-rumored holiday season Hawaii vacation was delayed a day after the President opted to remain in the nation's capitol until the U.S. Senate had voted on his administration's health care plan.
While still president-elect last year, Obama and his family spent the holidays on Oahu's windward side in a five-bedroom private home on a peninsula overlooking Kailua Beach. The Obamas are expected to stay at the same multi-million dollar home on this trip, as well.
Holiday season vacations on Oahu have been a tradition for the Obamas for a number of years. The President was raised in Honolulu by his grandparents before moving to the Mainland U.S. for his college studies. Obama would return regularly over the years, bringing his family for visits with his grandmother, Madelyn Dunham—who passed away just before Obama was elected in 2008—and his half-sister Maya Soetoro-Ng and family.
The Obamas missed their usual Hawaii holiday vacation in 2007 because of the intense Presidential election campaign, but visited twice as a family in 2008.
"Yes, we're doing the same things we usually do," the First Lady told patients at Children's National Medical Center in Washington, D.C., about this year's Hawaii vacation, during a visit yesterday. "Every year, ever since the kids were born, and even before, we go to Hawaii, because that's where the President is from. So we go with a group of friends."
Obama's Press Secretary Robert Gibbs said yesterday that the President does not have any public events scheduled for his time in Hawaii. Gibbs only comment on Obama's Hawaii schedule was that he would "probably take the girls out for shaved ice, they may go do various and sundry things in and around Hawaii."
Obama rarely left his Kailua rental during the family's 2008 Christmas and New Year's vacation. Besides daily morning workouts at nearby Marine Corps Base Hawaii with the First Lady, the President took in a few rounds at Olomana Golf Links, accompanied his daughters on a shave ice outing and visit to Sea Life Park. He also attended a private memorial service for his grandmother, and scattered her ashes into the surf at Lanai Lookout on Oahu's south shore.
The White House has not officially announced whether the Obama family will be staying on Oahu through New Year's Day as they did last year. But several national media sources have reported that the First Family will be here for 10 days, departing on Jan. 2.