Prince Lot Hula Festival set for Sat., July 16 in Honolulu's Moanalua Gardens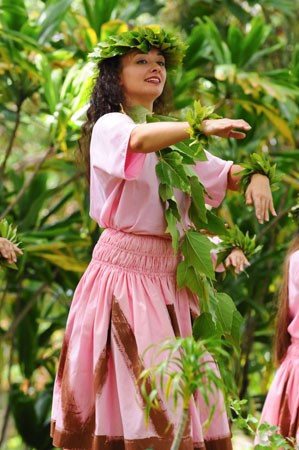 The 34th annual Prince Lot Hula Festival — Hawaii's oldest and largest non-competitive hula celebration held each year to honor Prince Lot Kapuaiwa, who revived the once-banned hula in the Oahu area — is set for 9 a.m. to 4 p.m. on Sat., July 16.

The event will feature both hula kahiko (ancient) hula and chant, and auana (modern) hula performances. Dancers will perform on one of the few remaining pa hula (hula mounds) in Hawaii.
In a press release issued by the event's organizers, Moanalua Gardens Foundation, Alika Jamile , the nonprofit's executive director and president said: "Our theme, 'Ho omalamalama, E Ala Mai…Enlighten, Rise!' signifies the importance of Kamananui (Moanalua) Valley as a revered wahi pana (sacred place) where people gathered to learn and practice the oli (chants) of ancient times." He added, "Our opening ceremonies will include a special tribute to Prince Lot by the Royal Order of Kamehameha."
The festival's namesake, King Kamehameha V, Prince Lot — the last of the direct descendants of King Kamehameha the Great to rule the Kingdom of Hawaii — had a summer cottage can be found on the grounds in the Honolulu area. The monarch's rule began in 1863 and ended in 1872.
For a complete festival performance schedule, click here. There is no charge to attend the event, however a "button donation" to foundation is requested to raise funds to support the festival. Limited edition T-shirts will also be sold as a fundraising item. Local food and refreshments will be available for purchase throughout the day.

Festivalgoers are encouraged to bring beach chairs and mats and enjoy the fun, food and festivities under the monkeypod trees of Moanalua Gardens.
One of the monkeypods — a large tree, with an umbrella-shaped canopy — is dubbed "Hitachi" tree because Japanese electronics manufacturer Hitachi, Ltd. has used the tree as a corporate symbol since 1973. It grows in the middle of the 24-acre gardens. The tree is registered as an "exceptional tree" by the City and County of Honolulu and cannot be removed or destroyed without city council approval
For more information about Moanalua Gardens, call (808) 839-5334 or click here.