Protecting Kauai's unique species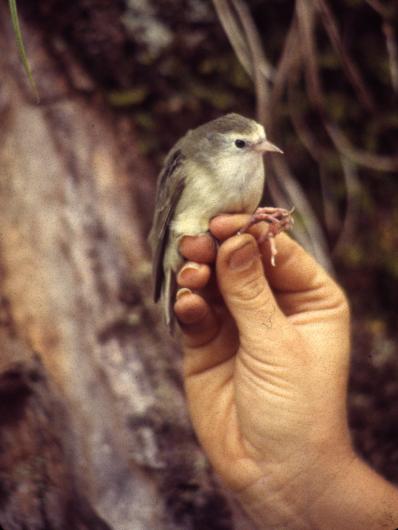 Secretary of the Interior Dirk Kempthorne announced this week a proposal to add 48 species found exclusively on Kauai to the federal endangered species list; among them 45 plants, two birds (the akikiki, pictured, and akekee) and a Hawaiian picture-wing fly.
This is a new approach—developed by the U.S. Fish and Wildlife Service. It is ecosystem-based, designed to protect multiple species which live in shared ecosystems and experience common threats.
"By addressing the common threats that occur across these ecosystems, we can more effectively focus our conservation efforts," said Kempthorne.
Kauai, the oldest island of the Hawaiian Islands, has long been recognized for its biodiversity. It's believed to house the greatest diversity of plants in the state—if not the country. It makes sense to apply these widespread precautions.
Species which live in a limited geographic area like an island are more vulnerable to extinction.
Numerous environmental factors have threatened Kauai's species. Feral ungulates such as pigs and goats, nonnative plants and natural occurrences such as fire, landslides and flooding have all interfered with the species' natural habitats.
Over the next several years, the U.S. Fish and Wildlife Service plans to use a similar ecosystem-based approach to saving species on the other Hawaiian Islands.
For more information, click here or call (808) 792-9400.