Puuhonua O Honaunau National Historic Park annual Cultural Festival set for this weekend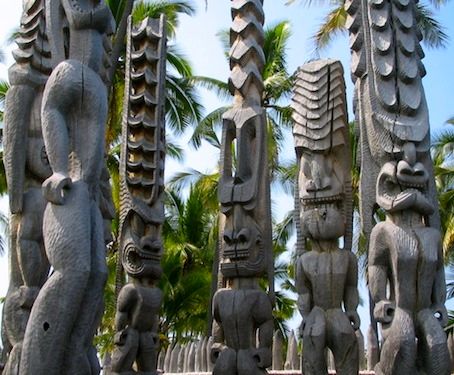 While most of us today would probably choose modern civilization over socially rigid ancient Hawaii, we're still intrigued by the cultural history of tropical paradise. This year's annual Puuhonua O Honaunau Cultural Festival, happening this weekend, offers a step back in time to a Hawaii of the past.
Staged at Puuhonua O Honaunau National Historic Park, the fest is set for 9 a.m. to 3 p.m. on Saturday and Sunday. Among the highlights: outrigger canoe rides in Honaunau Bay on Saturday; Hawaiian food tasting on Sunday; and craft demonstrations, such as haku lei flower weaving and kapa fabric beating throughout the weekend. Cultural practitioners dressed in traditional Hawaiian attire will be around to answer questions and talk story with visitors about Puuhonua O Honaunau, which spans across 420 acres and more than 400 years of Hawaiian history.
The festival will feature food demonstrations along with samples of traditional Hawaiian dishes. Visitors are invited to bring their own snacks and drinks, too. Picnic tables and charcoal grills are available for public use, though park officials ask that visitors leave tarps and umbrellas at home.
Visitors are also welcome to explore Puuhonua's grounds by way of self-guided walking tours and optional cellphone audio. Visit the ancient Royal Grounds once reserved for the ali'i, (ruling class), take a two-mile hike through the native fauna to Kiilae Village, or head down to the shallow waters of Keoneele cove to check out sunbathing honu (turtles).
Located on the Southern Kona coast, Puuhonua was once a sanctuary for defeated warriors, noncombatants, and violators of the kapu (sacred laws). Puuhonua, which translates to "place of refuge," served as a safe haven for Hawaiians who would otherwise face ruin. The ruling class ali'i also set up homes and sacred ceremonial grounds in the area, which are today referred to as the Royal Grounds. Today, Puuhonua is one of Kona's best preserved sacred sites, with a rich cultural heritage and fascinating past.
The park is opens at 7 a.m. and closes at sunset. Entrance fees will be waived for the Festival. For more information about the Cultural Festival or Puuhonua O Honaunau National Historic Park, click here.