Q&A: 17-year-old World Fireknife champ Hale Motuapuaka talks fireknife dancing
A six-time champion in the junior division, Motuapuaka has been fireknife dancing since he was 3 years old.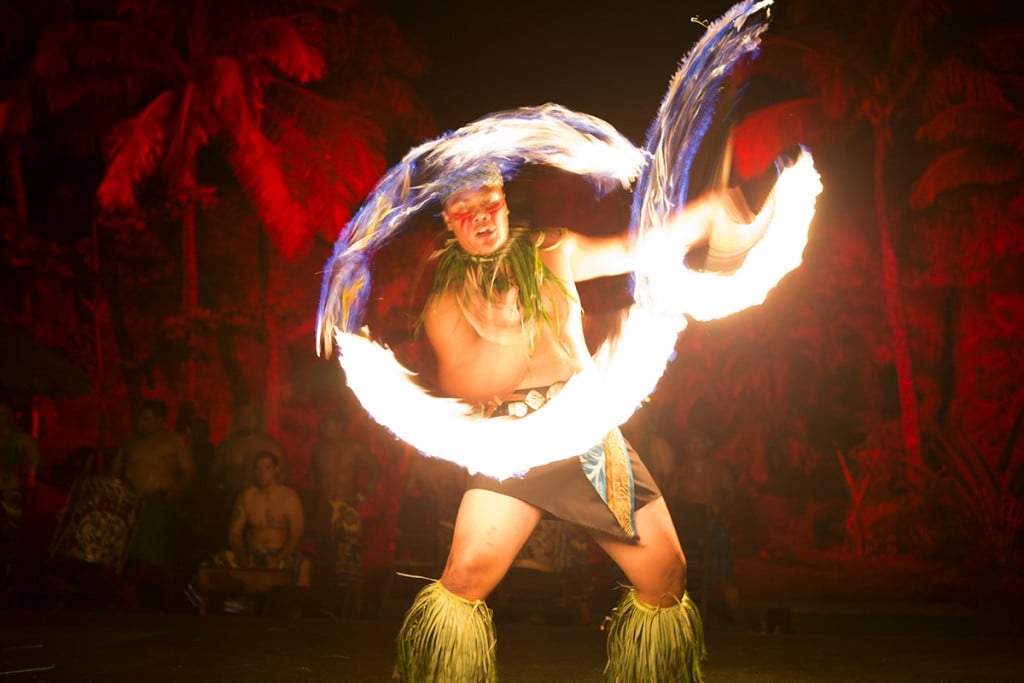 Hale Motuapuaka is an overachiever. Not only does the teenager, of Tongan descent (with Samoan ties, he says), play football for Punahou High School as a defensive tackle, he also plays the drums, ukulele, guitar and bass. But his primary passion—something he's been doing since he was just 3 years old—is fireknife dancing.
A six-time World Fireknife Champion in the junior division, Motuapuaka just turned 17, and this year is his first time in the men's division, competing against big names in the fireknife world, including some of his own mentors.
A quick explanation of fireknife dancing: It started as an old Samoan tradition without fire, called ailao afi, and it was originally performed as a display of victory in warfare. In more modern times after tribal warfare died out, the knife dance became an important part of honoring special visitors, where ornately decorated dancers spinning knives, or nifo oti, would lead the taalolo, or gift-giving processions.
Over the years, dancers modernized the art form even more, developing their own styles of twirling and tricks. In 1946, a young Samoan entertainer in San Francisco named Freddie Letuli added flaming pads to either end of his nifo oti, upping the drama and level of skill required and inventing fireknife as it exists today.
The knives are sharp, the fire is real. It's an art that requires great coordination, concentration and timing. But if you think fireknife dancing isn't an appropriate hobby for a young child, Motuapuaka disagrees, and his mother Lisa is incredibly proud and supportive of him. In fact, many of the dancers start when they're young boys. When he was 5, he took third place at a competition in Anaheim, California, and he won his first competition at age 8. He hasn't missed a single World Fireknife Competition at the Polynesian Cultural Center since 2004.
We got a chance to talk to Motuapuaka about what it feels like to be on stage with the drums pounding and the knives flaming in his hands, and about his inspirations and what fireknife means to him.
How did you first begin fireknife dancing?
I was raised around the Polynesian shows. My auntie owned the Hawaii Hut show in Waikiki. I knew even back then, though, that I wanted to be a fireknife dancer.
What does it mean to you culturally?
Compared to when I first started competing, my understanding of fireknife has grown so much. My reason for dancing, now, is to perpetuate the culture and keep it going, and to inspire future generations, just like how I was inspired when I first started competing. I would always look up to them. Now I want to keep the fire burning.
How does it feel when you're up there competing?
When you get up on that stage, you can literally feel the drums shaking the stage. You feel all pumped and your adrenaline is running. Your mindset changes and you just go. You enjoy what you do. The drumming is what really pumps me up.
How often do you practice?
I always need to practice, to make sure I do my best and it becomes muscle memory. When I was younger, I would practice every day for 1 1/2 to three hours a day, but when I got busier with school, I would use performing at luau to try new tricks and routines. I usually perform two or three nights a week.
Do you have a signature style?
I try to make up my own moves but I'm not sure there's anything I could call my signature. I've been complimented on my showmanship. You're supposed to portray yourself as a warrior, so when I'm up there, I do the screaming, the faces, everything.
What was a memorable moment while you were competing?
There's one instance last week, when I competed in a Tihati Productions show on Maui. I was one of the final three competitors on the last night, and it was during a storm. The luau was originally outside, but because of the heavy rain, they moved it into the ballroom. The fireknife dancers stayed outside though. It was pouring rain and the three of us finalists had to compete in the storm. That was definitely memorable for me.
Have you ever injured yourself?
Fortunately, I've never had super big injuries, but one time I was performing in Waikiki and my fireknife got caught in my costume. I still have a pretty big scar on the side of my hip from that. I was about 15 at the time.
Who are some of your inspirations?
When I was 7, I trained with Uncle Falaniko Vitale, [a student of Freddie Letuli, and a well-respected dancer in Waikiki who performed with Don Ho and others] He was a big mentor of mine.
When I was 11, I was trained by the five-time World Fireknife Champion Mikaele Oloa, who competed in the men's division when he was 14 or 15. He took fire dancing to another level. [Editor's note: Oloa is the 2016 World Fireknife Champion, and a competitor this year in the same division as Motuapuaka.] Before, fireknife was old school, but he made it contemporary and more acrobatic, with more cool throws and moves.
Because fireknife is most impressive when you can see how fast the knives are twirling and hear the drums and the whoosh of the flames, here's a video of some of the best junior division contestants (see if you can spot Motuapuaka) in the 2015 World Fireknife Competition.
---
For more information and to watch the 2017 World Fireknife Competition streamed live Thursday, May 11 to Saturday, May 13, visit Polynesian Cultural Center's World Fireknife website