Q&A: Aloha Beer Co. Brewmaster David Campbell
The veteran brewer is bringing Hawaii-made beer back to Honolulu's Kakaako district.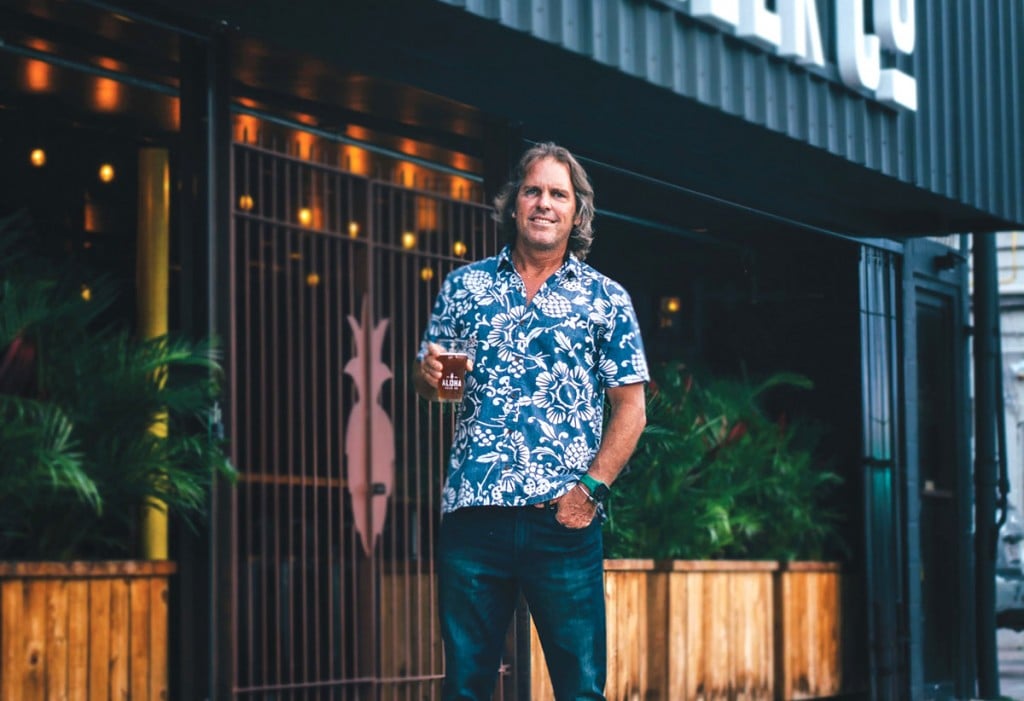 It was no accident that David Campbell, veteran brewmaster, opened Aloha Beer Co. two years ago on Queen Street in Kakaako. This happens to be Honolulu's historic brewing district, home to Hawaii's burgeoning beer industry from 1900 to the late 1960s. Aloha Beer's brewery is down the street from the Historic Honolulu Brewing and Malting Co. building and blocks from the former Primo Cooke Street brewery. Today, this area has seen a resurgence of local breweries, with four others within walking distance of each other. Campbell, who grew up on Oahu and started homebrewing when he was a senior in high school, launched Aloha Beer Co. with the intent of creating an environment to experience beer—there are no TVs in the tap room, all the food on the menu is shareable and there's even a speakeasy upstairs (complete with a secret entrance). And this year he's expanding into the space next door with an outdoor beer garden and pizzeria—and yet another reason to venture into Kakaako.
Hawaii definitely owns the market on gorgeous beaches. But craft beer?
"The craft beer scene in Hawaii is established and growing. We have reached a critical mass in terms of numbers of breweries. I mean, the draw for Hawaii is obviously the beach, but the beer scene is a bonus. Twenty-five years ago, you had to convince restaurants to try local beer, explain to them why it costs more. Those days are long gone. People get what it is, they
get the product, and there's a demand for local beer. And beer should be served as close to where it's brewed. That's the way it used to be, and that's the way it should be. When in Rome, drink Italian beer, right?"
What's popular in craft beer right now?
"Across the whole U.S., IPAs are huge. It's become the default [style of beer]. Just when craft beer was going nuts, a lot of people's first experiences was with an IPA. But right now, the light, golden, mellower beers are popular, especially here. Hawaii has good drinking weather."
Got a favorite?
"My favorite beer is the one I'm having right now. And what I'm going to drink depends on the time of the day, the time of the year, what I'm eating, who I'm with."
What are you serving in the tap room at Aloha Beer Co.?
"I originally intended to have just eight beers, with four to five rotating. People scream bloody murder when you take something off the menu. They take it very personally. But as brewers, we love to mix it up."
What makes good beer—and what makes Hawaii a great place to brew?
"At the heart of beer is water. Good water is good beer. And we have beautiful water here. That's all you need."
How do you infuse local flavors into your brews?
"We love brewing with local honey. If the style of beer calls for fruit, you better believe we're going to use whatever is in season here. I've used calamansi, lemongrass, ginger, olena (turmeric), guava, Tahitian lime, jabong (pomelo).
Do you apply that same philosophy to your food, too?
"For the menu, whenever we can, we go local. I had the term 'pub grub.' The food fits what we're doing here—craft beer, craft cocktails and craft food. We wanted to elevate the food side of the experience so it surpasses your expectations."
What kind of people venture into your tap room in Kakaako?
"We get the total spectrum of people here. Visitors, military, old Japanese grandmas, everybody. It's not a hipster place. It's really a neighborhood bar. There are no TVs here, but hey, guess what? People are hanging out the old-fashioned way, having conversations with each other! So the food exceeds expectations, the beers are great and you're enjoying the company. That's all you could want."
And when you're not brewing…?
"I need to get in the water, whether it's surfing or paddling. And there's nothing like a poke bowl after getting out of the water."
Visit Dave Campbell at Aloha Beer Co., 700 Queen St, Honolulu, (808) 544-1605. For menus and more information about the brewery, visit www.alohabeer.com.