Q&A: 'Moana' star Aulii Cravalho on voicing Disney's Polynesian adventure
The voice of Disney's first Polynesian heroine, Moana, talks about navigating high school, Hollywood and bringing the Pacific to the silver screen.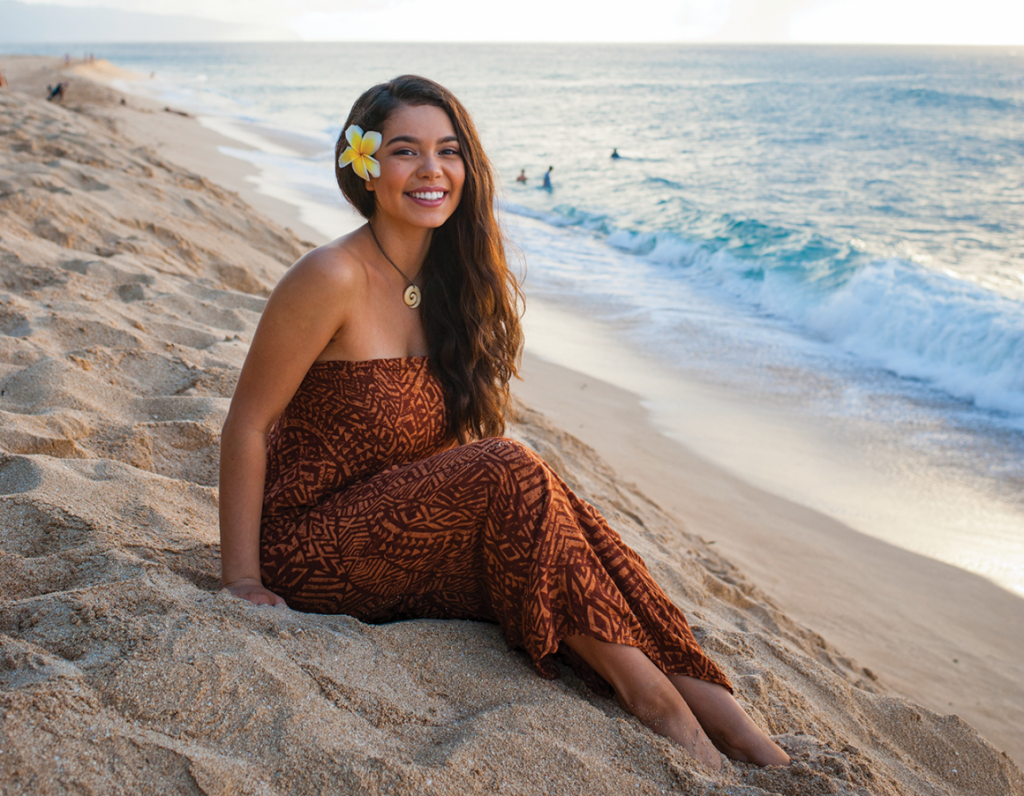 Chatting with Aulii Cravalho, one thing rings clear: She was born to voice a Disney character.
Like the ocean itself, which is what "moana" means in Hawaiian, the emotive range of her voice is deep and wide, coming at you in steady, confident waves and with an ability to flow from bubbly to serious to contemplative to hopeful, sometimes within the breath of a single answer. After a worldwide search for the film's lead, Cravalho, a teenage girl of Native Hawaiian descent from Oahu and a newcomer to Hollywood, landed the role while just a 14-year-old student at Kamehameha Schools.
Oh, and did we mention she can also carry a tune?
Disney's "Moana" opens Thanksgiving weekend, November 23, and is already generating positive acclaim from entertainment media (it currently holds a 97% rating on Rotten Tomatoes) and premieres just a day after her 16th birthday. We caught up with its lead voice just before the film's red carpet premiere in Los Angeles this week.
HAWAIʻI Magazine: Fearless is the most commonly used word to describe Moana, I've noticed. Why is that?
Aulii Cravalho: Moana is one of the most real characters I've been able to get to know. All the Disney princesses and characters have their own quirks and personalities, but Moana is really special. I like that she's vulnerable at times just like everyone is, and that she pushes through her problems too. It's a wonderful story because it's so relatable.
She's fearless also because she intends to protect and save her people no matter what. She's 16 years old and she's willing to go out on the vast ocean because she loves them that much. At the same time, she understands she's not the best at what she's about to do and that she needs to get better at it.
Fame must be new terrain for you also.
Yeah, that's totally new. I'm not used to being recognized on the street because I still very much see myself as a normal high school student. Everyone is so sweet and nothing has really changed about me, I don't think. My mom has been really key in keeping me grounded, keeping me paa, still doing my chores, my homework and all that. My teachers call me Moana and so do my friends. My name is no longer Aulii. [Laughs] Everyone has been so supportive and I love just being able to carry this character.
Are you aware of the magnitude of "Moana"? Are you ready for all the memes?
[Laughs] I didn't even think about the memes! I know it's going to be big, I know it because I can just feel it. I'm so proud of this film and that's coming from someone who is Hawaiian, you know? I just want to make sure that whoever sees this movie understands this is more than an animated film. This has been something that's been in the works for five or six years now. The amount of thought and detail that went into it is truly amazing.
The animation and characters are beautiful, the cast we have—Jemaine Clement, Rachel House, Nicole Scherzinger, Dwayne Johnson—are all of Polynesian descent and culturally connected. Polynesia is definitely one of the minorities and anyone who has their culture being represented wants it to be correct. We don't want some kind of half good, half bad—no, no, no, no. If you're going to do it, do it right and I think we really have.
How has Kamehameha Schools influenced the way you approached the role?
Kamehameha Schools, along with my upbringing in Hawaii—I was born and raised on the Big Island, I'm a country girl through and through—and just bringing what I know of my culture and how much we really do love the ocean and appreciate what the land has given us. We don't take things for granted and we don't take more than what we need. This mindset always helps with the character because Moana is, well, basically me. She's born on an island, she stayed on the island and she wants more, which is something I totally understand. She loves her people, I love my people.
There's something to say about how the creators have written a character so true and I wasn't even added onto it yet. They had done enough research, met with enough people and understood our culture so well that when I was cast all I had to do was be the voice and that's fine. The character is so true to our culture that the rest of the storyline just follows.
This is your first major film role. Do you feel like you're on a personal voyage also, like Moana?
Similar paths, but I'm not going to boast and say that I would go out on a canoe and, like, voyage hundreds of miles—I'm not even going to lie! But, we're both definitely going on similar journeys. I'm a teenager, trying to get through high school and figuring out who I am, so I totally understand where she's coming from.
What about Dwayne Johnson? What tips has he given you through all this?
He's very nice. He is so focused. That was one of the many things I learned just from watching him work and what he does. You need to be able to divert your attention a hundred different ways and give each a priority and the same amount of energy. He can give everything a priority, which is hard, I understand that, but look, he's now the highest paid actor, wasn't that what they announced recently? Then there's the fact also that he's so incredibly kind and down to Earth as well. Everyone can learn from that guy. Everyone.
What do you want to do after "Moana"?
I know I'm still going to finish high school, of course, then I'm going to college, but, yeah, also continuing with acting. I'm thinking of doing a double major because I love law, specifically with a focus on science and biology. So I'm going to try to do that, as well as acting. You can start sending me prayers because it sounds good now, but, yeah, I don't know. I definitely love acting and singing and all that and I'd love to continue in this area because now that I'm in it, I honestly don't want to get out.
What's your favorite beach in all of Hawaii?
Oh, gosh, this is hard! Um … Ehukai. Pipeline, definitely. On this island, Oahu, anyway. It's a strong shore break, and I surf, like, not very well, but, I just like that there aren't as many people in the water there because they're smart and don't want to get pounded by the waves. I kind of just get to claim my section of the beach and I love that.