Q&A: Rapper The Grouch talks Maui, music and how the island changed him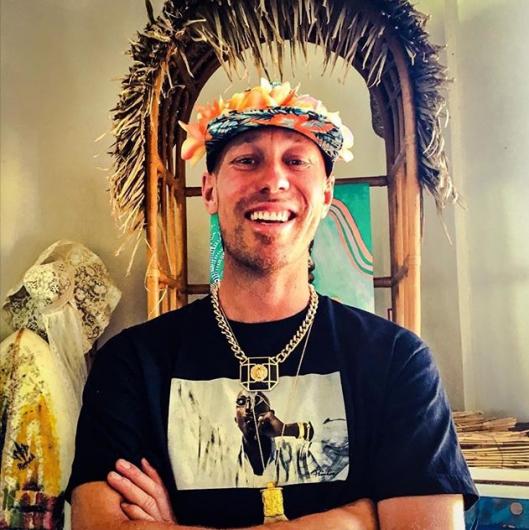 The Grouch was a founding member of the 1990s indie-rap collective, Living Legends, considered one of the most successful independently produced hip-hop groups of that era. During the height of his career in 2008, he decided to trade in the rat-race of Southern California for the quiet solitude of the Islands.
Recently, he played a sold out show May 20 at Casanova Italian Restaurant in Makawao to celebrate his 41st birthday. In attendance were all his "crews," not the big name independent rappers like Eligh, Zion I, or Murs, but his Fuzion Fit buddies from Haiku's circuit-training gym, soccer league teammates and activists for the Maui Community Organic Farmland Initiative.
We climbed up onto his giant trampoline in the front yard to talk Maui and music over a bowl of lychee.
What brought you to Maui?
Maui was a place that always resonated with me. I moved here just before my daughter turned 2. My wife and I were living in the San Fernando Valley where there was a lot of smog and traffic, not a lot of nature. We decided it wasn't the place to raise our daughter.
How has island life changed you?
I think it's made me more patient. I've always been a slow person, but it's slowed me down even more. I don't like to rush. Also, I moved here and started hiking and swimming and being more active. My body just rejuvenated itself, after two knee surgeries.
What's it like to raise a daughter here?
Just the idea that little kids call men and women auntie and uncle even though they aren't blood related makes if more of a comfortable place to raise kids. Hawaii is so community-oriented compared to the mainland. When I go to the beach and my daughter is playing in the water with someone else's kid, and somebody notices trouble, they'll come take care of all the kids. Not just that, but nature is so accessible. Kids don't stay inside all day and play video games.
How has living in Hawaii changed your music?
When I first got here, everything was beautiful and paradise-like and amazing that my raps were so happy and soft and sun and ocean. I had to learn how to balance the positivity and still put an edge on it. (Laughs) And I don't know if my output is as much. I'll get in the studio and look out the window and go, "It's too beautiful. I'm not working today."
Do you have a happy place on the island?
I just love to go to the Kipahulu-Hana side. Red Sand Beach is definitely on my list. I don't know if I would call it my happy place, but it's powerful … it's deep. The energy there is extraordinary. (Laughs) I do have a couple secret spots I'm not telling!
What do you do in your spare time?
My main thing outside of being a dad and rapping is playing soccer. Sometimes I do yoga. I'm on a constant learn-to-surf thing. (Laughs) I can't say I surf. I say, I learn to surf. Also, hiking, going to the beach, playing basketball with my daughter.
His summer tour kicks off in June, where he's performing in amphitheaters across the U.S. As his song says, he's just a "simple man" … who can be found shopping at Mana Foods in Paia, hanging out at Maui Kombucha, and performing intimate off the tour shows for lucky Maui residents.