Q&A with James Beard Award Winning Chef Robynne Mai'i
In 2022, the Native Hawaiian chef-owner of two popular Honolulu restaurants, became the first female chef from Hawai'i to win a James Beard Award—and the first Hawai'i winner in 19 years.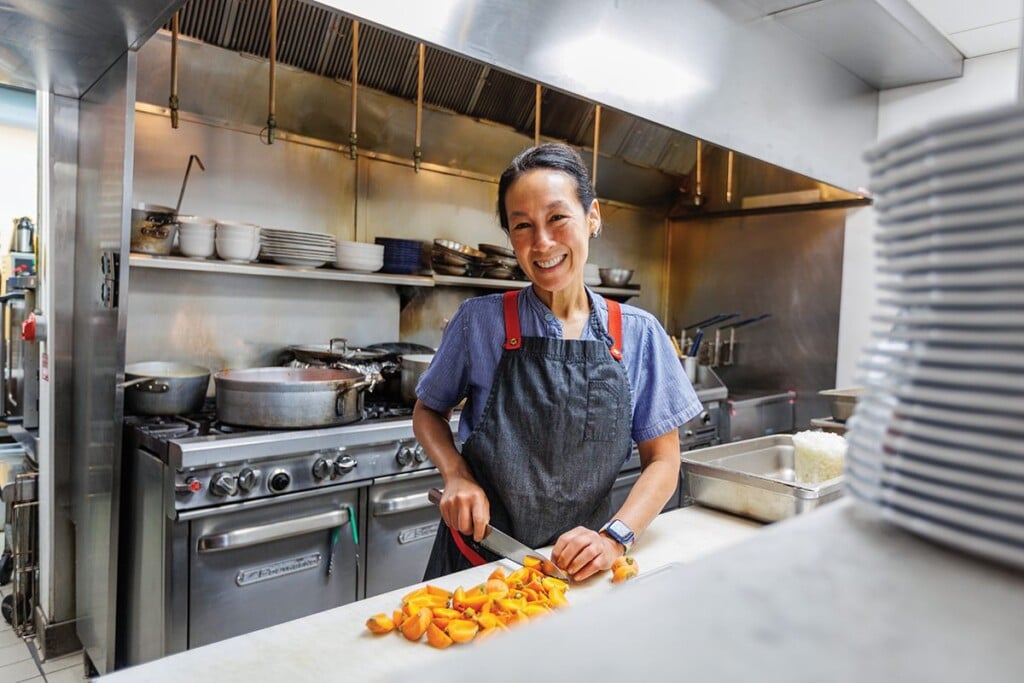 Chef Robynne Mai'i never imagined she would be nominated for the prestigious James Beard Award, an honor she felt was unattainable for a first-time chef-owner with a small (but very popular) restaurant in faraway Honolulu. "We didn't conceive Fête and run Fête with the aspiration of winning a James Beard Award," says Mai'i, who opened the restaurant in Honolulu's Chinatown in 2016. "We always thought we weren't on anyone's radar." She says winning the title of 2022 Best Chef: Northwest & Pacific was "completely unexpected"—but ask anyone familiar with the Hawai'i food scene and they'll tell you: This honor is well-deserved.
Mai'i, who's part Native Hawaiian, is the first female chef from Hawai'i to win the regional award. It's also the first time in 19 years any chef or restaurant from the Islands has taken home a James Beard; the last time was in 2003 when chef George Mavrothalassitis of the former Chef Mavro won the regional best chef award.
After graduating from Middlebury College with degrees in English and modern dance, Mai'i enrolled in the culinary program at Kapi'olani Community College on O'ahu to pursue cooking. Then she spent years in New York—earning a master's degree from New York University, working in notable kitchens, writing for Gourmet—before moving back to her hometown to open Fête. In 2021, she and her husband, Chuck Bussler, opened Heydey, an open-air restaurant in the newly renovated White Sands Hotel in Waikīkī with a fun, retro vibe.
You're the first chef to win a James Beard Award from Hawai'i in 19 years. And you're the first female chef from Hawai'i to win the award. What does that mean to you?
Honestly, I haven't really given myself the space to think about that. When people ask me what does it mean to win this award, the first thing I think about is the restaurant and the people who work here, the people I spend day in and day out with. It's uncomfortable to be named Best Chef: Northwest & Pacific because I know a lot of the chefs in this region and I know how hard everyone works. To be singled out, while it's totally flattering and an acknowledgment of our hard work, it's uncomfortable. I like to think the award is an acknowledgment. It takes my breath away because it's not your mother saying you're pretty. It means a lot, more than I can ever articulate.
Was it always your dream to open a restaurant in Hawai'i?
Chuck wanted to move back home; I could have died in New York City. [Laughs.] We tried for seven years to get pregnant. The not-getting-pregnant and letting go of the idea of having a family preceded the restaurant. Once we made a commitment to move on from being parents, that kind of opened up space in our heads to owning a business. Prior to that we never had that goal, we never talked about it. It was something that literally came out because of the healing process for us. We mourned not being parents by spending time with our friends. We were making these slow-food feasts for them and that allowed us to convene in a more relaxing, longer format. For us, this was a way to have a leisurely, delicious meal with the people we love, which was super important to us. It was so rough, so lonely and depressing.
Are there any local ingredients that surprised you or ones you just love working with?
That's a hard question. There isn't a specific ingredient that jumps out; there are so many. I do think people should venture out and try things like 'uala (sweet potato) and 'ulu (breadfruit) and kalo (taro). The problem with these foods is that, honestly, I don't think they're shown very well in most restaurants. I think that chefs at local Hawaiian restaurants do a good job because the produce shows in its intended format like in poi. But I can't tell you how many times I've had really lackluster 'ulu dishes. So we put an 'ulu dish on our menu just last week. It's the second time we've used 'ulu in the history of the restaurant. I think people don't respect it enough. I think people are very cavalier about how they treat 'ulu. It's delicious and it's going to save us. It's so nutritious, it's high in calories, it grows well, and it's just magical.
You have committed to using local ingredients as much as possible. How much of your menu is locally sourced?
On any given day at Fête, between 75% and 90% of the produce we use is local, 90% of the meat, dairy and seafood are local. We work hard at it. It's not easy because of the supply issues. We really ask a lot of our cooks. We're changing up the menu all the time.
What's next for you?
I've always wanted to do a book, and the more I think about it, I don't think it will be a conventional cookbook. Nor is it going to be a memoir. What I want to do doesn't exist yet. Every single dish we serve here has a story. We're not just sitting on the toilet making this up! Everything has an inspiration, and it's very specific. It's our interpretation of what it is that we like to eat, and I want people to know those stories. And if we were to do another brick-and-mortar, I'd open a Fête bakery-slash-provisions shop, a place where we can do a deeper dive into baked goods and sweets and things people can take home.
Where's your favorite place on O'ahu to eat right now?
We've been going to Café Kaila for breakfast. I love how fresh [chef and owner Chrissie Kaila Castillo] food tastes, and I'm pretty obsessed with her cookies. The food reminds me of Fête's food—it's honest, straightforward, just well-cooked food. We always order two egg dishes. Chuck usually orders the Italian omelet and I usually order the veggie scramble and we share the special pancakes or waffles with a side of fried rice and side of link sausage. I know, we're total pigs.
Fête
2 North Hotel St.
11 a.m. to 9 p.m. Monday through Saturday, closed Sunday
(808) 369-1390, fetehawaii.com
This story was originally published in our HAWAI'I Magazine Winter 2023 Issue. Buy a copy here.