Q&A with Oahu artist Kris Goto
Born in the backcountry of Japan, Kris Goto draws her unique, playful style of art on walls and paper, small and large.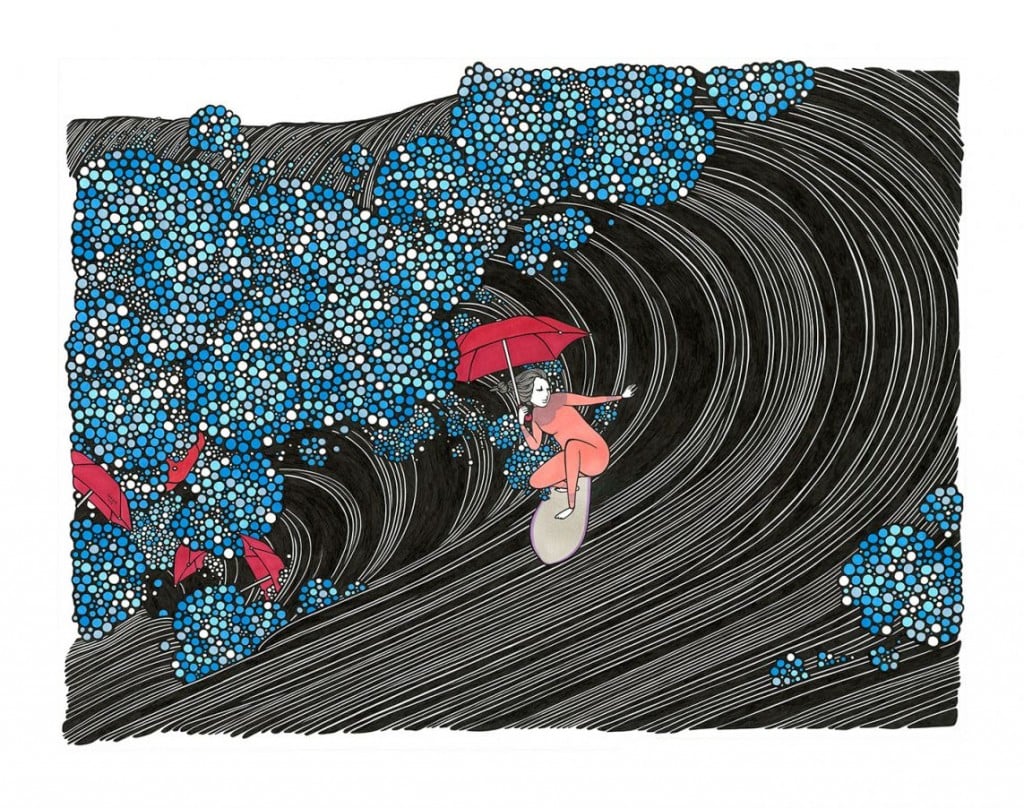 You've seen her work by now. Whether it caught your eye in a country boutique, or you've stared at one of her massive murals, Kris Goto has been making waves in Hawaii's ever-vibrant art scene. Many of her pieces feature a sense of colorful whimsy mixed with Hawaii's beach culture. And whether it's a lady relaxing in an oversized papaya, or a man nose-riding his longboard on a gentle wave, it's easy to get lost in the playful world of Goto's prints and projects.
With a style as diverse and dreamy as yours, where do you find inspiration?
There's no specific thing I do to get inspiration. I just kind of zone out or it comes to me when I'm watching something, or you'll find me staring at a corner. For example, when I'm going to bed it's just like, "oh yeah." And that's it.
How did you get your start as an artist?
I wanted to be a manga artist since I was a kid. Ever since I learned how to draw, my mom said I would go through notebook after notebook, drawing strips of manga. I definitely learned how to draw figures from just tracing manga every day.
Do you have any other artistic influences, besides manga?
When I was in New Zealand, I realized that I might want to move on from manga, and I got fascinated with Maori tattoos, and that instigated me into doing a whole lot of black and white, because I was tracing a lot of Maori tattoo motifs with pencil. I think the lines that I do now have derived from Maori tattoos. Going outside of my own box and seeing other people's art and meeting people from different cultures and art backgrounds was also eye-opening for me.
A lot of artists have some sort of routine or process when they're working on a piece. What about you? Do you have any specific quirks or needs when you're getting creative?
I watch TV shows when I'm drawing, preferably something that I've seen before so I don't really have to look at the screen. I just need something to distract me. "Gilmore Girls" is the best, because they talk so much and so fast. On the other hand, I regretted watching "Breaking Bad," because I'd never seen it before and I couldn't focus on my artwork because I was so into the show.
Also, whenever I'm done with a project, I cut my nails. I feel like the last idea is lingering on my fingertips, and it's kind of weird and creeps me out.
When it comes to murals, you're working on such a large scale. What are some of the difficulties and challenges you've faced?
Perspective. I have to move back and forth a lot so I can see the whole picture. If you're drawing a straight line, and it looks straight up close, you might go to the back wall and see it's going downward slightly. So that was a little hard for me to figure out.
Also, I feel it's too big and too close to my face, like the art is invading my space. It's like, everybody has that intense friend, and the mural is my intense friend that I have to spend time with for a whole week straight, 10 to 12 hours a day. But I love doing it. It's amazing to see that I'm able to create something that I draw on paper, exactly as it is, on a wall that's a hundred times bigger.
For more information, visit krisgoto.com.