Rare collectibles up for bids this weekend at Hawaiian Islands Vintage Surf Auction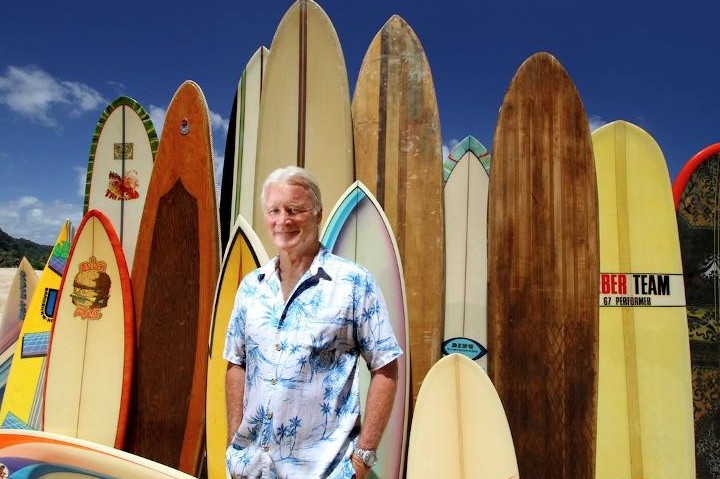 Scores of surfing fans, ranging from avid athletes to enthusiasts who prefer to watch the waves from the beach, will be cruising this weekend's Hawaiian Islands Vintage Surf Auction for a glimpse at the stuff of waterman history.
One hundred years worth of surf collectibles, with an estimated total value of $1 million, will be picked up by the highest bidders at the sixth biennial auction, which gets under way today with a preview event at the Blaisdell Center in Honolulu.
Surf promoter Randy Rarick (pictured, right), who has organized the auctions, noted in a press release that the first five auctions collectively tallied more than $2.6 million worth of privately owned pieces sold.
An auction preview begins at noon today at the Galleria at the Blaisdell Center. Seventy items will be featured in the main auction, slated for 4 p.m. to 7 p.m. Sat., July 23, and 40 items will be part of silent auction set for 1 p.m. to 3 p.m. Saturday. (There will be free viewings, but only registered bidders and their guests will be permitted to take part in the main auction.)


During today's preview, free appraisals — in the manner of Antique Road Show — will be available until 4 p.m. So, surf fans, that means you can stop by with your surf goods and find out what they are worth. There will also be meet-and-greet opportunities with 10 authors, who will be signing books and offering autographs. Viewing is free for all items, and autographed copies of the various surf books will be available.
Among the rare auction items expect to draw big bids are these items:
• Pat Curren/Yater model surfboard, the most exclusive ever made. The 11- foot surfboard is the second of 11 made, from 1963. Six are known to exist. Curren was a pioneer big-wave rider and surfboard manufacturer from California. Auction organizers call this item the "Holy Grail" of "big wave elephant guns." Auction estimate: $20,000-30,000.

• A 1930 sweatshirt with a hand-drawn scene of Waikiki and 30 signatures from all of the Kahanamoku Brothers, including Duke, and famous beachboys of the time. Auction estimate: $15,000-$20,000.

• California "Speed Special" Pat Curren model surfboard from actor Steve McQueen's personal Santa Paula aircraft hanger. It was found among his motorcycles and movie props. The 9-foot 8-inch surfboard is in "like-new condition." Auction estimate: $15,000-25,000.

If you're unable to get to the event at Blaisdell Center but you're in Hawaii, you can watch the auction live, starting with a pre-auction show at 3 p.m. Saturday on Oceanic Time Warner Cable SURF Channel 250 & 1250 HD. The auction will also be steamed online at www.hawaiiansurfauction.com, with online bidding offered in real time.
A portion of all auction sales from the auction will go to the Outrigger Duke Kahanamoku Foundation Scholarship Fund, and to the Surfing Heritage Foundation. For additional information about the Hawaiian Islands Vintage Surf Auction, click here.