Rare, intimate photos of Prince in Hawaii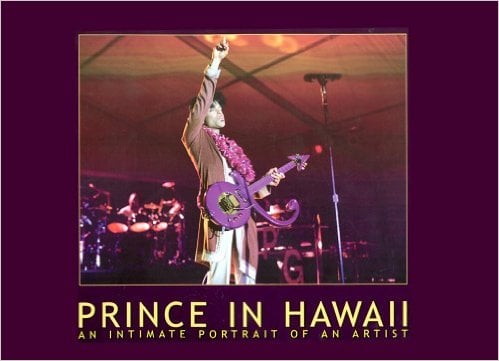 Prince passed away this morning at the age of 57. The iconic artist leaves behind a career that spans more than 35 years and will be remembered for his genius and profound influence on funk, rock and R&B. He was provocative, flamboyant, experimental and his canon reflected that with his sound and style always going off into new and unexpected directions.
As an outpouring of emotion from all over the world continues, here in the Islands we remember a side of the musician not very many saw. In the limited edition book, "Prince in Hawaii: An Intimate Portrait of an Artist," his then personal photographer Afshin Shahidi captured casual potraits and behind-the-scenes images of the artist in states of true serenity.
In his foreword to the photo collection, he believes the aloha spirit brought that out in him, writing, "The magic and beauty of the Hawaiian Islands compliment Prince, his music and his being. In this collection of photos, you'll see Prince at his most relaxed and I believe truest nature."
The unique photos were taken during Prince and The New Power Generation's 2003 World Tour stop on Oahu and Maui. In a thread on PrinceForum.org, a steadfast corner of the internet for hardcore fans, a user who was able to get his/her hands on this now out-of-print book, shares some of the portraits (by way of snapping actual photos of them). The pages are accompanied by a small quote or lyric. Even in the posed portraits, the beauty of them his how peaceful and serene are—how he could look like any of us on a tropical vacation. In one he's on a moped and a cut-off T-shirt looking incredibly casual. Another he's in a hammock, staring softly into the camera. The Maui mountainscape above Lahaina make an appearance behind the singer as he chills in a boat, looking effortlessly cool.
Prince loved the Islands. He had a home on Maui which he visited annually. In a rare occasion to have a one-on-one interview with the singer before his Blaisdell Arena show in Honolulu, former HAWAIʻI Magazine editor Derek Paiva asked what he enjoyed most about his visits.
He said he had visited the residence once a year for the last four years, "always around the same time." He confessed that he most enjoyed his annual visits because he liked the people and "because nobody's frontin' " in Hawaii.
Rest in Paradise.