Real-life Moby-Dick captain's shipwreck found in Hawaii waters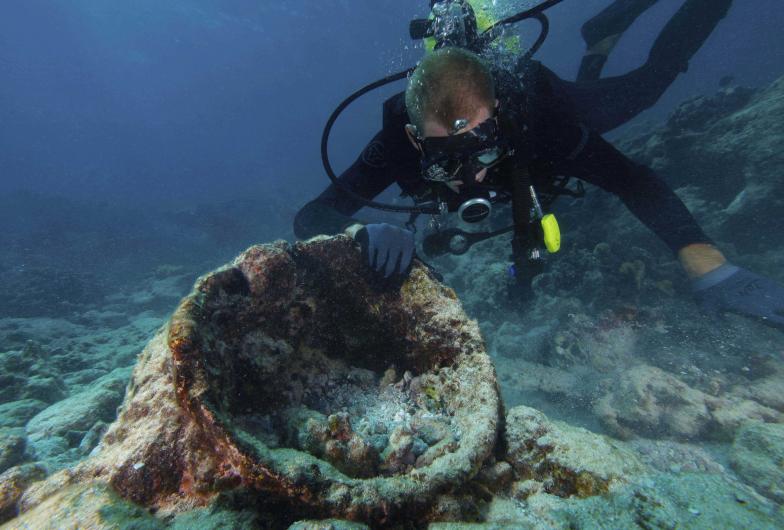 Most have heard of—if not actually read, without the added push of a American Literature assignment—the novel Moby-Dick by Herman Melville. The 1851 literary classic spins the tale of revenge-minded Captain Ahab and his search for the savage white sperm whale that destroyed his boat and bit off his leg.
This novel was inspired by the real-life events of Nantucket whaler George Pollard Jr., whose boat, the Essex, was battered and sunk by an angry sperm whale in 1820. Pollard survived and went on to captain another whaling vessel, the Two Brothers, but his run of bad fortune on water, unfortunately, didn't end with the Essex. On Feb. 11, 1823, the Two Brothers ran into a reef while sailing the northwestern Hawaiian Islands and sank, ending Pollard's days as a whaler captain for good.
In the two centuries since it went down, the wreck of the Two Brothers was never found … until recently.
Researchers today announced that marine archaeologists last year finally found the wreck site of the Two Brothers in the remote atoll French Frigate Shoals, 600 miles northwest of Honolulu. The atoll is part of the Papahanaumokuakea Marine National Monument, a conservation area that covers nearly 140,000 square miles of ocean northwest of Hawaii.
The Two Brothers went down in waters 10 to 15 feet deep, in reefs that were a graveyard for many whaling ships of the era. Three other 19th century whaling ships were wrecked at French Frigate Shoals, and dozens more at Papahanaumokuakea's many other atolls during Hawaii's whaling heydays.
Hawaii's warm ocean waters had disintegrated most of the wooden whaling ship. But researchers found harpoon tips, whaling lances, cast iron cooking pots, large cauldrons in which whalers used to turn whale blubber into oil, and three intact anchors.
Artifacts from the Two Brothers will go on display at the marine monument's Discovery Center in Hilo and, possibly, Pollard's homeport in Nantucket.