Recipe: Chef Morimoto's Supagetti No Teriyaki
Iron Chef Masaharu Morimoto shares his recipe for delicious sweet-salty chicken teriyaki spaghetti in honor of National Noodle Month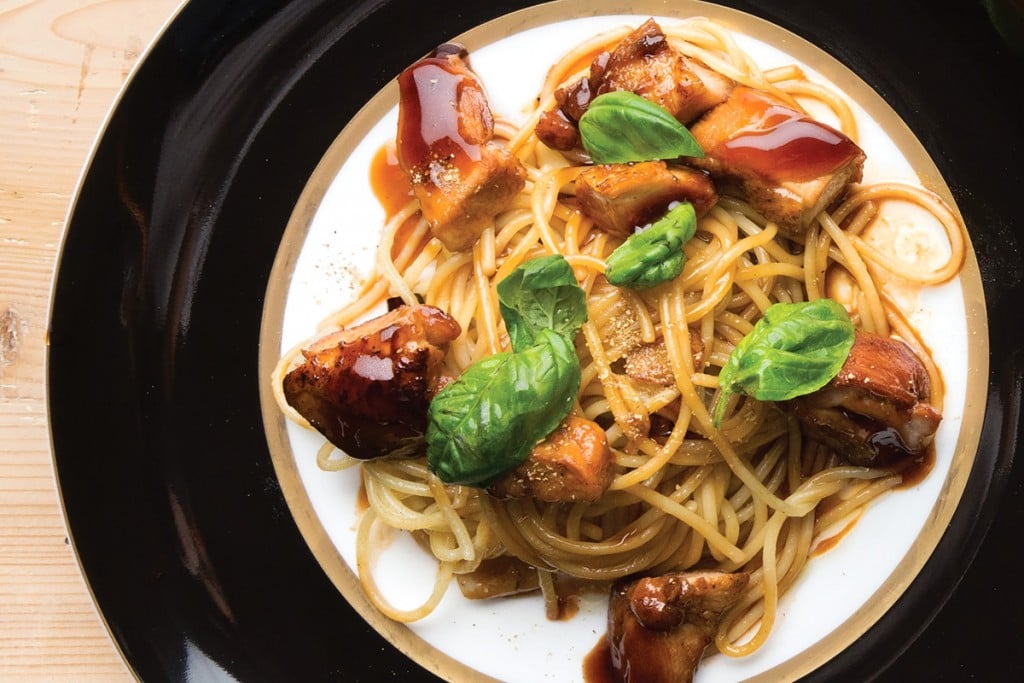 March may be National Noodle Month, but in Hawaii, we love slurping noodles all year: saimin, ramen, udon, soba, chow mein, look funn, pancit, banh pho, spaghetti–you get the point.
We can't wait to try this recipe from award-winning culinary genius chef Masaharu Morimoto, probably best known for his role on the Japanese cooking show, Iron Chef, and its Food Network spinoff, Iron Chef America. Morimoto-sama is also the owner of chic Waikiki restaurants Momosan Waikiki and Morimoto Asia Waikiki.
Below is the complete recipe as it appears in Iron Chef Morimoto's cookbook, Mastering the Art of Japanese Home Cooking.
You might not be surprised to hear that Japanese people love noodles, but you might not expect that our affection for ramen, soba, and udon is nearly matched by our fondness for spaghetti. And since Japanese cooks have for a long time gone their own way with the Italian pasta—tossing it with ketchup or finishing it with butter and spicy fish roe—I don't think they'll sneer at my creation. Spaghetti takes the place of rice, which is the more typical accompaniment to chicken teriyaki, and gives you a reason to enjoy even more of the beloved sweet-salty sauce.
Chef Morimoto's Supagetti No Teriyaki
(Chicken Teriyaki Spaghetti)
SERVES 4
Ingredients:
2 pounds boneless chicken thighs, breasts, or a mixture
¾ pound dried spaghetti
Kosher salt
2 tablespoons vegetable oil
1 cup teriyaki sauce (see below)
1 tablespoon cornstarch
About 8 large basil leaves, torn at the last minute
Instructions:
If you're using chicken breasts, place a breast between two sheets of plastic wrap and pound it out to an even ½-inch thickness. Repeat with the remaining breasts.
Cook the pasta in a large pot of generously salted boiling water according to the package instructions until al dente. Drain well.
Meanwhile, lightly season both sides of the chicken with salt. Heat the oil in a large skillet over high heat until it shimmers. Cook the chicken in two batches to avoid crowding the skillet until deep golden brown on one side, about 6 minutes. Flip the chicken, reduce the heat to medium, and cook until just cooked through, 4 to 5 minutes more. Transfer the chicken to a cutting board as it's cooked. Let it rest a few minutes, then cut it against the grain into bite-size slices.
Combine the chicken and teriyaki sauce in a large skillet and bring the sauce to a simmer over medium-high heat. In a small container, stir together the cornstarch and 1 tablespoon water until smooth. Drizzle in the cornstarch mixture, stirring constantly. Let the mixture return to a simmer and cook until the sauce has thickened slightly, about 1 minute. Add the pasta and cook, tossing frequently, until the sauce coats the noodles well, about 1 minute. Sprinkle on the basil and serve right away.
Tare No Teriyaki – Teriyaki Sauce
Ingredients:
1/2 cup Japanese soy sauce
1/2 cup mirin (sweet rice wine)
1/2 cup sake (Japanese rice wine)
1/2 cup granulated sugar
1/4 cup roughly chopped yellow onion
5 thin round slices peeled ginger
2 medium garlic cloves, smashed and peeled
Instructions:
Combine the ingredients in a small pot, bring to a boil over high heat, and reduce the heat to maintain a gentle simmer. Cook for about 8 minutes so the aromatics have a chance to infuse their flavor into the liquid. Strain, discarding the solids.
The sauce keeps in an airtight container in the fridge for up to 2 weeks. Yield: about 1-1/2 cup