Recipe: Ginger Coconut Float
This traditional Chinese-inspired dessert also showcases the flavors of Hawaii.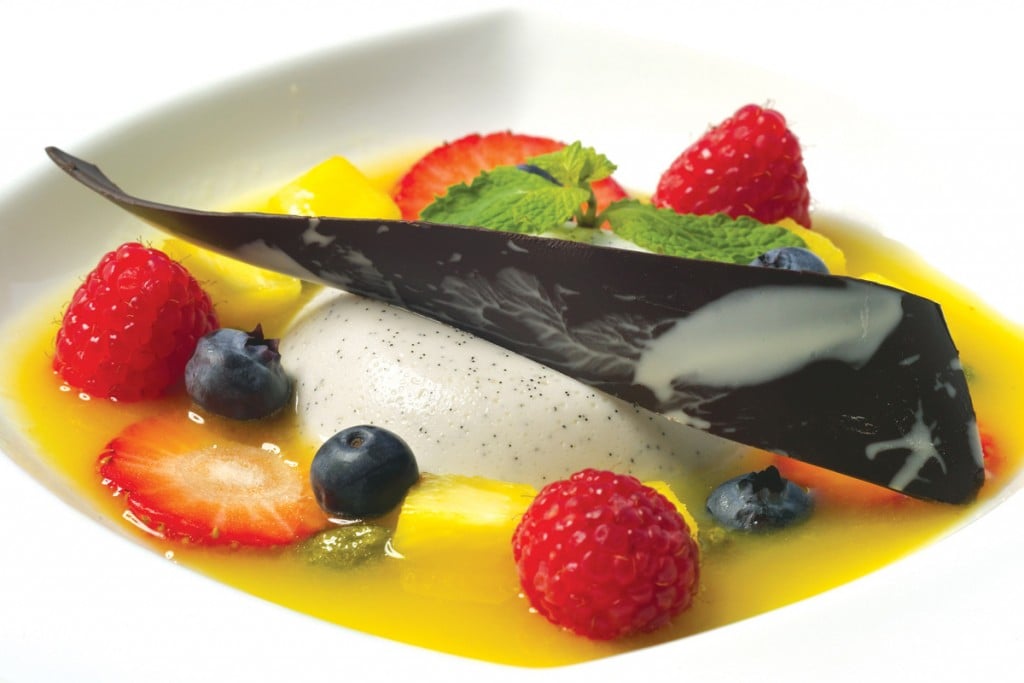 The food of Hawaii is most commonly described as being a reflection of its multiethnic population, a smorgasbord of exotic delicacies brought to the table by various ethnic groups as each came to call the Islands home. While this familiar axiom is largely true, it is also interesting to explore in greater detail why people eat what they eat in Hawaii and the important role that food has played in the process of forging a common cultural identity called "local."
Chinese cuisine
Chinese immigrants introduced Asian staples such as rice, noodles, shoyu and tofu to the Island table, and created chicken long rice, chop steak, beef tomato and other local classics in the process. They also created a near-monopoly in the restaurant business. Chinese restaurants quickly gained in popularity because they served fast, tasty, affordable food.
In Hawaii, Chinese food usually meant Cantonese cuisine from Guangdong Province in southern China, where most of the immigrants came from. Cantonese cuisine is known for quick stir-fried and deep-fried dishes prepared in woks. Popular Cantonese dishes include orange chicken, shrimp Canton, beef broccoli, crispy chicken, chow fun, wonton soup and duck with plum sauce. Today, locals also seek out places offering Mandarin-style dishes such as mu shu pork, Peking duck, Mongolian beef and beggar's chicken, or Szechuan-style dishes such as kung pao chicken, tea-smoked duck, twice-cooked pork and mapo tofu.
Recipe: Ginger Coconut Float
Ryan Loo, Director of Food & Beverage at the Moana Surfrider Westin Resort and Spa
Float
Ingredients:
8 cups half-and-half
1 cup sugar
2 Tablespoons fresh ginger, crushed
1 vanilla bean, split with seeds scraped out
4 kaffir lime leaves
2 10-ounce cans coconut milk
2 stalks lemongrass; smash bottom portion  of root (about 5 inches)
17 gelatin sheets (available at specialty stores such as Williams-Sonoma)
Combine all ingredients except for the gelatin and simmer for 10 minutes, then strain. Bloom gelatin in cold water until soft (about 3 to 5 minutes). Stir gelatin into mixture. Pour into 12 to 16 molds, which have been lightly sprayed with nonstick oil. Chill for at least 3 hours.
Pineapple Soup
Ingredients:
1 quart fresh pineapple juice
2 Tablespoons Malibu rum (more if desired)
2 cups mango puree
2 Tablespoons sugar
Mix all ingredients in a bowl. Chill for at least 2 hours.
Unmold each gelatin into a serving dish. Pour Pineapple Soup around it. Garnish with slices of fresh strawberries, kumquats, pineapples and mangoes.
Drizzle chili oil on top. Serves 12 to 16.
"I got the inspiration for this dish from Chinese Almond Float, which has been my favorite dessert since childhood. Instead of condensed milk, however, I use coconut milk, and I infuse the gelatin with vanilla, ginger and kaffir lime. Almond Float is usually topped with fruit cocktail, but I think the Pineapple Soup, with its dash of coconut-flavored Malibu rum, is a delicious alternative. This is a light, refreshing way to conclude just about any dinner menu.—Ryan Loo