Recipe: Hawaiʻi-Style Tofu Poke
When you don't have ʻahi, use tofu instead.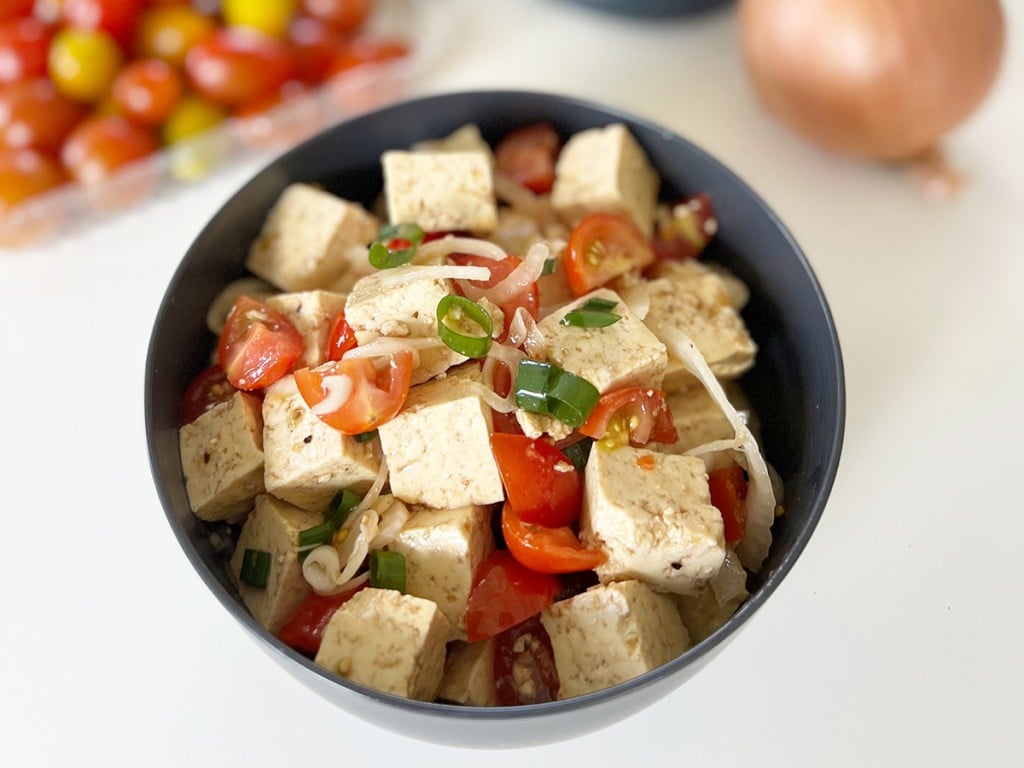 It's International Poke Day (Sept. 28)—so what does that mean?
That means you should celebrate by eating Hawaiʻi's iconic dish—with cubed raw fish, seaweed, sweet onions and inamona (roasted kukui, or candlenut)—wherever you are.
Unless you don't have access to fresh ʻahi.
Or you're a vegetarian.
Or you don't like fish.
Or you're not in the Islands, which arguably serves the best poke around.
That's OK. There are a myriad of ways to make poke without raw fish. One of my favorites is tofu poke—and this recipe calls for ingredients you can find anywhere. Plus, it's super quick and easy to make.
And you don't have to be in Hawaiʻi to enjoy it. (Though it helps.)
Check out our Instagram for a video on how to make this dish.
Hawaiʻi-Style Tofu Poke
Ingredients:
2 blocks of tofu, extra firm
1/2 cup sweet white onion, thinly sliced
1/2 cup tomatoes, diced
1 inch of fresh ginger, grated
2 to 3 Hawaiian chile peppers, seeded and minced
3 to 4 T. sesame oil
2 to 3 T. soy sauce
1 tsp. kosher salt
Fresh ground pepper to taste
Green onions, chopped
OPTIONAL: 1 to 1 1/2 cups fresh ogo seaweed, roughly chopped
Directions:
Combine all ingredients in a bowl and toss to combine. Serve immediately or refrigerate until ready to serve.