Recipe: Make Hawaii-Style Ahi Poke Wherever You Are
Here's how you can make the basic poke mixture of cubed raw ahi (tuna), salty seaweed, and crunchy sweet onions with Hawaiian-style spices.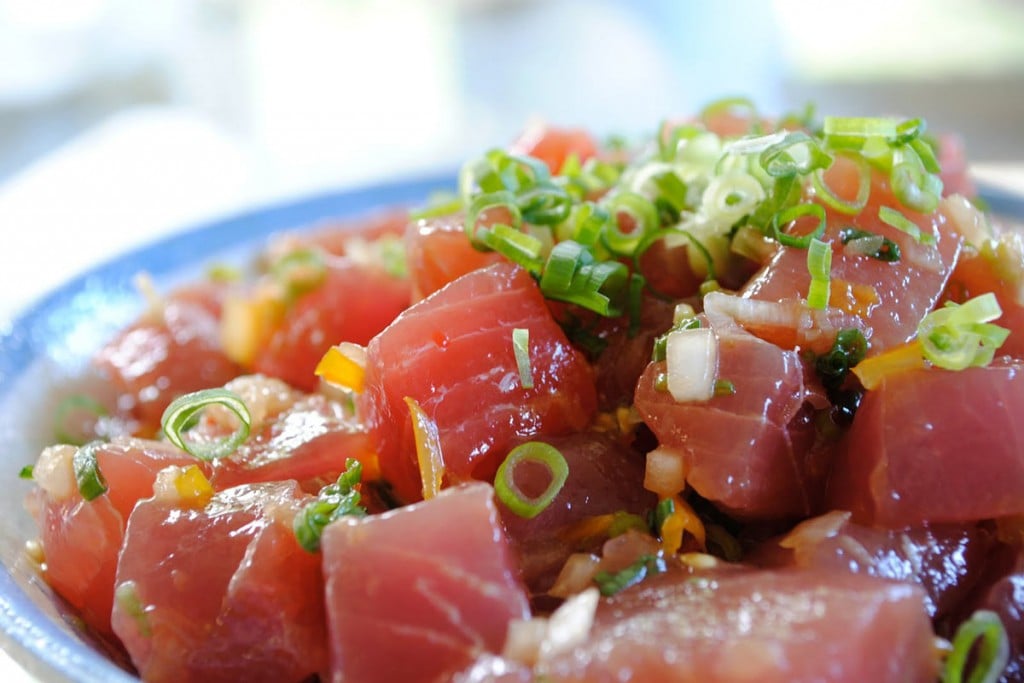 HAWAII Magazine reader "C.C." wrote us to ask how she could make one of her favorite Hawaii snacks at home.
Do you have a recipe to make poke? My husband and I love to eat the version of it made with raw tuna.
You ask. We Answer.
There's nothing better than heading to the beach first thing Saturday morning (or even late afternoon) with a cooler full of icy drinks and fresh poke. The basic poke mixture of cubed raw ahi (tuna), salty seaweed, and crunchy sweet onions is so delicious and refreshing, I'm salivating just writing about it.
The word poke (pronounced poh-keh) is Hawaiian, meaning "to slice or cut crosswise into pieces." The poke first eaten by native Hawaiians was a simple mixture of raw fish, Hawaiian salt, seaweed and chopped kukui nuts (called inamona in Hawaiian).  Post-colonial contact, that basic recipe got a bit more interesting with the introduction of onions and, sometimes, tomatoes to the mix.
Go to most fish markets in Hawaii today and you'll find a wide selection of poke—from tako (octopus) with ginger and garlic to tofu in shoyu with watercress and tomato. We've seen poke recipes with raw crab, cooked shrimp, clams, smoked salmon, pipi kaula (dried and smoked beef), even seared ribeye steak. There are now hundreds of poke recipes in Hawaii for every kind of taste.
Here is an easy recipe for classic ahi shoyu poke with ingredients even our friends on the Mainland can find. Just be sure to seek out freshly caught tuna to make it.
Ahi Shoyu Poke
1 lb. fresh ahi steaks, cut into cubed, bite-size pieces
1/4 cup soy sauce (shoyu)
1/4 cup chopped green onions (tops included)
1/4  cup chopped Maui onion (or yellow onion)
2 tsp. sesame oil
1 tsp. grated fresh ginger
1 chili pepper, cored, seeded and diced (optional)
Sea salt, to taste
2 tsp. toasted sesame seeds
2 tsp. finely chopped toasted macadamia nuts (optional, as a substitute for inamona, which is difficult to find outside of Hawaii)
(Note: You can vary the ingredients to your taste.)
In a large bowl, combine all the ingredients, and mix lightly. Cover and refrigerate at least 2 hours before serving.
The recipe for ahi poke is so simple, we recommend making it yourself. But should you want some assistance, there are options.
Noh, a food brand from Hawaii, also sells poke mixes that you can order online here. Chef Elmer Guzman of Honolulu's Poke Stop restaurant also offers mail-order spices and sauces for your poke.
If you're looking for great ready-made poke, Foodland locations across the state are a good place to go.
If you're on Oahu, stop by Poke Stop in Waipahu, Mililani or Kapahulu, or try Fresh Catch Restaurant in Honolulu.
On Kauai, we recommend Pono Market in Kapaa; on Maui, we've enjoyed the poke at Pukalani Superette.