Recipe: Shabu Shabu Kai
This steaming, savory comfort dish, inspired by chef Colin Hazama's grandmother's recipe, pays tribute to Hawaii's Japanese culture.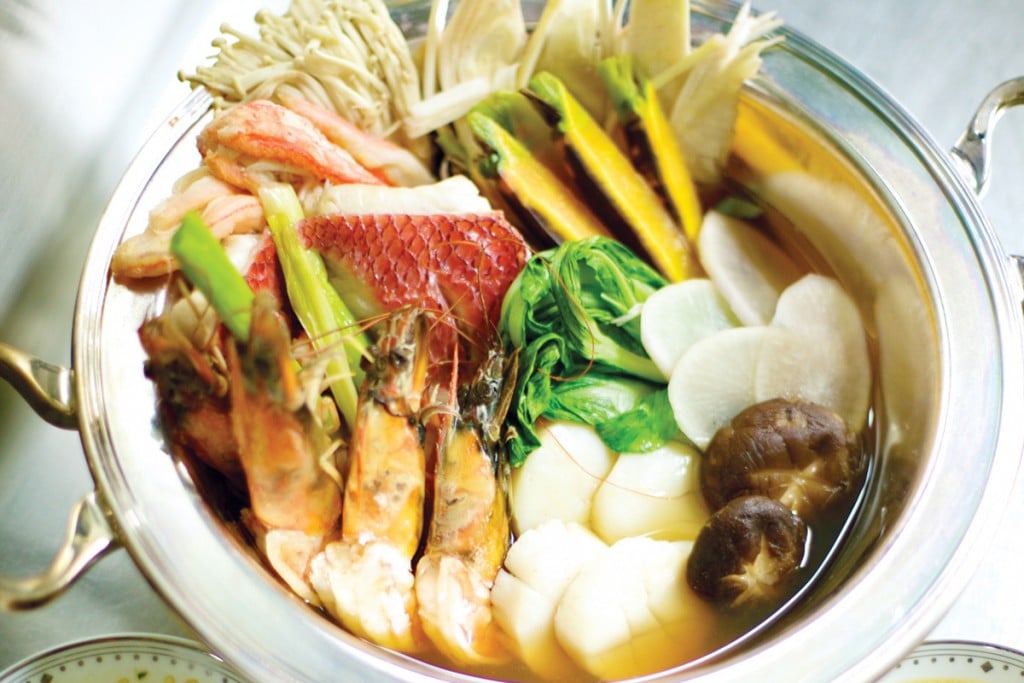 Although the Japanese culture is often described as homogeneous, its food genealogy actually reflects a variety of influences from sources as diverse as China (noodles, tofu, shoyu) and Europe (baked and deep-fried dishes such as tempura). Regardless of its origins, traditional Japanese food is renowned for its fastidious preparation—especially the skill with which fresh seasonal and regional ingredients are incorporated. A formal Japanese meal often involves an assortment of foods artfully presented in individual plates and bowls.
One key aspect of Japanese food that never changed is the prominence of rice in the diet. Linked to sacred deities, rice is the focus of most Japanese meals. All other side dishes—known as okazu—are meant to accompany the rice. Japanese rice is bland and sticky, so okazu were seasoned mainly with salt or shoyu. A simple Japanese meal would consist of rice, one or more okazu dishes, miso soup and tsukemono (pickles).
"I was born and raised in Honolulu, but, while growing up, I often vacationed on Maui with my family and visited my grandmother, who lived in Pukalani, Maui. She always enjoyed cooking for us, and I learned to appreciate traditional Japanese customs and cuisine primarily because of her. My grandmother's shabu shabu was a meal I looked forward to when visiting. It was fun for everyone to cook their own food in the pot at the table and savor the great flavors. Today, whenever I prepare shabu shabu or eat it at a restaurant, it brings back fond memories of visits with my grandmother. She shared this shabu shabu recipe with me and I've re-created her sauces with my own twist ." —Colin Hazama
Shabu Shabu Kai
Colin Hazama, Executive Chef at The Royal Hawaiian
Dashi (broth)
8 cups water
¼ cup bonito flakes
2 ounces kombu (seaweed)
1 cup sake
2 Tablespoons Yamasa Light soy sauce
Combine all ingredients. Bring to a simmer (don't boil), let steep on medium heat for 25 minutes, then strain and set aside.
Seafood
1 pound papio (young crevalle, jack or pompano); uku (snapper) fillets; or any white fish, sliced thinly on bias
½ pound hamachi (Pacific yellowtail), skin removed, thinly sliced on bias
½ pound whole shrimp
3 king crab legs, half shelled and cut into 3-inch pieces
½ pound U-10 size scallops
½ pound cherrystone clams, washed
Assemble all seafood neatly on a plate.
Vegetables
6 ounces carrot, peeled and cut very thin on bias
6 ounces daikon (white radish), peeled and cut very thin in half moons
1 10-ounce block medium firm tofu, cubed
6 ounces fresh bamboo shoots or takenoko (young bamboo shoots), sliced thin lengthwise
½ won bok cabbage, cut in 2-inch pieces
1 4-ounce package enoki mushrooms
¼ pound shiitake mushrooms
1 bunch green onions, cut in 2½-inch pieces
1 6-ounce package konnyaku (mountain yam gelatin), as noodles or very thinly cut
3 6-ounce packages fresh udon noodles
Assemble all vegetables neatly on a separate plate.
Heat dashi in shabu shabu pot in center of table. Cook seafood first, starting with the fish and followed by the shellfish. Dip each ingredient in dashi with chopsticks (cook the fish for 30 seconds to a minute and the shellfish for 1 to 3 minutes). Skim scum from broth and cook vegetables in this order: carrot, daikon, tofu, bamboo shoots, cabbage, mushrooms and onions. When vegetables are done, put udon in dashi. Remove udon when cooked, and divide food on separate plates for each person. The Yuzu Chili Ponzu Sauce makes a nice accompaniment for the seafood. The Sesame Ginger Miso and the Wasabi Mustard sauces go well with the vegetables. Serves 6 to 8.