Remembering Gump's treasure house of the Pacific
Across from the Royal Hawaiian, artwork, antiques, jewelry and furnishings from around the world were sold here.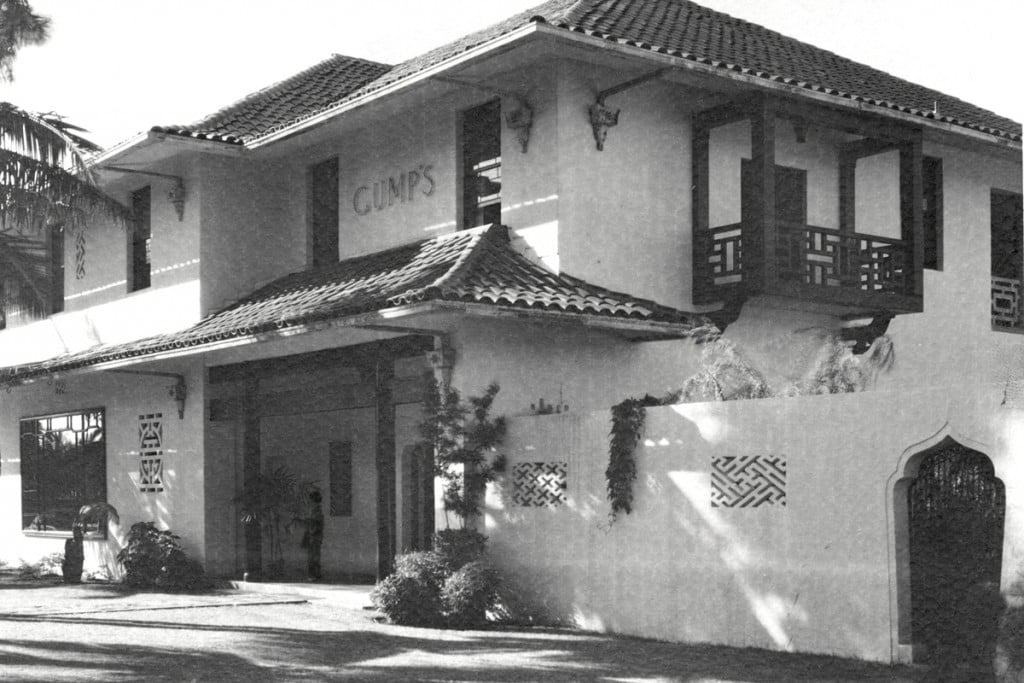 On February 19, 1929, Hawaii's first neon sign, "Gump's," flicked on, announcing the opening of the esteemed San Francisco retailer's Waikiki store. Its location at the corner of Kalakaua Avenue and Lewers Street, across from the elegant Royal Hawaiian, was ideal. Well-heeled guests of the hotel, which had opened two years earlier, just had to walk across Kalakaua to find gorgeous artwork, antiques, jewelry and household furnishings from around the world. "It's a thrilling experience," raved reporter George Mellen in a Honolulu Star-Bulletin story that day. "It reminds one of the treasure cave of an Oriental romance—Aladdin's or Ali Baba's—but instead of being filled merely with gold and jewels this modern treasure storehouse contains the exquisite art objects which have been produced from early times to the present." Designed by prominent Honolulu architect Hart Wood, the building incorporated Asian elements such as moon doors, an imperial blue tile roof, Burmese teak woodwork, and wall cutouts and balcony railings with exotic motifs.
Peaceful courtyards behind and beside the store were adorned with pools, palms, pomegranate bushes, willows, flowering vines, ceramic elephants, and statues of cranes, deer, Buddha and Kuan Yin (the Chinese goddess of mercy). Inside the first luxury store in Waikiki were vases, rugs, lamps, pillows, ceramics, tapestries, furniture, lacquerware, candlesticks, beaded bags, sundials and much, much more. Some wares—including koa bowls, lau hala placemats, plumeria and pikake (Arabian jasmine) perfumes, and glassware etched with Hawaiian flowers—were created especially for the store beginning in the mid-1930s. (Gump's deserves credit for inventing that genre, which many other Hawaii retailers quickly copied.)
Everything was arranged in themed rooms: the Jewelry Room, Oriental Room, Italian Room, English Furniture Room, China and Glassware Room, and Kimono Room, complete with custom made shoji (paper) doors and tatami (straw mats) from Japan. It's likely some of those rooms were revamped by the late 1930s to accommodate more Hawaiian products. On the second floor were the art gallery, drapery department and the room for which the store was best known: the Jade Room. So rare and precious was its merchandise, it was opened only for patrons who were notably wealthy or who had a special interest in jade. The rest of the time, it was kept shut with an ancient brass lock from a palace in Beijing, the key for which was nearly a foot long. Around 1937, Gump's published a slick 24-page promotional booklet, Phantoms of Beauty, which was written by Don Blanding, dubbed the poet laureate of Hawaii. The Jade Room's floor, he wrote, was the "the color of a jungle pool."
Among the riches displayed on its tables and shelves were "figurines carved from mauve jade looking like fantasies of ice stained with the dye of orchids…stallions of jade as black as a starless night in Ethiopia…Chinese tomb potteries of the Han and Tang periods, as old as the dreams of men… and scepters, wine cups, ink pots and bowls (that) revealed the serenity and subtlety of the Orient's ancient culture in their designs, strangely soothing to the eyes—and the spirit." Brooches to bronzes to brocades— every item in Gump's Waikiki reflected the impeccable taste and style of Alice Spalding Bowen, an interior decorator who had operated her business from her Makiki home for years. When she outgrew that space, she came up with the idea of opening a Gump's store in Hawai'i, and during a trip to San Francisco in 1923, she decided to pop by A.L. Gump's office to propose it to him.
That turned out to be the first of many meetings. Impressed with Bowen's ambition and knowledge of Asian art and antiquities (he himself was an avid collector), Gump eventually agreed to finance the venture and put her in charge of it as manager. It was a position Bowen kept for the entire 22 years the store was in business. After Gump died, his family closed the Waikiki store to settle his estate; cash registers rang up the last sales on February 25, 1951. Over the ensuing decades, the building housed an eclectic assortment of businesses, including a dressmaker, shoe store, candy shop, travel agency, airline ticket office and men's clothing store. Before Louis Vuitton acquired the building in 1991, it was a McDonald's. A six-month refurbishment restored much of the structure's original design, and the largest Louis Vuitton boutique in Hawaii opened there in October 1992.
The Gump building, as many elderly kamaaina still call it, was added to the National Register of Historic Places in 1973. It also holds the distinction of being the third-oldest multi-story building in Waikiki, after the Moana Hotel, which opened in 1901, and The Royal Hawaiian, which opened in 1927. "Louis Vuitton was founded in 1854 and Gump's was founded in 1861, so both houses have a long, proud history as retailers of luxury goods," says Dale Ruff, regional vice president of Louis Vuitton Hawaii. "We're pleased and honored to be the caretaker of a building that, like our distinguished neighbors, the Moana and Royal Hawaiian hotels, is an architectural and historical treasure."