Rescheduled Gabby Pahinui music fest set for Saturday. Listen to our "Essential Gabby" playlist.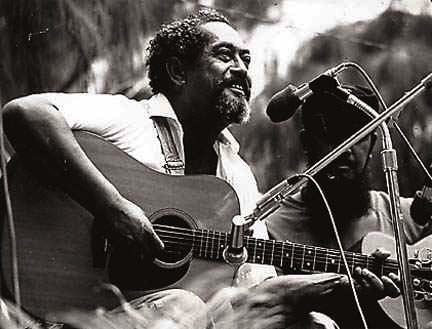 Hula dancers and musicians gathered for a lively, day-long kanikapila (Hawaiian for "impromptu jam session). The sound of sweet falsetto vocals soaring over accompanying ukulele and slack-key guitar. And the sandy expanse and cobalt waves of Waimanalo Beach Park as a backdrop to it all.
The makings of an ultimate Hawaii jam sesh? Yes. A most-fitting remembrance of famed Hawaii musician Gabby Pahinui? Definitely.
The 7th annual Gabby Pahinui Waimanalo Kanikapila happens this Sat. Aug. 30, from 9 a.m. to 6 p.m. under the "Pop's" pavilion at Waimanalo Beach Park on Oahu's windward side. The daylong event—postponed from its original Aug. 9 date to this Saturday due to park closures resulting from Hurricanes Iselle and Julio—aims to celebrate the life and music of Pahinui, the late, legendary Hawaii slack-key guitarist and vocalist. The Waimanalo Kanikapila also serves to perpetuate Hawaii's musical identity and acknowledge the long musical and cultural heritage of Pahinui's hometown: the Windward Oahu community of Waimanalo. More than 200 musicians and hula dancers are expected to perform throughout the day, paying tribute to one of Hawaii's most influential musicians.
Although the event began as an opportunity for Hawaii musicians to share knowledge and talent through kanikapila, it has since grown to attract hundreds of Hawaiian music lovers of varying skill levels. This year, the annual Waimanalo Kanikapila expects to host more than 2,000 spectators throughout the day.
For anyone with a serious interest in learning from Hawaii's master musicians, music workshops will be held at "Pop's" Pavilion (named for Pahinui) at Waimanalo Beach Park on Friday, Aug. 8, the day before the Waimanalo Kanikapila.
Saturday's festivities are not limited to music. As fest-goers enjoy performances by musicians and hula dancers, they can munch on poke, huli huli chicken, shave ice, Hawaiian luau plates and more, all available for purchase at assorted food booths run by Waimanalo athletic groups and community organizations. Community groups will also be selling various arts and crafts from booths at the beach park.
Though celebrating only its seventh year, the Waimanalo Kanikapila's roots go back to the years before Pahinui's passing in 1980. On weekends, musicians would gather at the Pahinui home in Waimanalo for jam sessions and a bowl of Hawaiian-style beef stew with rice. Regular guests included slack-key greats Leland "Atta" Isaacs, Sonny Chillingworth and Ray Kane, along with Aunty Genoa Keawe, Jessie Kalima, Joe Marshall, Palani Vaughan and Peter Moon. As Pahinui's fame grew, so did attendance at these backyard kanikapila. It wasn't uncommon for more than a hundred musicians and fans to show up on some weekends to jam with or listen to the slack key master, affectionately called "Pops."
A modern version of those backyard jam sessions, the Waimanalo Kanikapila perpetuates the tradition and Pahinui's pioneering contributions to Hawaiian-style kihoalu (slack-key guitar) music.
Pahinui was one of the great 20th century masters of Hawaiian vocal, slack key and steel guitar music. A self-taught musician, he counted big band and jazz music among his musical influences. Over the years, he mastered the ukulele and guitar, pairing both with his bright, wonderfully roughhewn falsetto — a voice that became even raspier with age, which only made the sound of it more striking and memorable. Pahinui played an especially prominent role in popularizing traditional Hawaiian music during the Hawaiian Renaissance—an early 1970s revival of Hawaiian cultural identity expressed in language, music, hula and other elements defining the culture's roots.
Photo courtesy Gabby Pahinui Waimanalo Kanikapila
In May 2012, Pahinui's "Hula Medley" (1947), performed on slack-key guitar, was included among 25 sound recordings selected for induction into the National Recording Registry of the Library of Congress. "Hula Medley" was honored by the Library as one of the first modern recordings of Hawaiian slack-key guitar, and preserved among other works of music deemed "cultural, artistic and/or historical treasures for generations to come."
The Gabby Pahinui Waimanalo Kanikapila is a free event, funded mostly through T-shirt sales. T-shirts are available for purchase online on the Gabby Pahinui website.
Before you go to the Waimanalo Kanikapila (or, sadly, if you're off island or otherwise unable to head to Waimanalo on Saturday), take a listen to the Spotify playlist we've compiled below, chock-full of our HAWAII Magazine staff's favorite Gabby Pahinui songs. It'll get you in the mood for some live kanikapila in Waimanalo, or make you feel like you were there, wherever you are.