Right to the suburbs, left to the country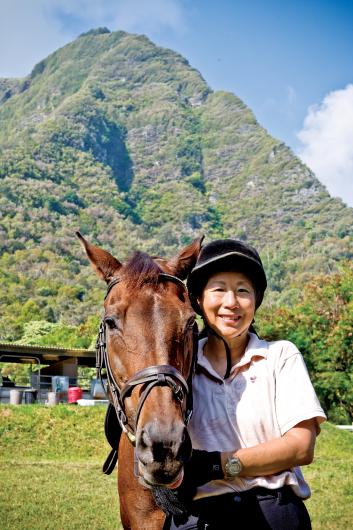 You won't see Kalama Valley on postcards. As tropical valleys go, it's small, dry and plain. Its walls are studded with rocks, California grass and gnarled, gangly kiawe and koa haole trees. Seventeen years ago, when my friends and family heard I was moving to O'ahu's easternmost community, they exclaimed, "Why would you want to live out in the boonies?"
I yearned to settle in East O'ahu, where I'd been raised. Kalama was more affordable than neighborhoods closer to town.
I've never regretted my decision. As I write this, I'm listening to the rustle of palm fronds and the happy chirps of birds outside the window of my home office. The sky is bright blue—as it is most days in Kalama, where the average annual rainfall is a mere 40 inches.
Mornings, I lace up my Nikes for a stroll around the neighborhood. If time permits, I head to Koko Crater Botanical Garden, a mile from my front door, where I can walk the garden's 2-mile loop trail, through 60 acres of aloe, cacti, bougainvillea and plumeria. A magnificent grove of native wiliwili trees—57 in all—is protected by Act 105, a state law preserving "exceptional trees."
Less than two miles from my house, Kalama's main street, Kealahou, meets Kalanianaole Highway at Sandy Beach. When it's clear, you can see Molokai, 26 miles across the Kaiwi Channel.
Turn right at that intersection, and you'll traverse one of the most scenic 2-mile stretches on O'ahu. The asphalt winds like an ebony serpent between the undulating sea and rugged lava cliffs.
A friend and I once cruised that road in his red convertible—wind-in-your-face fun! We took pictures at Hālona Blowhole and dipped our toes in Hanauma Bay, established in 1967 as the Islands' first Marine Life Conservation District. We ended up at Koko
There are two other shopping centers right around the corner. Supermarkets, theaters, banks, restaurants, gas stations, a post office, a library, Costco, Longs—everything I need. This area has grown up so much in 17 years, nobody thinks I live in the boonies anymore.
But wait. What if, back at that Kealahou-Kalanianaole intersection, I made not a right turn, but a left? An entirely different world. As you round Makapuu Point, the eastern tip of O'ahu, a breathtaking vista unfolds—the sweep of the Pacific Ocean, in four or five shades of blue. You can see Rabbit Island, Lanikai, Kailua, the land curving up from the water to the green flanks of the Koolau mountain range.
I enjoy that postcard view at least twice a week on my way to Hilltop Equestrian Center in Waimanalo, where I'm a student of dressage. When I pass Makapuu, my pulse slows, my mind clears and my body completely relaxes; in a few minutes, a few miles, I've made the transition from bustling suburb to laid-back country.
Hilltop sprawls over 8 lush acres at the foot of the Koolaus. I love the peace, the beauty, the camaraderie of fellow horse aficionados and the thrill of being in the saddle. When I leave the stable some three hours later—tired, sweaty and hungry—it's great to know lunch, a nap and a cool shower are 20 minutes away, at my home in Kalama Valley.
Don't miss another story from HAWAII Magazine
Sign up for our weekly E-Newsletter today!