Rocker Sammy Hagar launches Maui-made rum in Waikiki, shares mai tai recipe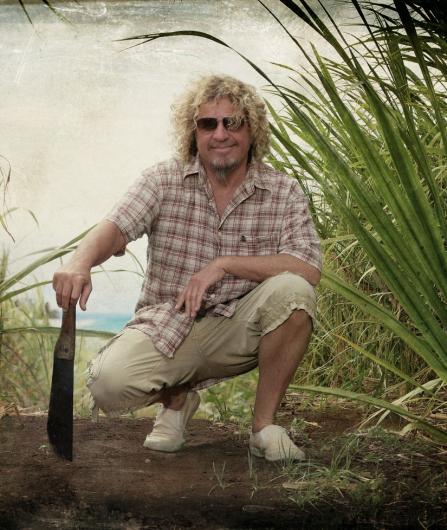 Former Van Halen front man, part-time Maui resident and celebrity liquor distiller Sammy Hagar is behind the latest addition to an ever-growing list of made-in-Hawaii spirits.
Sammy's Beach Bar Rum, a silver rum made from Hawaii-grown sugar cane, is the result of partnership between Hagar and Haliimaile Distilling Company on Maui. Both partners claim roots in the libations industry.
Hagar personally introduced Sammy's Beach Bar Rum last night at the Hard Rock Café in Waikiki (pictured, below) to a gathering of eager fans and media, including HAWAII Magazine.
We asked Hagar about the origin of the idea to create the new rum. In response, he said: "The Islands inspired me." He adds, "I just love it here. When I get off the plane, I'm bombarded with the warmest, richest feelings. Hawaii affects all of my senses."
Hagar has two homes on Maui and owns five Sammy's Beach Bar & Grill locations nationwide, including one at the Maui International Airport.
Hagar's rum uses sugarcane grown only in Hawaii. Why? "I can get sugar from other places," says Hagar, "but I don't want to because it doesn't taste as good."
Sammy's Beach Bar Rum is distilled in Maui from first-growth, first-press sugar cane. According to a press release, "Unlike other premium rums, which follow a standard one-year maturation period for the cane, (cane used in) Sammy's Beach Bar Rum matures for a full two years, giving the sugar from the cane its intense character."
It is currently available for sale only in Hawaii, but Hagar plans to expand distribution to the rest of the U.S. in early 2012.
"We wanted to launch it in Hawaii first," says Stephen Kauffman, president of Sammy's Beach Bar Rum. He notes that it will be available on the U.S. mainland starting in Spring 2012. Also, he says, plans are in the works to create a pineapple-infused rum and an aged dark rum.
Haliimaile Distilling is the maker of Pau Maui Vodka, premium vodka distilled from Maui Gold pineapples. Hagar has turned the handmade tequila served in his Cabo Wabo chain of nightclubs and restaurants into one of the top-selling premium tequila brands in the nation.
Hagar's favorite way of enjoying his new rum?
"Three ounces of rum, one ice cube (yes, that's just one rock) and a drop of a citrus, whether it's lime, lemon or orange. For an added kick, try adding a quarter grind of pepper," Hagar says.
OK, and how about a hard-rockin' mai tai recipe, Sammy? Here it is.

Sammy's Original Maui Mai Tai
Ingredients: 1½ oz. Sammy's Beach Bar Rum, ½ oz. orange curacao, ¾ oz. lychee juice/syrup, and 1 oz. fresh sour.
Directions: Pour ingredients over ice into a cocktail shaker. Shake, then strain into a rocks glass, drizzle dark rum into the cocktail, garnish and serve.
For more drink recipes and other information about Sammy's Beach Bar rum, click here.