"Roots of Hawaii Cuisine" culinary event spotlights food culture in the Islands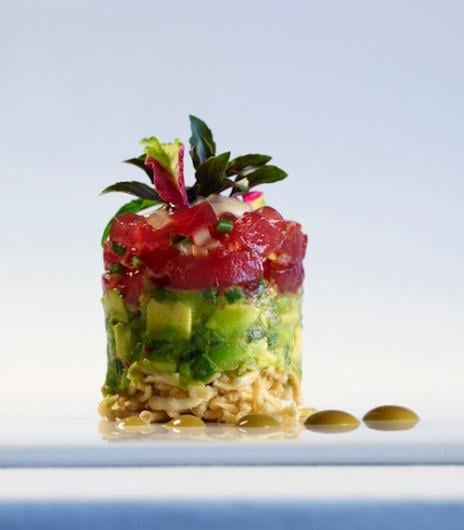 Two authors of books detailing the origins of various elements of contemporary Hawaii cuisine and food culture will be featured at Inspired Food – The Roots of Hawaii Cuisine Brunch & Talk-Story with Chef Alan Wong & Arnold Hiura, a culinary event slated for later this month in Honolulu.
Wong, an award-winning celebrity chef, and Hiura, a Hawaii food historian will give presentations focused on Hawaii's multicultural eats. They'll also share stories about how their own mothers inspired their careers and books.
In addition, the event — set for Sat., April 27, 10 a.m. to 1:30 p.m., in the Japanese Cultural Center of Hawaii (Manoa Grand Ballroom) — will feature tasting stations and a culinary demonstration. Chef Wong plans to demonstrate how to construct a "poke stack" (pictured, right).
Proceeds will benefit for the nonprofit Japanese Cultural Center. Seating is limited to 200 guests. Each ticket includes brunch (tasting stations by Alan Wong's; entrée selections prepared by Pagoda Floating Restaurant; coffee by Pavaraga Coffee and chocolate truffles by Choco Le'a).
Each guest will be offered a gift — the choice of one of two books: The Blue Tomato: The Inspirations Behind the Cuisine of Alan Wong or Hiura's Kau Kau: Cuisine & Culture in the Hawaiian Islands. For more ticket information, call (808-945-7633) or click here.
Wong (pictured, left) is one of the founding chefs of the Hawaii Regional Cuisine movement, and a longtime champion of the farm-to-table movement both in the Islands and nationwide. He is owner and executive chef of Alan Wong's Restaurant and The Pineapple Room restaurant, both in Honolulu. The chef also owns and operates Alan Wong's Amasia in Maui in the Grand Wailea Resort and has license operations with the Watabe Wedding Company for the Honu Kai Lani Reception Facility in Ko Olina.
Hiura is an aficionado of Hawaii's multicultural mix of favorite foods. His Kau Kau: Cuisine & Culture in the Hawaiian Islands is a compendium of the history, stories and heritage of the food we love here in the Islands. Hiura included more than 70 recipes in Kau Kau, ranging from classic dishes born of Hawaii's plantation past to comfort food favorites and Hawaii Regional Cuisine classics.
For more information about Inspired Food — The Roots of Hawii Cuisine Brunch & Talk-Story with Chef Alan Wong & Arnold Hiura, click here.