Runner registration for 40th annual Honolulu Marathon already exceeding last year's count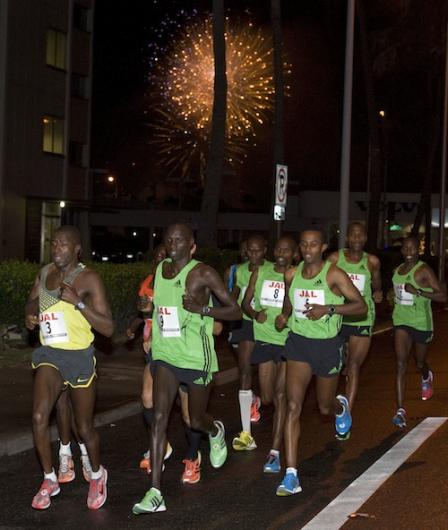 By the time the running gets under way on Sun., Dec. 9, organizers say, the 40th annual Honolulu Marathon is expected to gather together the largest field of runners the event's organizers have seen in years.
With 67 days to go before the event's traditional waterfront fireworks light up the 5 a.m. start time for the 26.2-mile race, the current registration total is 26, 302 — nearly 3,700 ahead of last year's final entrant total of 22,615.
In a news release issued by organizers, Honolulu Marathon President Dr. Jim Barahal said he expects the overall field to be 50 percent larger than the 2011 field.
Ranked last year as the 12th largest marathon in the world, the Honolulu Marathon is popular with Japanese runners. In recent years, runners from Japan have made up about 60 percent of the overall entrant count. This year, entries from Japan are more than 600 ahead of last year's total of 12,359 entries.
Also, thanks in part to a kamaaina deal, through which Hawaii residents could register for $26.20 in late December and early January, more than 11,000 state residents are registered — that's already about 3,000 more kamaaina runners than last year.
Organizers reportedly attribute the higher numbers to social media and online advertising. Runners slated to take part range from world-class athletes and other serious runners to recreational types, some decked out in comical costumes.
The Honolulu Marathon's overall entry tally last exceeded 30,000 in 2002 when there were reportedly 30,428 runners. Prior to that year, it reached the 30,000-mark five times during the 1990s.
This year, organizers said, if the registration pace continues, the total field could again exceed 30,000 and, perhaps, place the Honolulu Marathon in the "mega-marathon" category, which includes, among others, the New York City Marathon and London Marathon.
Interested in lacing up and joining the crowd? Registration will continue until Dec. 8. For more information about the Honolulu Marathon, click here.