Saint Marianne Cope, Hawaii's Mother to Outcasts
Hawaii's second saint served leprosy patients on Oahu and Molokai's Kalaupapa Peninsula with fearless compassion.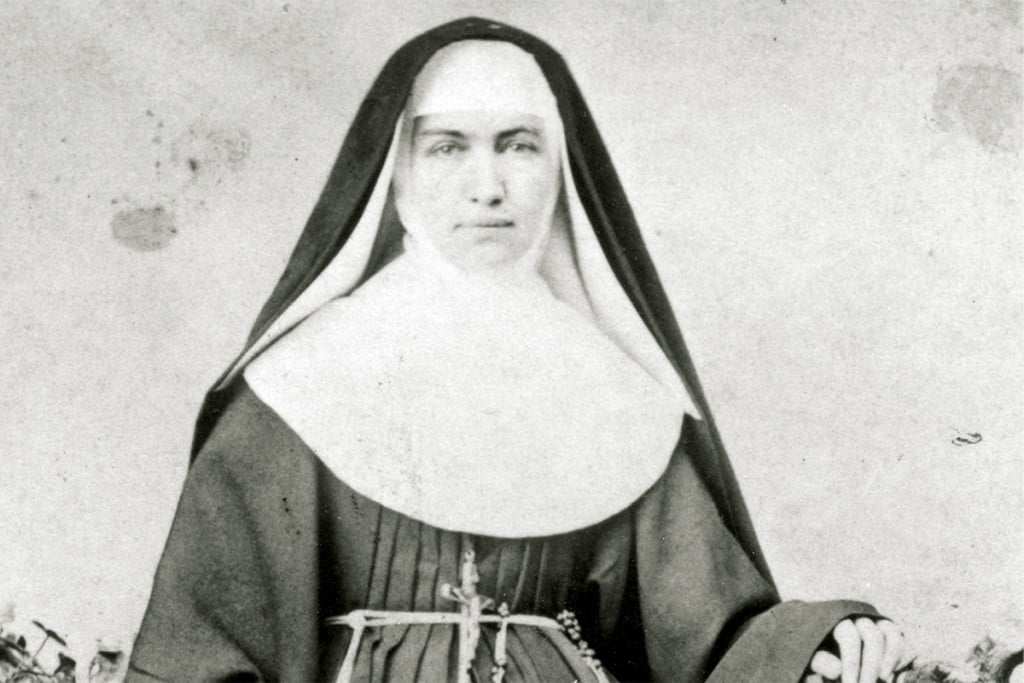 When Mother Marianne Cope and six Roman Catholic sisters sailed into Honolulu Harbor on a fall day in 1883 aboard the new steamship Mariposa, they were greeted by pealing bells at Our Lady of Peace Cathedral on nearby Bishop Street. A crowd gathered on the wharf to welcome the habit-draped women who'd traveled all the way from New York state to help establish desperately needed hospitals and schools for suffering Hawaii residents.
The Mariposa arrived on Nov. 8. On the U.S. mainland, the Brooklyn Bridge had recently opened after 13 years of construction. Telephone lines connected New York and Chicago for the first time. In dusty Omaha, Neb., William Frederick "Buffalo Bill" Cody was organizing his first Wild West Show. And in the Kingdom of Hawai'i, King David Kalakaua and Queen Kapiolani were the Islands' reigning monarchs—the first to be crowned on the grounds of newly built Iolani Palace, earlier in the year.
Several months after their coronation, a letter from the king and queen had landed on Cope's desk in Syracuse, N.Y., where she was serving as mother general for a congregation of the Sisters of St. Francis. She was also forging a career as an innovative hospital administrator with a reputation for treating "outcast" patients, such as those grappling with alcoholism, whose admission to hospitals was frowned upon by the medical profession of the time.
The letter from the Hawaii monarchs detailed a job opportunity: They were searching for a capable leader to take charge of "our hospitals and even our schools, if it were possible." The letter also contained an appeal from the Kingdom of Hawaii to "Have pity on our poor sick, help us."
The plea grabbed Cope's attention. Following in the footsteps of St. Francis of Assisi, Cope, who was then 45 years old, had made it her life's work to cheerfully take on such challenges.
Upon learning that her main work in the Hawaiian Islands would involve serving some of the most downtrodden people found anywhere — shunned and exiled patients suffering from leprosy — she famously replied back to the monarchs, "I am not afraid of any disease," and accepted the job. Cope packed her bags and, along with the half-dozen sisters selected from 35 congregation volunteers, boarded a train to San Francisco. From there, the sisters sailed to Honolulu on the Mariposa, which had just begun making semi-monthly runs to Oahu's south shore.
Though up for any challenge put before her, Cope could not have known then the scale of the trials she would face with her work in Hawaii.
On another fall day in 2012, a group of about 300 Catholics from the Islands made its way to Cope's shrine and museum in Syracuse, and then Rome for her canonization as a saint of the Catholic Church. Among the travelers, organized by the Roman Catholic Diocese of Honolulu, were Bishop Clarence "Larry" Silva, priests, nuns, diocese choir members, a hula halau and up to nine Hansen's disease (leprosy) patients still residing at the former Molokai exile settlement at Kalaupapa Peninsula, where Cope did much of the work that would earn her sainthood.
After the Oct. 21 canonization ceremony, conducted by Pope Benedict XVI at the Vatican City's St. Peter's Basilica, Cope was recognized as one of 12 North American saints. Three years ago, Father Damien de Veuster, now St. Damien of Molokai, became the church's first saint from Hawaii. But both Cope and Damien have long been recognized as spiritual patrons for the outcast, including Hansen's disease patients and, more recently, those struggling with HIV/AIDS.
"Mother Marianne is a champion for human rights. She fought to see to it that everyone would respect the rights of patients under her care," says Sister Davilyn Ah Chick, of the Sisters of St. Francis in Hawaii. Ah Chick, who was involved in Mother Marianne's sainthood candidacy for decades, adds, "She's an inspiration for everyone."
Hawaii-born Bishop Silva, whose great-grandfather and great-aunt were patients at Kalaupapa, echoes Ah Chick's sentiment.
"We are grateful to Mother Marianne, not only for what she did during her lifetime but for the legacy of love that she has created," says Silva. "Our hope is that this canonization will inspire us all to be more dedicated to those in need."
Cope's arrival in Hawaii with her fellow Sisters of St. Francis volunteers came at the end of a long search initiated by the Hawaiian monarchy.
Through its emissary, the Kingdom of Hawaii, which was especially hard hit by leprosy during the early 1880s, had reached out to leaders in 50 religious communities across the United States and into Canada for help.
Cope's was the only order that responded positively.
On Nov. 8, 1883, proclaimed upon their arrival as "Landing of the Sisters Day" in Honolulu, Cope and the sisters enjoyed the hospitality of the city's clergy and others. The next day, though likely disoriented by her surroundings on her first visit to the tropics and still recovering from a bad bout of seasickness, Cope was determined to get to work. She quickly made her way to the overcrowded, three-room Branch Leper Hospital in the Honolulu neighborhood of Kakaako, where she and the sisters would eventually launch their ministry.
During Cope's lifetime, the chronic, contagious disease of leprosy was still shrouded in fear and mystery, despite having afflicted humankind for more than four millennia.
A decade before the sisters headed to the mid-Pacific, a Norwegian physician, Gerhard Hansen, had identified the bacterium that causes leprosy. Still, another 50 years would pass before cases of leprosy were finally and effectively cured, primarily with the development of sulfone drugs. Left untreated, the disease, which weakens the immune system, can open the door for potentially deadly infections, such as pneumonia. Leprosy's attack on nerve tissue and blood vessels often causes bones in the hands and feet to shrink, leading to disability. The damage to nerve tissue can turn minor burns or wounds into gruesome-looking skin mutilations.
Cope had her first in-person look at the effects of the disease upon entering one of the patient rooms at the Kakaako receiving facility.
Locking eyes with an ailing, grime-covered man sitting on a filthy mat, she stopped and tried to speak with the patient. A language barrier dashed any communication between the two. However, through the simple gesture of approaching the man, Cope communicated fearless compassion.
"In the beginning, they were treated as if they were already dead," says Sister Alicia Damien Lau, of the Sisters of St. Francis in Hawaii, referring to leprosy patients of that time. Health officials around the globe, says Lau, were afraid to touch the afflicted because of uncertainty over how the disease was spread.
That mystery lingers today as scientists continue efforts to pinpoint leprosy's transmission mode. Most researchers suspect the disease spreads by way of respiratory droplets, but are uncertain. Since the 1980s, a multidrug therapy has offered a relatively quick cure, all but ending the unfounded fears and heartbreaking stigmatization tied to the illness throughout recorded history.
Cope arrived in the Islands with little knowledge of Hawaii's culture or the heated political climate of the early 1880s, which ultimately resulted in the 1893 overthrow of the Kingdom of Hawaii by then-foreign American and commercial interests. What Cope did know after her first visit to the Kakaako hospital, though, was that the vermin-infested facility was in dire need of a transformation, and she would aim to make it happen.
Cope guided the Sisters in overhaul efforts at Kakaako's Branch Leper Hospital, which soon reemerged as a clean, comfortable place in which patients were treated with dignity. Grateful for and impressed with Cope's accomplishments only two years after her arrival, Kalakaua awarded her the Royal Order of Kapiolani for her work with Hawaii's suffering.
Around the same time, Cope began contemplating a plan to help serve leprosy patients living in exile at a settlement on Molokai's remote, windswept Kalaupapa Peninsula. But she was also feeling a tug to return to the mainland to resume her work in Syracuse.
Cope made her final decision in 1888, when representatives of the newly established government that had seized power from the Hawaiian monarchy begged her to set up a home for women and girls with leprosy at Kalaupapa.
"We will cheerfully accept the work," she responded, likely knowing her acceptance meant she would never make the 5,500-mile journey back to New York.
Mother Marianne Cope was born Maria Anna Barbara Koob in West Germany on Jan. 23, 1838. Her family moved to the United States the following year, settling in Utica, N.Y., and changing their surname to Cope. In 1862, at age 24, Cope joined the Sisters of St. Francis based in Syracuse, took the name "Sister Marianne," and began working as a schoolteacher and principal. Quickly recognized as a deft administrator, Cope was tapped to help establish two general hospitals in New York state. Working alongside doctors, she picked up medical knowledge, ranging from sanitation procedures to pharmacy skills, which the sisters would later put to use in Hawaii.
Leprosy first surfaced in the Hawaiian Islands in the early 19th century. By that time, Native Hawaiians had already been ravaged by other contagious diseases, ranging from measles to cholera, introduced to the long-isolated Islands in the late 1700s with the arrival of European explorers and other outsiders. By the mid-1800s, an estimated four-fifths of Hawai'i's pre-contact population of about 250,000 Native Hawaiians had perished from diseases to which they had little, if any, immunity.
In 1865, with the disease spreading at a rapid rate among Native Hawaiians, King Kamehameha V instituted An Act to Prevent the Spread of Leprosy. As executed by the Board of Health, the law, by 1866, quarantined anyone diagnosed with the disease to a settlement at Kalaupapa Peninsula, separated from the rest of Moloka'i by sheer, 2,000-foot pali (cliffs). The flat, five-square-mile triangular peninsula was created by a late-stage eruption that occurred long after the north-shore sea cliffs had eroded to much the way they majestically appear today, all but securing the peninsula's isolation. With modern-day access to Kalaupapa (Hawaiian for "flat leaf") limited to a small plane, boat, or a trek or mule ride down a narrow, 2.9-mile switchback-loaded sea cliff trail, the feeling of isolation persists.
From 1866 until 1969, when the state Board of Health ended patient segregation laws, an estimated 8,000 people were sent to Kalaupapa. In some cases, patients were accompanied by healthy relatives or friends known as na kokua (in Hawaiian, "the helpers"). The exiled were initially relegated to a settlement at Kalawao, on the peninsula's windward side. The settlement was later relocated to Kalaupapa, situated on the more arid leeward side of the peninsula. Both settlement sites are now part of Kalaupapa National Historical Park.
Belgium-born priest Father Damien de Veuster had already been caring for Kalaupapa's exiles for a decade when he first met Cope in 1884, a few months after the sisters had begun dressing the wounds of patients at Kaka'ako's Branch Leper Hospital on O'ahu. A few years later, when church and government leaders in Honolulu had deemed Damien, by then diagnosed with leprosy, an unwelcome visitor, Cope offered hospitality to the outcast priest.
Upon her November 1888 arrival in Kalaupapa, with two young assistants, Cope cared for Damien, by then gravely ill, and assured him his work with exiled leprosy patients would continue. Two weeks after Damien's death in April 1889, from complications related to his leprosy, the Board of Health selected Cope to serve as his successor on Molokai.
Cope continued caring for patients at Kalaupapa until her death of natural causes on Aug. 9, 1918, at age 80. She never returned to New York, even for a visit.
The Sisters of St. Francis of the Neumann Communities, the modern representation of Cope's East Coast-based Order, first petitioned Pope Paul VI to open the cause for Cope's canonization in 1974. Canonization is conferred when the Vatican attributes two cases of miracles to a candidate for sainthood. In 2004 and 2011, officials ruled that cases of inexplicable medical recovery in two separate patients were due to Cope's intercession.
Further underscoring the case for sainthood, says Ah Chick, are Cope's own meticulous journals and letters, which "manifest her moral and spiritual virtues."
The Sisters of St. Francis in Hawaii are proud of Cope's groundbreaking service in the Islands. Besides upgrading the Branch Leper Hospital in Kakaako and, in November 1885, adding to it Kapiolani Home, a safe haven for girls left homeless when family members were diagnosed with leprosy, Cope helped establish Maui's first general hospital, and had a hand in setting up various schools throughout the Islands. At the Kalaupapa settlement, she took over a home for boys and an infirmary Damien had established. At the settlement, Cope also established Bishop Home for single women and girls and, later, opened a new home for boys, Baldwin Home.
Sister Lau, a longtime healthcare administrator, says the medical profession considers Cope a pioneer for embracing a philosophy grounded in patients' rights nearly a century before it became the foundation of the hospice movement.
Even among these larger accomplishments, the sisters who moved Cope's sainthood candidacy forward especially treasure small details about Mother Marianne's everyday life, as noted in her journals and letters. Among other things, Cope taught English to Hawaiian girls and endeavored to learn the Hawaiian language herself.
"She never discouraged the girls from keeping their culture," Lau says, pointing out that among old photos from Kalaupapa are images of hula performances.
Ah Chick adds that, in Cope's quiet and humble way, "she enabled others [at the Kalaupapa settlement and elsewhere] to go beyond their affliction. She taught them how to sew, plant crops, cook and pray."
Throughout her life, Cope was known to maintain an unfailing optimism and expressed delight whenever a glimmer of the Franciscan value of joyfulness she believed in shone through daunting hardship, Lau says.
In a letter Cope sent to a government official on Moloka'i, she wrote: "The children are as happy and joyful as butterflies."
Lau smiles at the thought of the small miracle of such a scene at the disease settlement.
"Mother Marianne wanted to bring joy to such a desolate place, and she did."