San Francisco Mayor Engaged in Hana?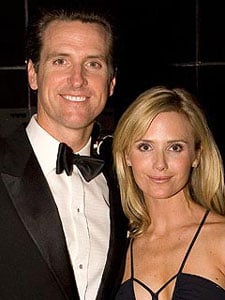 San Francisco mayor Gavin Newsom got engaged in Hawaii last weekend—to actress Jennifer Siebel.

Newsom's a colorful figure, best known for issuing 4,000 marriage licenses to gay couples, and for having an affair with his campaign chair's wife.

The Big Question, according to California's Sen. Dianne Feinstein, was: When? When she asked him in public, Newsom declined to name a date.

Being from Hawaii, our question was: Where? What part of the Islands is suitable for mayoral proposal?

An AP story out of San Francisco insisted the bethrothal took place in the Big Island Kailua-Kona region. We doubted it. So HAWAII Magazine called Newsom's press office. Their answer was: an unspecified location on Maui.

One rumor was that Newsom and Seibel were holed up in a condo in glittery Wailea, and seen hanging around a little at the Four Seasons there.

But we have a different theory, because a little internet digging turned up an interesting fact.

In 2001, Newsom and other partners, including the Getty family, bought Hana Ranch. Then Oprah Winfrey turned around and bought some of the remote Maui property from them for herself.