Savin' the Ditch. Where can I get a Kohala Ditch t-shirt?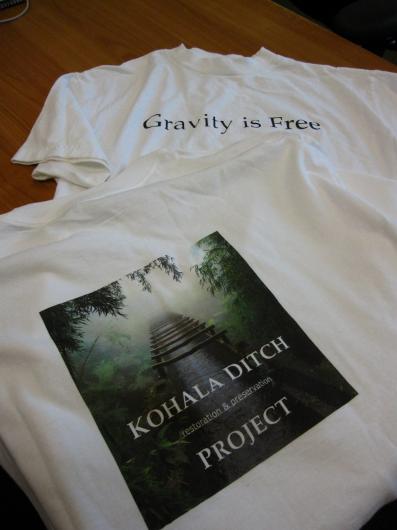 HAWAII Magazine subscriber Donald Hinds of Florida recently called us to ask:
"Is there any way I can purchase a t-shirt to help generate money for the Kohala Ditch restoration effort? I was on the Flumin' Da Ditch ride two months before the earthquake hit, that damaged it."
You ask. We answer.
There's good news for Donald, and anyone else who wants to help restore the ditch. The Kohala Ditch Steering Committee would be more than happy to sell you a t-shirt.
The Big Island of Hawaii non-profit organization printed the shirts to raise funds and public awareness within the community for the ditch repair. Two large earthquakes centered off the Big Island's South Kohala Coast demolished sections of the century-old irrigation system in late 2006, immediately stopping the flow of water to the area's farms and businesses. The popular Flumin' Da Ditch ride, which used a portion of the 14-mile system of flumes and waterways, was among the causalities.
A t-shirt goes for $20, plus shipping and handling.
The group doesn't have an official website or phone number. So the best way to contact them is by e-mail at oluolufarms@mac.com. You can place an order or inquire about available sizes. Other donations are gladly accepted through this e-mail address as well.
We've included a picture of a couple of the t-shirts, above. A different slogan such as "Got Water?" or "Save the Ditch" is printed on the front, while a picture of one of the ditch's flumes—in its pre-quake state with water freely flowing—is on the back. We've got a few. Trust us, they look great, and will look great on you.
You can find a feature on the Kohala Ditch restoration effort and the current status of the Flumin' Da Ditch ride in the November/December 2009 issue of HAWAII Magazine. The issue is arriving in subscribers' mailboxes now, and available for purchase in a digital edition here. Look for the November/December issue on newsstands and in bookstores nationwide.