Say goodbye to Waikiki's International Market Place? An update.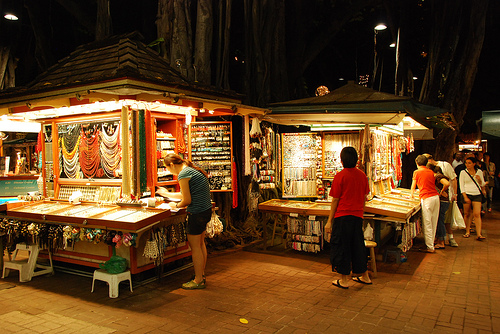 Last month, we reported that the original plans to renovate Waikiki's International Market Place had been put on hold and the property would be staying the same, for now.
That was true as far as it went. However, we have since learned that the landowner, Queen Emma Land Co., has requested new proposals from developers—not just for the Market Place, but for a 6.48 acre parcel which also includes the Waikiki Town Center (the three stories of shops on the Kuhio Avenue end of the Market Place), plus Perry's Smorgy and the Food Pantry on Kuhio.
Developers can, at their option, also include the adjacent 352-room Miramar Hotel.
Five developers have submitted proposals for redeveloping this major property, located in the heart of Waikiki. None of them were required to preserve either the name or the current look of the International Market Place.
"We have a long way to go before we have a final plan," says Les Goya, vice president of Queen Emma Land. "We're reviewing proposals now."
Goya notes that community feeling is divided. "Some people think we shouldn't change the Market Place at all, there isn't anything else like it. Many other people think that it's about time we did something." He takes the latter view. "Those wood frame buildings have seen better days."
Goya hopes to have a decision on a development plan by the end of this summer. After that, the necessary community meetings and permitting process may take a year or two.
Our previous post attracted 27 reader comments—almost all unanimously passionate about leaving the Market Place alone.
However, for those who commented on greedy developers, it's worth noting that the landowner, Queen Emma Land Co., is a non-profit. Its mission is to take care of the land bequeathed to the Queen's Health Systems by King Kamehameha IV and Queen Emma. All income goes to providing health care, education and charitable services, principally at Queen's Medical Center in downtown Honolulu.