Scenes from Hawaii Five-0's season 3 premiere at Waikiki's "Sunset on the Beach"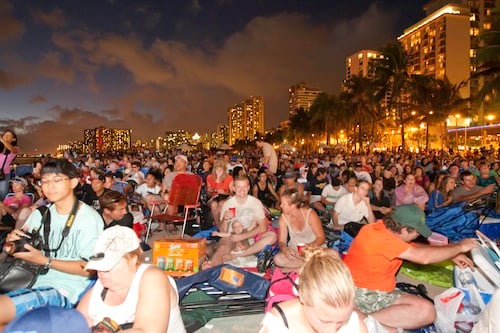 The third season of Hawaii Five-0 kicked off at Waikiki's "Sunset on the Beach" venue on Sunday with a sneak-peak viewing of tonight's premiere episode.
By the time festivities got under way with the stars of our favorite re-imagined TV police procedural drama walking a red carpet rolled out on the sand, cheering and sign-waving fans had filled Waikiki's Queen's Surf Beach.
Fans snapped photos and scrambled for autographs from actors such as
Michelle Borth
(Catherine Rollins),
Masi Oka
(Dr. Max Bergman) and
Daniel Dae Kim
(Chin Ho Kelly). When the show's lead actor,
Alex O'Loughlin
(
pictured, below
) arrived, excited fans shouted even louder, waved signs a little higher, and wiggled their way to spectator spots for better glimpses of the Five-O team's photogenic, rule-bending leader, Detective Lieutenant Steve McGarrett.
The TV show's executive producer, Robert Orci, said the evening's event titled "On the Beach with Hawaii Five-Ohana" aimed to celebrate Hawaii and the beauty of the Islands.
Oka echoed that sentiment. "Hawaii is a character on our show, if not the lead. It's not about McGarrett, it's not about Danno. It's about Hawaii," he said. Oka also confirmed that his character will be part of the third season. He added that while moving to the Islands has been great — beautiful weather, beautiful people — he wishes Los Angeles were a tad closer.

Other stars, such as Borth (pictured, below), who plays McGarrett's love interest on the show, said that since her move to Oahu she is thoroughly enjoying island life and has yet to return to L.A.
Daniel Dae Kim, a Hawaii resident for eight years, was asked if he now considers himself to be kamaaina. In response, Kim, who moved to Oahu as part of the cast of Lost (ABC), said: "I don't know, I think that's for other people to decide. I just know that I live here and I call it home."
In addition to the red-carpet entrances the crowd enjoyed Hawaii-focused entertainment, with performances given by groups ranging from graceful Halau Hula Olana dancers to dramatic Taiko drummers.
After sunset, a hush fell over the crowd as the new episode — projected onto a 30-foot screen — got under way. The premiere aired last night on CBS. For more information about the Hawaii Five-O show, click here.
Masi Oka (pictured, above), who appeared in the first season of Hawaii Five-O, was more prominently featured in the sophomore season.

Daniel Dae Kim (pictured, above), is among the primary Five-O cast members and an alumnus of Hawaii-filmed Lost, which wrapped up a six-season run in May, 2010.
Before Hawaii Five-O's freshman season, fans of the Hawaii-filmed classic show wondered whether CBS could pull off a popular redux. This "Sunset on the Beach" turnout seem to prove that the TV network is succeeding.
Hawaii Five-O cast members and executives, along with Hawaii performers, greet cheering, photo-snapping fans from the Waikiki stage used for Oahu's various "Sunset on the Beach" events.
Oahu-based Halau Hula Olana performers take the stage before the sneak-peak screening. Among the other performers: Kenny Endo Taiko Drums and the Honolulu Boys Choir.
Alex O'Loughlin (pictured, above) addresses fans at the "world premiere" of the show's third season. So, how will the plots play out? We have no idea. However, late last week we spotted camera crews, actors and several "extras" immersed in the filming both daytime and nighttime scenes. So, apparently, the Five-O story is still in the works.