Secret Garden: Nualolo Kai on Kauai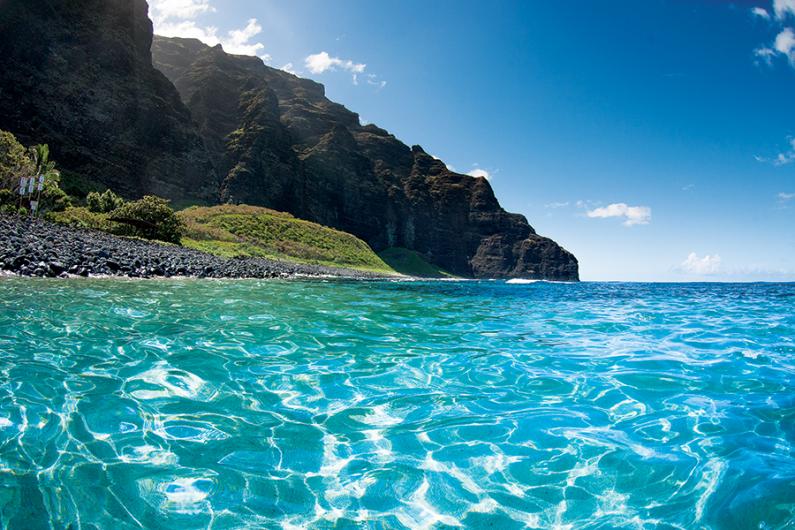 The sun had yet to crest the sheer, 1,500-foot cliff wall behind us when we took a break from pulling weeds. One woman tossed her work gloves aside and kicked off her shoes. Another dialed up a song on her iPod and handed it to Sabra Kauka, leader of our weekend work trip along Napali Coast State Wilderness Park.
There's no cell phone or Wi-Fi service anywhere along this 16-mile stretch of high cliffs and verdant valleys in northwest Kauai. So, for the five days of our service trip, entertainment was mostly of our own making.
Kauka inserted the iPod's earbuds and tilted her head, her strong facial features a study in concentration as she drummed the song's beat on an upside-down plastic bucket. As the first sonorous syllable of the song passed kumu hula (hula instructor) Kauka's lips, two women in the group dipped their knees in response and an impromptu hula performance commenced. A wave of chicken skin—what locals call goosebumps—moved across my body. My gaze shifted to the lava-rock cliff behind us, where a giant "X"—the natural crisscrossing of two ancient lava channels—appeared deeply etched.
If these rocks could talk, I thought, they'd likely share centuries of hula stories performed in this very spot, the remains of the early Hawaiian settlement Nualolo Kai.
The last of Nualolo Kai's Hawaiian residents vacated the valley in the early 20th century, leaving behind a complex series of rock walls and platforms, evidence of a rich and orderly life. Remote and isolated, the narrow coastal flat is surrounded by towering, amphitheater-shaped cliffs on all but its ocean side.
Nualolo Kai lies just west of its more famous Napali neighbor valley, Kalalau, but the differences between the two are dramatic. No hiking trail leads to Nualolo Kai. Its volcanic walls are mostly devoid of vegetation. Due to an offshore reef, there is no wide, sandy beach mirroring Kalalau's. And the only overnight camping at Nualolo Kai is mostly reserved for the nonprofit of which Kauka is president: Napali Coast 'Ohana, the state-appointed caretakers of this historic site.
Several times each summer, the state issues Kauka and her volunteers special-use permits for Nualolo Kai to do service work such as clearing vegetation, removing invasive species and conducting archaeological research. All food, water, gear and even the volunteers themselves are boated in by one of three tour operators allowed to lead tours through the former settlement, one of the richest and most intact in the Hawaiian Islands. Archaeologists have mapped many of Nualolo Kai's building sites. Stonemasons have reconstructed rock walls and a canoe house. And botanists have surveyed native plants growing at the back of the shallow valley, on its rocky shoreline and on the cliff walls.
The focus of our work trip was a fenced-in 5,000-square-foot area of native plants. A goat skull propped on a fencepost informed all comers what the fence was built to keep out. As impenetrable as Nualolo Kai's 500- to 1,500-foot vertical cliff faces seem, they are easily scalable by non-native, vegetation-eating goats. While not the only threat to native plants, the insatiable goats strip vegetation bare.
"My feeling is, if we've done something to displace native plants from a place, it's our responsibility to get those plants back where they belong," said Mike DeMotta, assistant director of living collections & horticulture for the Kauai-based nonprofit National Tropical Botanical Garden.
DeMotta helped select the nearly two-dozen native and culturally important plants at Nualolo Kai's in situ restoration site. On this trip, DeMotta's interest was centered on the success of one particular species in the enclosure.
Ohai was once a common shrub on Hawaii's shorelines, its red blossoms favored by lei makers. Sadly, only a few known ohai shrubs currently survive in the wild on Kauai. Most are found along the sand dunes of Polihale State Park, on Napali's western end, where off-road vehicles threaten their habitat.
A year prior to our work trip, a team from the Plant Extinction Prevention Program of Hawaii, which focuses on species with fewer than 50 plants remaining in the wild, planted a few ohai seedlings at Nualolo Kai. Thanks to a rainy spring, many other plants had survived the year. Adding to the positive were two surviving ohai.
"This one looks good," said DeMotta, a smile spreading across his face.
Several of us gathered around to inspect it. "It's flowering," said Kauka.
"And it's got a green seedpod," said DeMotta, a self-taught horticulturalist whose years as a hula practitioner also fed his interest in Hawaiian plants. "This is the tallest one I've seen on Kauai."
Our weed-pulling efforts also included castor bean and lantana found throughout the valley. DeMotta, meantime, investigated plant life along the base of the valley's cliff walls.
"Nualolo Kai is a treasure trove of native plants," he said. "Wherever the goats can't reach, native plants grow, particularly along the back wall. Some of the rarest plants in northwest Kauai still persist there."
One of these, Hedyotis st.-johnii, its Hawaiian name long lost to time, is not quite as rare as the ohai, but a remarkable botanical find all the same. Endemic to Hawaii and found only on this coast, the flowering plant is also known as the Napali beach starviolet.
"It's a fantastic thing," said DeMotta. "These plants are tougher than people give them credit for. You've just got to level the playing field."
Napali Coast Ohana has willingly taken on more than two decades of hard labor to level the playing field for the area's native plants. Hard work, however, has its rewards. Besides hula and song, on our work trip there were afternoons learning how to pound kapa (bark cloth) in the shade of a grove of noni (Indian mulberry trees). Hawaiians used kapa for clothing, bedding and sails, crafting it from bark harvested from wauke (paper mulberry), another Nualolo Kai tree.
Five days in the valley slipped by without me sending a single text message, posting to Facebook or downloading a Netflix movie. And I felt more connected to the stream of life than ever.
Nualolo Kai
Ocean-based day tours with landings at Nualolo Kai are offered by Kauai Sea Tours and Capt. Andy's Sailing Adventures. For more information on the volunteer efforts of Napali Coast Ohana, visit napali.org.