See All of Oʻahu From These 8 Hiking Trails
Sometimes the best way to see the entire island is from above.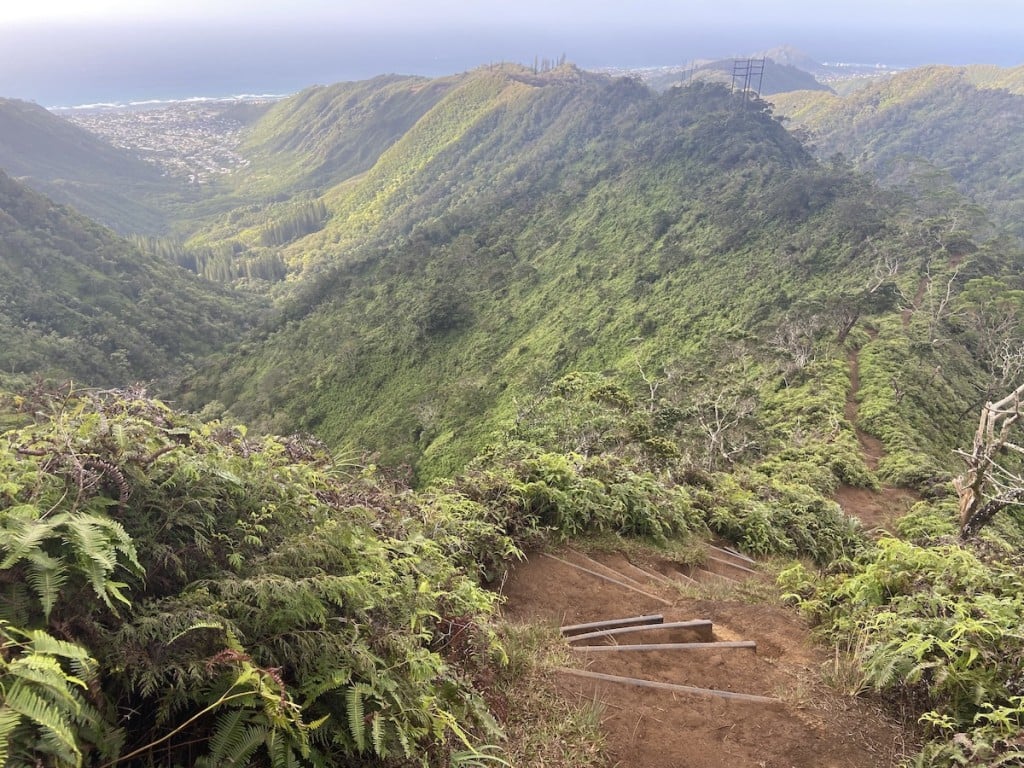 I spend most of my free time in the mountains on Oʻahu. And I can honestly say, there's no better way to experience the natural beauty of the island than by hiking any of roughly 50 state-run trails.
Hiking is something I do even when I'm traveling outside the Islands. Not only do they help burn the inevitable calories you pack on while you're on vacation, but it gives you a unique perspective of a place. You see parts of the city or country you won't often find in guidebooks.
Oʻahu boasts a variety of hikes, from grueling ridge trails to easy strolls along paved paths. Find waterfalls, climb old railway stairs, glimpse native birds—there's so much to see (and do) on any trail.
Here are eight trails that will give you a sense of every part of Oʻahu, from its rugged southern coastline to the lush Windward Side. Plus, you'll nab great photos for your Instagram feed. (We know that's what you want!)
1. East Honolulu and Waimānalo: Wiliwilinui Ridge Trail
This trail starts in a gated community—there's limited access to the trailhead, which keeps the crowds to a minimum—and runs 5 miles along a ridge to the summit of the Koʻolau Mountains. The beginning of the trail is wide and well-graded; the end is narrower and steeper. You'll walk through native forests—look for wiliwili, koa and ʻōhiʻa trees. The reward is 360-degree panoramic views of Waimānalo and most of Honolulu. Level: Intermediate.
2. Southeast Oʻahu: Makapuʻu Lighthouse Trail
One of the easiest hikes on Oʻahu—with the biggest payoff, in my opinion—is the trail to the historic Makapuʻu Lighthouse. This 2-mile (roundtrip) paved path meanders along windswept cliffs above the easternmost point of Oʻahu with views of the rugged Kaiwi Coast and Pacific Ocean. At the top, you can gaze down at the 46-foot-tall Makapuu Point Lighthouse, built in 1909. During winter months, you can often see humpback whales frolicking in the warm waters offshore—another spectacular sight. Level: Easy.
3. Windward Oʻahu: Kaʻiwa Ridge Trail
There's no better view of the famous Nā Mokulua ("two islands") in Kailua than from the pillboxes above Lanikai Beach. The Kaʻiwa Ridge Trail—known as the Lanikai Pillbox Trail—is a 1-mile, mostly uphill trek to two concrete pillboxes—technically, observation stations built in early 1943. It's hot—there's no shade along the trail—and often crowded, especially during summer months. Level: Easy to intermediate.
4. Central Oʻahu: ʻAiea Loop Trail
This 4.8-mile loop trail starts at Keaīwa Heiau State Recreation Area, a 384-acre park at the end of ʻAiea Heights Drive. It's mostly shady and not very strenuous, with no huge rocks to climb or stairs to a summit. You get views of Hālawa Valley—and the H-3 freeway—Pearl Harbor, Lēʻahi (aka Diamond Head) and the Koʻolau Mountains. While you stroll through fragrant lemon eucalyptus trees and Norfolk Island pines, be on the lookout for the remnants of a B-24 bomber that crashed in the area in 1944. Level: Easy
5. East Oʻahu: Hauʻula Loop Trail
Venture into East Oʻahu to find this 2.7-mile loop trail, which climbs Hauʻula and Waipilopilo ridges, crosses Waipilopilo Gulch, then heads to an overlook of Kaipapau Valley—a view not easy to find. One of the highlights is walking through planted groves of Norfolk pines (above) with views of Hauʻula and the ocean beyond. Level: Easy.
6. North Shore: Keālia Trail
The best way to see the North Shore coastline—unless you don't mind skydiving—is to hike this 7-mile trail. It ascends a steep pali (cliff) with continuous views of the coast until you reach the summit of the Waiʻanae Mountains. It's hot and dry almost the entire way, but the views—of the North Shore and, later, Mākua Valley on the island's west side—are stunning. Level: Intermediate.
7. West Side: Pu'u O Hulu Trail
This trail is often referred to as the Māʻili Pillbox Trail or the Pink Pillbox Hike. Either way, it's a moderately difficult 1-mile trek to several pillboxes perched above the Oʻahu's western coast. (The pink one is the most popular—and visible. It was painted this color in October 2015 for breast cancer awareness.) It's a steep climb to the top along a fairly narrow—and hot—trail. The views are spectacular from any of the pillboxes. Level: Intermediate.
8. Westernmost Point of Oʻahu: Kaʻena Point Trail
This 3.5-mile hike runs through the Kaʻena Point Natural Area Reserve to remote Kaʻena Point, one of the last intact sand dune ecosystems in the main Hawaiian Islands. Oahu's westernmost promontory, it rewards hikers with sweeping views of the island's still rugged north and leeward coastlines. See wedge-tailed shearwaters, Laysan albatross, even Hawaiian monk seals along this well-graded trail to the point. (Winter months bring humpback whales to the area.) Level: Easy.
Hiking tips: Bring lots of water and snacks; sun and rain protection; and a charged cell phone. Always hike with someone. Check weather conditions before you go. Know your limits. Stick to the trail.