See authentic Hawaiian petroglyphs on this easy Oahu hike in under five minutes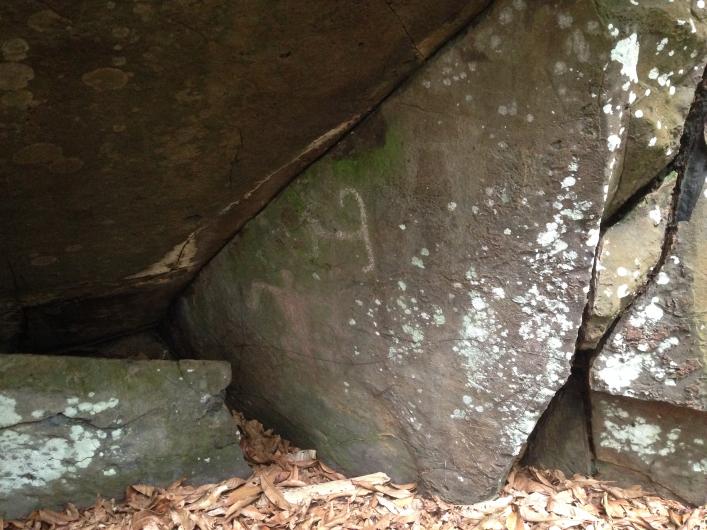 Okay, so, "hike" is a strong word. This is more of a walk on a trail behind the Nuuanu Memorial Park, which makes the three petroglyph sites located along it all the more unexpected. And if you're looking to check out a couple waterfalls just outside downtown Honolulu, Nuuanu has a couple of those as well: Alapena and Kapena Falls.
The easiest way to access all of this is to park at Nuuanu Memorial Park and Mortuary in the very last parking lot behind the cemetery. Walk down toward the stream and veer to your far left where there's a grassy trail.
In total, it's barely a half-mile long and nearly impossible to get lost on, that's how quick and direct it is. The trail along the west bank of Alapena Falls practically holds your hand as it leads you right to the most obvious of petroglyph sites—collectively there are about forty carvings of human and animal figures.
If you're like me, scrolling through your Apple Music to start a playlist as soon as you set foot onto the trail, you'll miss some of the petroglyphs immediately. That's how quick you can get to them. (If you're also like me, a magnet for mosquitos, wear lots of insect repellant.)
About 15 steps in and on your left, there's a small, elevated cave area. Step up on a few boulders and you'll see rebar reinforced into the rocks to keep people from getting close enough to vandalize them. Etched into the surface, you can see human and animal figures.
It was a little dark when I went in the morning and the flash on my phone wasn't powerful enough to capture it well, so I couldn't really make out the "rainbow warrior" petroglyphs that are documented here. They have a curved halo around their heads connecting shoulder to shoulder. In Hawaiian mythology, these warriors are tasked with protecting the aina (land) and maintaining harmony for the community.
Just a little further upstream is another iron cage. Through it, you can easily make out two more human figures with a dog standing over one's shoulder. Because of the more filled-in, muscular style and details, like fists and feet, these petroglyphs indicate a greater self-consciousness and artistic awareness, likely of a later date than the stick-figure types you'd find elsewhere in Hawaii.
To give you a better vantage point, here's a video another hiker made documenting the sites:
There are many interpretations about the dogs etched into the stone. According to the book "Ancient Sites of Oahu" by Van James, these petroglyphs relate to the legend of a dog that guarded Kapena Falls. The dog was a kupua (supernatural beings) with the ability to shape-shift and according to this myth it saved a traveler from robbers.
Another legend, mentioned in the text "Hawaiian Mythology" by Martha Warren Beckwith says the dog of Nuuanu is Kaupe, a half-man, half-dog demigod who was less benevolent. In this legend, the dog-man attacks and eats people on Maui and on Oahu. He settled into Nuuanu after overthrowing the government of the chief who ruled the area.
It's uncertain whether either of these legends relate to these particular petroglyphs, but it's clear that stories involving dogs factor heavily in the area judging by the number devoted to them.
In comparison to other hikes that showcase waterfalls and pools, this one is mostly unmemorable. The waterfall isn't that high, though the pool is supposedly 15 to 30 feet deep, and the water isn't clear and picturesque. You'll notice signs around it warning of potential exposure to leptospirosis if you swim in the water. It is, however, one of the few trails on the island you can casually slide in between a late breakfast in Kaneohe and early lunch in Honolulu—a hike you won't have to plan your entire day around.
While getting your feet wet isn't recommended here, staying dry to check out the petroglyphs, pieces of Hawaiian history, and imagining what the ancient people who made them were thinking and so inspired by to carefully chisel them into stone is a unique feature and reason to stop by.