See inside the legendary Battleship Missouri on this intimate tour
An international treasure rests at Pearl Harbor, Oahu.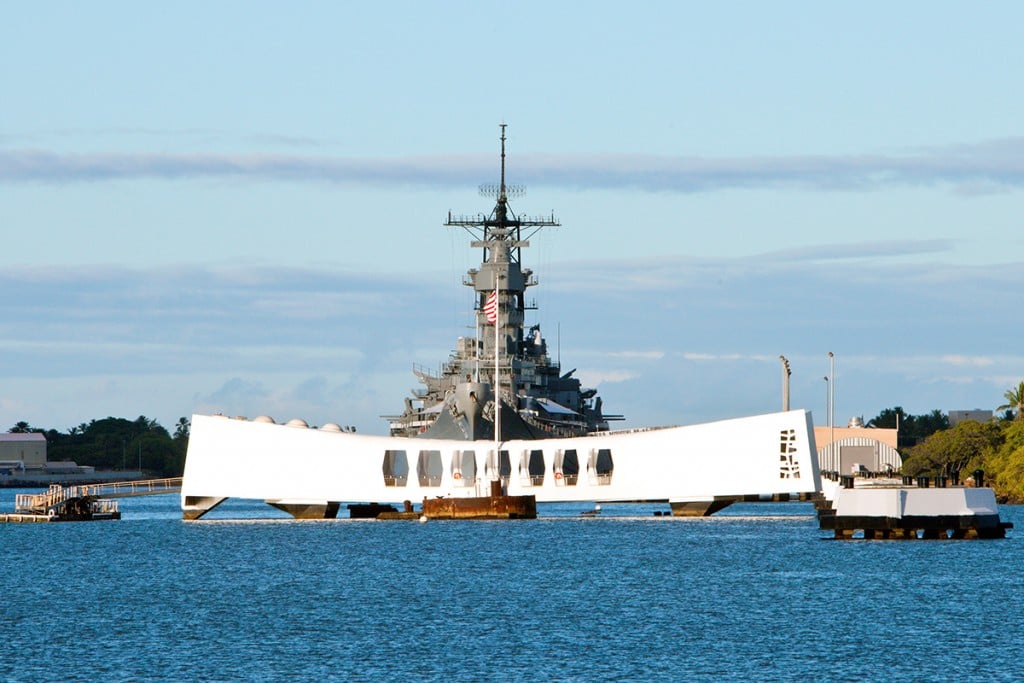 The Battleship Missouri Memorial, located a mere ship's length from the USS Arizona Memorial, completes a historical visitor experience that begins with the "day of infamy" that saw the sinking of USS Arizona in Pearl Harbor and ends with Imperial Japan's formal surrender aboard the USS Missouri (BB-63) in Tokyo Bay.
As our primary artifact, the Battleship Missouri Memorial is the place we work and explore. It serves as a constant reminder of our obligation to future generations and it is an inspiration to millions of visitors. It is quite simply America's last and most famous battleship.
For those wanting a more in-depth peek into the last battleship ever built, join the Heart of the Missouri tour. This specialty tour showcases the power behind the Mighty Mo, known to many as one of the greatest battleships of all time. On our most-requested guided tour, you will see the mechanics behind this Iowa-class battleship, which was designed for speed and firepower.
What exactly does it take to move a ship three football fields long at a speed of nearly 40 MPH? How does one 16-inch gun fire a 2,700-pound projectile for an incredible 23 miles with pinpoint accuracy? Not only will this tour answer some of your most frequently asked questions about one of history's most dominant warships, but you'll get hands-on training with lessons on lighting off one of the eight three-story Babcock and Wilcox boilers. Grab onto the throttles releasing the steam that drives the ship's massive propellers. Venture down Broadway, the longest and widest passage on the ship and meet (via video) the ship's last Chief Engineer who will explain the work of the "snipes," the men who worked below the water line in the heart of the Missouri. And if you're up for it, test your firing skills in the aft plotting room, where you will enter data into the Missouri's giant analog computers and pull the trigger that fires the big guns!
For your safety, please note that this is a physically strenuous tour and is not recommended for those with mobility constraints. You must be able to climb ten sets of "ladders," (Navy-talk for steep, narrow stairs), step over a dozen two-foot high obstacles and navigate through tight doorways and low overheads. Closed toe shoes are mandatory and the tour is limited to guests ages 10 and above. This intimate tour has a capacity of ten visitors at a time.
The USS Missouri is a majestic living museum that provides a personal experience with one of America's most beloved battleships. The tours – either self-guided or with a knowledgeable tour guide – provide a unique glimpse into the USS Missouri's role in World War II, the Korean War and Desert Storm, as well as an opportunity to learn more about the crew who served aboard her during those wartime conflicts.
Since opening in January 1999, the Battleship Missouri Memorial has attracted more than 8-million visitors from around the world with a fascinating tour experience showcasing the USS Missouri's unique place in history.
The Battleship Missouri Memorial is open daily from 8:00 a.m. to 4:00 p.m. General admission, which includes choice of an optional tour, is $29 per adult and $13 per child (ages 4-12). Military, kamaaina (local resident) and school group pricing is available. Pricing for the Heart of the Missouri tour is $25 in addition to general admission. For information or reservations, call (808) 455-1600 or visit USSMissouri.org.