Sending Mochi Ice Cream to Hawaii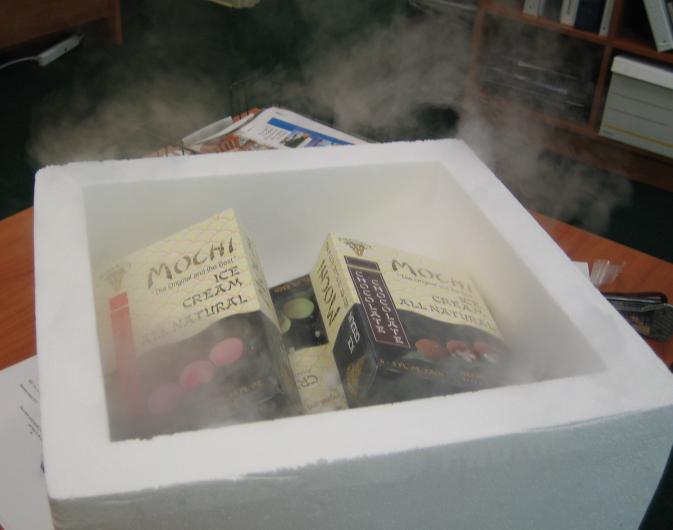 A mysterious package arrived for me at front desk. I felt like a mad scientist when I opened it and a fog rose from the Styrofoam box packed with dry ice. When the fog cleared, I saw five whole boxes of Mikawaya's Mochi Ice Cream.
Mikawaya is based in Los Angeles, but mochi ice cream is a Hawaii favorite. It's a perfect combination of textures: ice cream, still hard despite its journey across the Pacific, wrapped in soft mochi (Japanese sweet rice cake).

The frozen treat, available online and at many stores, comes in seven flavors: Mango, Strawberry, Vanilla, Kona Coffee, Chocolate, Red Bean and Green Tea (there's also a Taro Mochi, but it's seasonal and currently not available). Our favorites were strawberry and mango, a perfect afternoon treat.
If you want to be more adventurous with your dessert, you can also try this recipe.
Mango Mochi Ice Cream with Raspberry Sauce
1 box Mikawaya Mango Mochi Ice Cream
Raspberry Sauce:
1 (10 ounce) package frozen raspberries (thawed)
1/4 cup white sugar
2 Tablespoons cornstarch
2 Tablespoons water
In small saucepan, combine raspberries and sugar over medium heat. Cook until raspberries are broken down (about 10 minutes). In a separate bowl, mix cornstarch and water until combined. When raspberries are broken down, slowly whisk in cornstarch mixture. Bring to boil and cook 3 minutes or until slightly thickened. Chill well.
Serve individual Mango Mochi Ice Cream on plate. Drizzle with Raspberry Sauce.