"Sex and the City" actor Chris Noth bids Maui "aloha"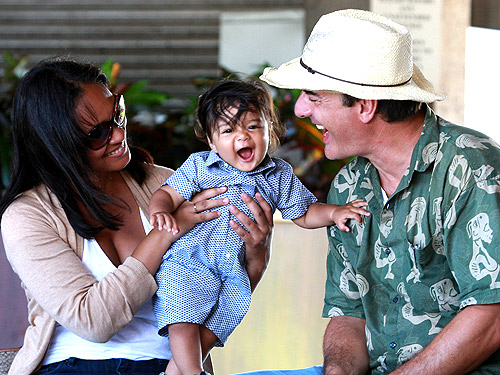 Sorry, we just couldn't resist the plethora of cuteness here.
Actor Chris Noth—a.k.a. "Mr. Big" of the Emmy-winning HBO series Sex and the City—was snapped at Maui airport yesterday, awaiting a flight to points unknown after a weeklong vacation.
The real star of the photos, though, isn't the leisurely-attired Noth, 53, or his girlfriend Tara Wilson, 26. It's the couple's 8-month-old son Orion Christopher.
We've never seen anyone this happy about leaving Maui. Must be the adorable kid.
This summer's $150 million-grossing Sex and the City big-screen movie—co-starring an infinitely more more stylish Noth—is out on Tuesday on DVD.