Shop and Dine like a Royal at the Queens' MarketPlace in Waikoloa
This retail experience on the Big Island's Kohala Coast offers great restaurants, unique shops and ways to learn more about Hawaii's unique culture.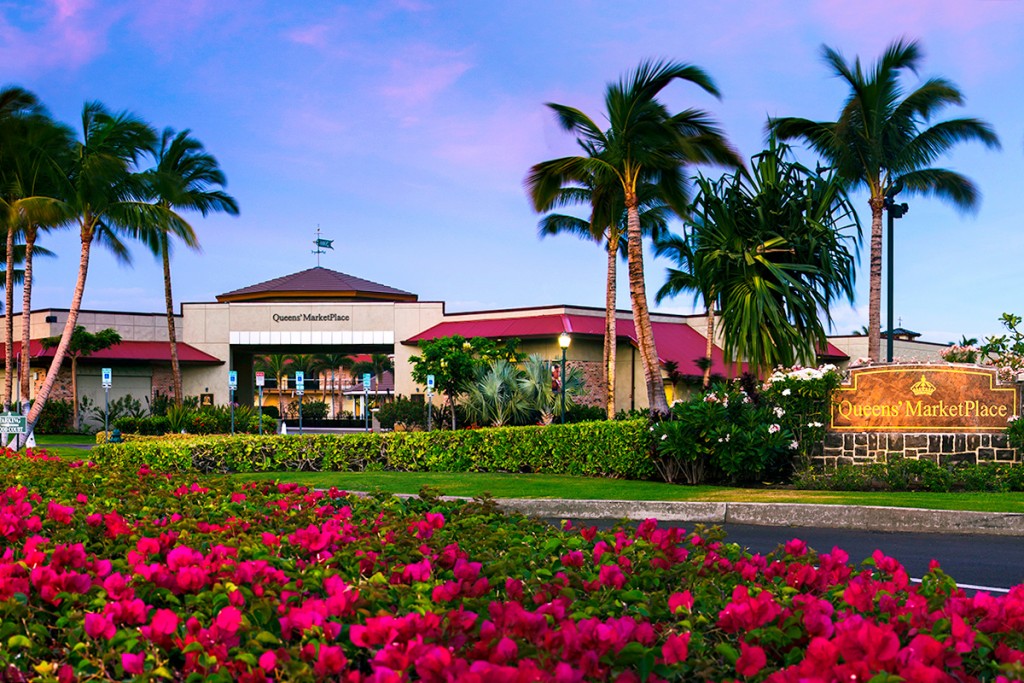 Queens' MarketPlace is the crown jewel of the Waikoloa Beach Resort shopping, dining and entertainment experience. When it opened in 2007, its goal was to provide both resort guests and the local community a place to not only shop and dine but to share and celebrate the music, dance, arts and crafts of Hawai'i. It was meant to be a true gathering place for the Kohala Coast.
Today, it houses a dynamic collection of more than 30 shops—from fashion to art galleries to specialty stores to surf shops—and the most diverse dining options on the Kohala Coast, along with hula performances, concerts, cultural activities and other activities. It's a place where everyone can find something to love.
Weekly activities include koi feeding, haku lei-making classes, bike riding, yoga classes, rental gear for Big Island adventures and hula shows. Queens' MarketPlace also hosts a monthly concert series and open-air movie nights and boasts the only luxury movie theater on the island, making it a fun destination for the whole family.
If your timing is right, a string of popular annual events are offered at Queens' MarketPlace, too, including the popular Asian Fest with food tastings and a lion dance; the Great Waikoloa Ukulele Festival; and a spectacular Fourth of July celebration. Of course, the holidays are celebrated with sparkling decorations, colorful lights and special photo opportunities with Santa.
At QMP you can find the perfect aloha shirt, handcrafted gift or piece of jewelry. You'll also find that there's always something new to experience and explore.
Dining
At Queens' MarketPlace, you can sample the best of Hawaii Island's culinary delights. Dining here runs the gamut from fast-casual to full-service restaurants; from a bustling food court to a gourmet grocery store with tasty grab-and-go options. Cold-pressed juices? Check. Mochi doughnuts? Check. Poke bowls? Locally distilled rum drinks? Kona coffee? Check, check, check. Nationally known chains share the Queens' MarketPlace food stage with eateries unique to the Big Island, creating so many great selections that often the hardest choice of the day is what to eat.
The culinary diversity at QMP reflects the cuisines of the peoples and cultures that have migrated to Hawaii over the years. As such, visitors can find authentic Chinese, Japanese, Thai and other international cuisines, as well as creations from some very talented local chefs who use locally sourced ingredients in support of local farmers, fishermen and ranchers.
Architecture
Underlying the appeal of Queens' MarketPlace is its destination-appropriate architecture. Designed by Ted Garduque—whose Honolulu-based architectural firm, Garduque Architects LLC, has contributed several of the most prominent structures at Waikoloa Beach Resort.
When he set about designing the buildings at Queens' MarketPlace, Garduque's idea was to incorporate many of those influences into one location. "Shoppers can experience a bit of what old Hawaii felt like during different historical periods," he says. "We wanted visitors to get an authentic sense of the different cultural influences—from Native Hawaiian to Chinese, to missionary, to Japanese, among many others—that have made Hawaii the special place it is today."
Deliberately designed into the QMP complex are family-friendly grassy areas where kids can play, extensive koi ponds to explore, and a giant monkeypod tree where you can rest in the shade. The landscaping includes a vast selection of Hawaiian flora, including Prince Kuhio vines, palms, ulu trees, every shade of plumeria and hibiscus, kukui nut trees, ylang ylang trees, ti leaf and pikake.
Queens' MarketPlace is named after the strong female rulers of Hawaii; spread throughout the center are plaques commemorating the Hawaiian queens who contributed so much to their people's welfare and betterment.
QMP is more than just a shopping center—it's a place to experience Hawaii's unique island lifestyle.
Queens' MarketPlace
Waikoloa Beach Resort, 69-201 Waikoloa Beach Dr., Hawaii Island
Open daily from 9:30 a.m. to 9:30 p.m.
(808) 886-8822
queensmarketplace.net