Shop, Dine and Get Cultured at Kings' Shops on Hawaii Island
The lakeside shopping center within the Waikoloa Beach Resort offers cultural activities, educational displays and even a nine-hole putting course.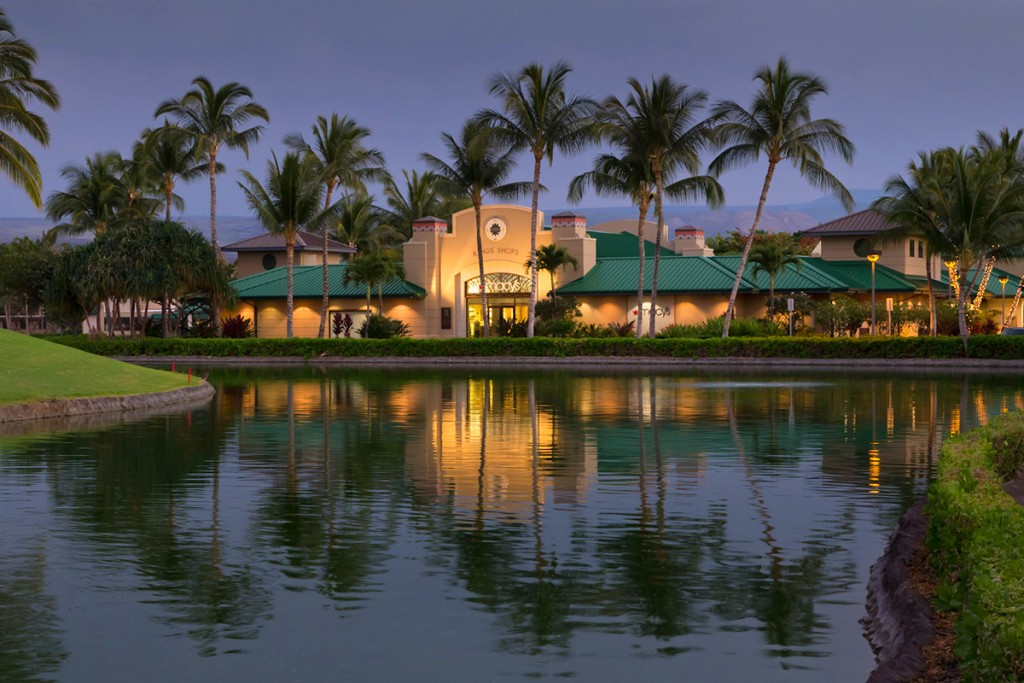 When visiting the Waikoloa Resort on Hawaii Island, Kings' Shops sprawls over 71,000 square feet and is a perfect place to eat and shop. Wander through the tropical landscape and find great stores and restaurants including brand names such as Tori Richard, Tommy Bahama and Michael Kors, and Island favorites like Maui Divers Jewelry, Crazy Shirts and Noa Noa. Kings' Shops also offers unique culinary experiences, from casual eateries like Island Fish & Chips to the fine-dining Roy's Waikoloa Bar & Grill. Whether you need a quick bite or a meal to remember, you'll find it here.
If you want some culture to go with your vacation, visit one of the new cultural installations around the center created in partnership with the Bishop Museum.
Learn about topics such as volcanoes, the natural history of Mauna Kea, the ancient village of Anaehoomalu Bay in Puako and other topics through interpretive graphic panels with images from the Bishop Museum Library & Archives and olelo noeau (Hawaiian proverbs and poetical sayings).
Volcano buffs can experience a hands-on display of different types of lava from Hawaiian volcanoes and gain perspective of the northwest portion of Hawaii Island from a 3D model that highlights points of interest including the volcanoes of Hualalai, Mauna Kea, Mauna Loa and Kohala, as well as important historical sites such as Mookini Heiau, the birthplace of Kamehameha I, and Puukohola Heiau, a war temple built by Kamehameha as he was consolidating his rule over the island chain.
If you are intrigued by the magical dance of hula, don't miss the Bishop Museum exhibit on the people and places of the dance, which includes hula implements and images from the Bishop Museum Library & Archives.
If you're looking for a break from the beach, experience the new nine-hole professional putting course on the Kings' Lake. The first of its kind on the Big Island, Kings' Shops Lakeside Putting caters to the seasoned golfer while offering a family-friendly entertainment option at the Waikoloa Beach Resort.
The course was designed and installed by Southwest Greens, a Nicklaus Design affiliate. The Kings' Shops Lakeside Putting course features a state-of-the-art artificial turf that's low maintenance and environmentally friendly.
Every Wednesday, from 8:30 a.m. to 2:30 p.m., Kings' Shops hosts a unique open-air Farmers Market. Located throughout the Kings' Shops, this distinctive market offers quality Island produce and handcrafted goods in a boutique-style atmosphere that has something for everyone. There's even live music.
Take your pick from garden-fresh organic vegetables, exotic tropical fruits, homemade jams, Hawaiian sea salt, freshly baked artisan breads, pastries and more. It's the perfect destination to shop local.
Kii pohaku (petroglyphs, literally "rock pictures") may be the closest thing to a written language that Hawaiians had, and some are thought to be astronomical symbols, road signs or markers of historic events. Join expert Michaela Larson for a moderate one-hour walk through Hawaii's fascinating history. If you visit the petroglyphs on your own, please respect this culturally sensitive area. Stay on the trail and do not approach the petroglyphs for photos or rubbings without permission of Waikoloa security. These are fragile carvings, possibly thousands of years old, easily subject to damage and erosion. The best time to photograph a petroglyph is in the late afternoon, when the shadows are long.
Throughout the week, visitors can experience fun, educational lessons in Hawaiian art and history, with hula lessons, ukulele lessons, lei making and "talk story" events with cultural practitioners. Every weeknight evening, enjoy free award-winning local entertainment from some of Hawaii Island's best musicians, including John Keawe and Widdy Loo. And on Fridays, there's a free hula show at center stage.
Learn more at kingsshops.com.