Short, sweet, scenic: Kauai's awesome nine-mile north shore road trip
The two-lane stretch of Kuhio Highway between Hanalei town and Kee Beach on Kauai's scenic north shore may be the coolest little road trip in the state.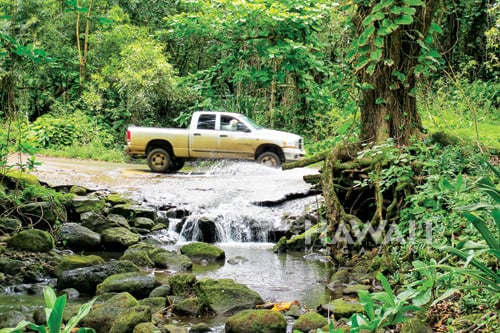 The two-lane Kuhio Highway blacktop between Hanalei town and Kee Beach on Kauai's uber scenic north shore may be the coolest little road trip in the state.
"Cool" because it meanders past some of the prettiest beaches on the island, breathtaking mountains and valleys, and amazing natural wonders, like some paradisical country road designed by Mother Nature herself for a "greatest hits" album. "Little" because, well, all of Route 560's coolness is contained in just a little over nine miles of road.
I got behind the wheel for a slow, relaxed morning and afternoon exploring Route 560: Hanalei to Kee Beach.
Fuel up
After crossing century-old, single-lane Hanalei Bridge and passing the Hanalei Valley's vast, picture-perfect loi kalo (irrigated taro fields) I arrive at The Dolphin Fishmarket (5-5016 Kuhio Highway) at 10 a.m. to grab breakfast: an ahi poke bowl. "Fresh as it gets," says a local fisherman arriving with three very large ahi caught overnight, as I order a bowl of sesame poke (cubed raw 'ahi mixed with sesame oil, green and round onion slices, roasted sesame seeds, sea salt and furikake) served over warm rice. It comes with a can of juice. I consume all of it just outside the market alongside the Hanalei River.
On the Road
Heading west past the eateries, outdoor activity companies, small retailers and residences of Hanalei at 10:20 a.m., I take in the half-dozen or so terraced waterfalls of town sentinels Hihimanu, Namolokama and Mamalahoa mountains, freshly swollen with overnight rain. Enticing sea-level views of Hanalei Bay, its aquamarine waters calm and serene today, drift by as Route 560 winds to Lumahai Beach (between mile markers 5 and 6), my first beach of the day. I park under the tall ironwood trees blocking much of Lumahai's wide, three-quarter-mile-long expanse of white sand around 10:45 a.m. and make sure I'm packed for some beachcombing and reading. Lumaha'i may be where Mitzi Gaynor's Ensign Nellie Forbush famously washed Rossano Brazzi's Emile de Becque out of her hair in the 1958 film version of the musical South Pacific, but its waters are unsafe for swimming most of the year due to currents and undertow. I opt to walk its entire length, from Makahoa to Kolokolo Points.
Further down the road, around noon, I stop at very-definition-of-rustic Wainiha General Store (5-6607 Kuhio Highway)—my final chance to buy ice-cold drinks before end-of-the-road Kee Beach. My next stop isn't Kee, though. It's Makua Beach, a couple of miles beyond the single-lane double bridges crossing the Wainiha River. Gazing across the river's two tributaries, I attempt to visualize through tall grass on the other side if cars are waiting to cross. (States the road sign near me: "Yield. Local courtesy is 5-7 cars. Wait until both bridges clear.") I take a chance and find both clear.
After running my rental through a rain-swelled stream coursing across a dip in the road, I pull into the Makua Beach parking lot (between mile markers 8 and 9) at 12:10 p.m. Swimming, surfing and snorkeling is prettty good at Makua—a.k.a. "Tunnels Beach"—especially on calm days like today, so I take a dip. Makua's white sands stretch for about three miles, revealing many coves, besides its main beach, ripe for exploring, but I follow my swim with a walk into the low-slung maw of Maniniholo Dry Cave, across the road. A short stroll on its sandy floor leads to its dark back end, hidden just enough from daylight and the road to make me feel invisible.
Back in the driver's seat at 1:05 p.m., my next stop is finally Haena State Park and Kee Beach. The park's smallish parking lots always overflowing, it's not unusual to find cars parked bumper to bumper along Route 560 up to a half-mile from the beach near Haena's entrance. I find an empty space near Waikanaloa Wet Cave, a quarter-mile from Kee. Its bottom a brackish aquamarine pool not fit for swimming, I only peer into it briefly before walking the road the rest of the way to Kee.
Swimming and snorkeling are popular at Kee, but I opt to explore Haena's lengthy, forested shoreline and a brief uphill portion of the Kalalau Trail, which winds 11 miles west along the Napali Coast from its trailhead here. I make way for backpackers, some worse for the wear, others smiling hello after overnight stays on Napali. Around 2:20 p.m., hunger reminds me of a post-beach promise I made to myself.
Wind Down
Back in Hanalei at 2:55 p.m., I reach the window of the Hanalei Taro & Juice Co. truck (5-5070 Kuhio Highway) just in time. In time, that is, to pick up a twofer kalua pig taco plate—two corn tortillas filled with generous helpings of smoky pulled pork, shredded cabbage, tangy lomi salmon and chipotle aioli and a thick, papaya-banana-guava taro smoothie before closing.
I take all of it to the shoreline parking area of very nearby Hanalei Bay Beach Park (end of Weke Road) at 3:15 p.m. and wash it down with a sunny afternoon view of the famously picturesque mountains and bay.
Road trip pau (finished).