Shuttered Waikiki Natatorium War Memorial slated for renovation as new beach area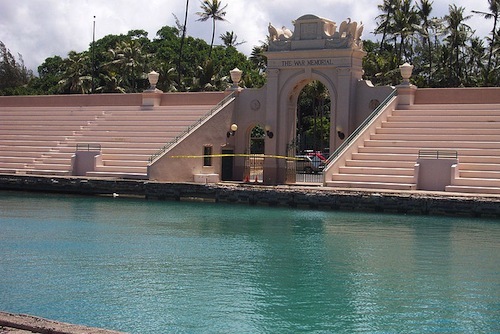 A plan is moving forward for renovation of the Waikiki Natatorium War Memorial complex, the site of a now-dilapidated 86-year-old saltwater-fed swimming pool and monument to Hawaii residents who served in World War I.
A news release issued yesterday by the office of Honolulu Mayor Kirk Caldwell announced that city and county officials are forging a partnership with the State of Hawaii through which the natatorium will undergo a $18.4 million makeover. According to the plan, the crumbling pool structure will be removed and a new public beach (Memorial Beach) will be created. The site's famous archway will remain intact and moved inland. Built in 1927, the memorial honors the nearly 10,000 Hawaii residents who served in World War I (101 residents died in the war).
"The future of the natatorium has been discussed and debated for years, and it's time to get the job done," Caldwell stated in the news release. He continued, "The current structure is an eyesore and a safety hazard, and does not honor our veterans as intended. Preserving the arches and creating a new beach is a respectful and more economical way to resolve the situation." Complete restoration of the natatorium site is estimated at more than $69 million, according to city officials.
During its early years, several world-class athletes swam in the natatorium's pool, including legendary Hawaii surfer and Olympic swimming star Duke Kahanamoku. (Kahanamoku was the first swimmer to try out in the pool when it opened on Aug. 24, 1927.) Fellow Olympians Buster Crabbe and Johnny Weismuller also swam at the natatorium.
Due to disrepair, the pool was closed in 1979. In 1995, the National Trust for Historic Preservation included the natatorium on its list of the 11 most endangered historic sites in the U.S. The memorial's facade was partially refurbished in 2000.
Renovation ideas have long been debated by groups such as the Kaimana Beach Coalition, which has favored tearing down the pool structure and replacing it with a beach area, and the Friends of the Natatorium, which supports full restoration of the site. A city-sponsored task force evaluated various options during a series of public meetings held in 2009. The group voted to recommend the type of renovation that city and state officials are now pursuing.
Before the proposed renovation can get under way, an environmental impact study will be conducted at the site. For more information about the plan, click here.