Skip the Shrimp Trucks and Hit Up These Oahu Eateries Instead
The road to the North Shore is dotted with hidden gems that serve croissants, malasadas and farm-grown acai bowls.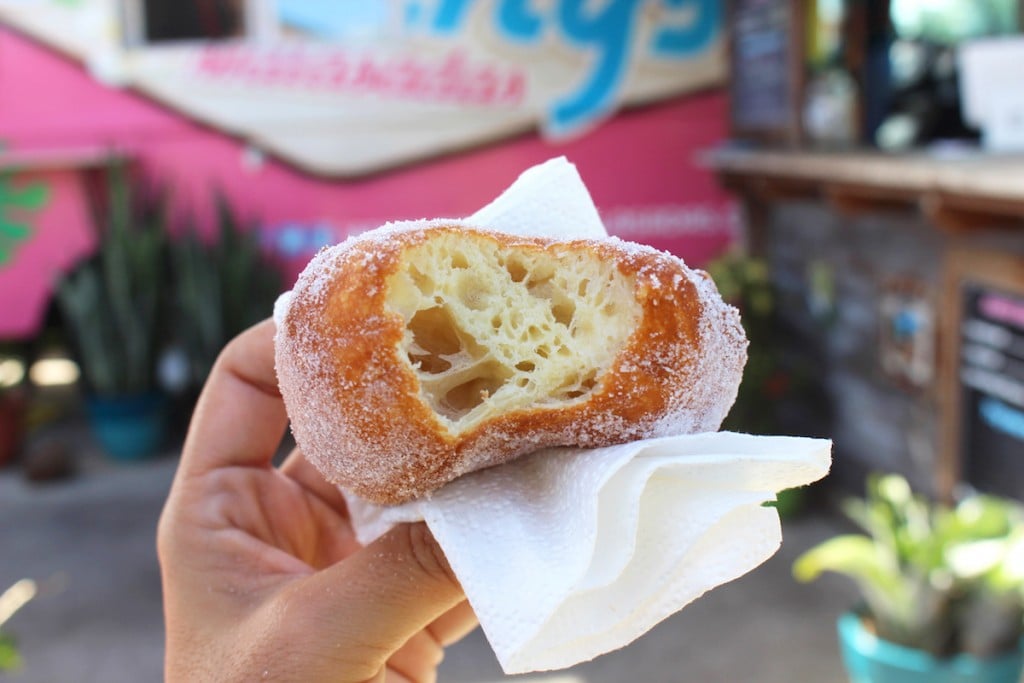 We know the appeal of those colorful food trucks along Kamehameha Highway en route to Oahu's fabled North Shore that serve plates with mounds of shrimp deliciously drowning in garlic and butter. We stop, too.
But don't skip these small local eateries along the way. You may wind up eating your fill before you even hit that first shrimp truck.
Origin Bakeshop (CLOSED)
Find this charming French-inspired bakery in a 20-foot shipping container on the side of Kamehameha Highway, right before Kualoa Ranch. Wife-husband owners and trained pastry chefs Andrea Hidano and Jeremy Rousselet opened this bakery in March with perfect pastries, from buttery croissants to elegant cookies to a decadent pain Suisse stuffed with chocolate chips and custard.
SEE ALSO: Find Authentic French Pastries in a Nursery in Windward Oahu
Origin Hawaii, 48-449 Haupoa St., Kaneohe, Oahu, (808) 239-8535, @originhawaii
Waiahole Poi Factory
Constructed in 1905, the Waiahole Poi Factory in Waiahole Valley churned out poi, the starchy food paste made from taro, for nearly seven decades. It closed in 1971, then reopened as an art gallery showcasing Native Hawaiian art well into the 1980s. Then the factory was transformed yet again, this time into an incubator kitchen for local families to rent out.
In 2009, the Hoe Family, which owns the factory, started to sell home-style plate lunches and freshly pounded poi—and the concept was a hit. Today, it churns out more than 100 plate lunches a day. The poi, which is pounded fresh every day and made from kalo (taro) grown in the nearby valley, sells out fast.
The most popular plate lunch is the classic laulau-kalua pig combo, which comes with lomi salmon, haupia (coconut pudding) and your choice of white rice or poi. (Go with the poi.) There are also some must-try sides, including the hoio (fiddlehead fern) salad, squid luau and the popular Lady of Waiahole dessert (a combination of warm kulolo—a type of taro-coconut dessert—and haupia ice cream).
48-140 Kamehameha Highway, Waiahole Valley, (808) 239-2222, waiaholepoifactory.com
Kahuku Farms
It's hard not to stop at the friendly yellow roadside farm café in Kahuku—especially when you see its menu: grilled veggie panini, fresh fruit smoothies and roasted vegetable soup, all packed with produce grown on this 5-acre farm. The acai bowl, offered seasonally, is a special treat; Kahuku Farms is the only place on Oahu where you can get an acai bowl made from the berries of the South American palms grown and processed on-site.
We also love the farm pizza, a tomato-eggplant bruschetta topped with mozzarella and macadamia nut pesto. Pair it with freshly squeezed lemonade or a slice of grilled banana bread with vanilla caramel. (Yes, the vanilla is grown here, too.)
56-800 Kamehameha Highway, Kahuku, (808) 628-0639 for tours, (808) 293-8159 for café, kahukufarms.com
Da Bald Guy
There's no shortage of food trucks on the North Shore—especially at the old Kahuku Sugar Mill, where you can find the popular Giovanni's Shrimp Truck. But Da Bald Guy—which is actually run by a father and son, both bald—has history on its side. Loyal customers seek out the truck's fried ahi poke plate, chop steak with grilled onions and braised boneless kalbi. There's even a breakfast menu—hard to find in this 'hood—that pairs two eggs and rice with a variety of proteins, including link sausage, luncheon meat and teriyaki-furikake Spam.
Kahuku Sugar Mill, 56-565 Kamehameha Highway, Kahuku, (808) 779-0980, @dabaldguy_foodtruck
Penny's Malasadas
In the parking lot of the Polynesian Cultural Center in Laie is quite a find: light, fluffy malasadas out of a pink food truck. Penny's Malasadas specializes in the Portuguese doughnuts, fried to a golden crispness and dusted in fine white sugar or cinnamon-sugar. You can get them filled, too, with rotating flavors, including custard, coconut cream, lilikoi (passion fruit), pineapple and Maui lemon. Recently, the truck started selling a savory barbecue malasada sandwich of sorts, stuffed with huli-style chicken that's tossed in a house-made barbecue sauce.
Hauʻula Kai Shopping Center, 54-316 Kamehameha Highway, Hauʻula, @pennysmalasadas
Waiahole Nursery & Garden Center
The Garden Bistro at the Waiahole Nursey & Garden Center is a nice respite from carb-heavy plate lunches. Here, you can opt for a turkey-pesto ciabatta sandwich, chicken tacos or a fruit smoothie. You can even get shave ice here, and graze as you gaze at the postcard-perfect view of Waiahole Beach Park.
SEE ALSO: Waiahole Nursery & Garden Center is a Garden Lover's Dream
48-190 Kamehameha Highway, Kaneohe, waiaholenurserygardenandfloralgifts.com