Sleep on the rim of an active volcano at Volcano House
Witness Pele's majesty from your bedroom at this unexpected lodge overlooking Halemaumau Crater.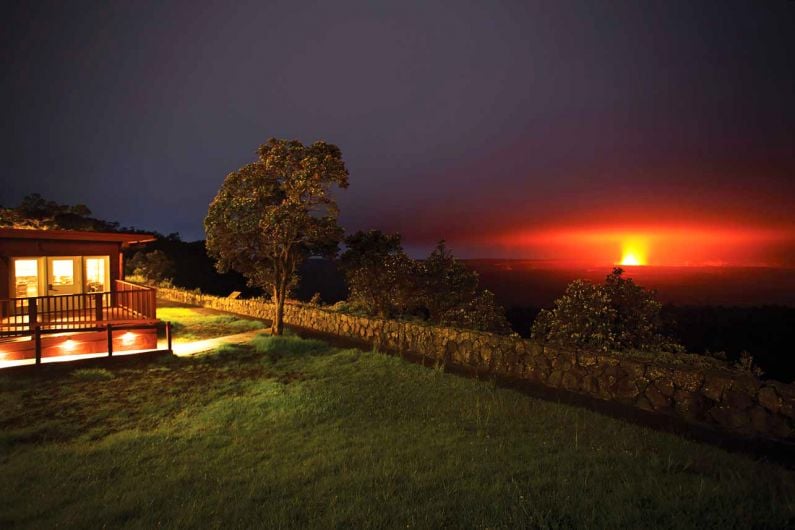 Rust-colored with a clapboard exterior, baseboard radiators and cozy furniture, the Volcano House is more ski lodge than sunny resort, defying typical Hawaii hotel expectations. Yet its superlative location, overlooking the park's molten lava lake within Halemaumau Crater, is quintessentially Hawaiian. At 4,000 feet and surrounded on three sides by rain forests filled with 10-foot-tall ferns, gnarly ohia and warm sulfuric steam emanating from unexpected crevasses like a natural fog machine, the setting feels prehistoric; a befitting otherworldly realm for the fire goddess Pele. Right across Crater Rim Drive from the main visitor center, Volcano House offers visitors the only chance to sleep within easy view of her fiery flicker. From 20 of its 33 rooms—including my No. 19—guests can witness the electric glow of the bubbling lava lake bouncing off its own steam column at night from the comfort of a plush hotel mattress. No other place in Hawaii and few places on the planet can promise such a bedtime spectacle.
Hawaii Volcanoes National Park, 1 Crater Rim Drive, Volcano, Hawaii Island, (866) 536-7972, hawaiivolcanohouse.com.