SLIDESHOW: 2010 Kamehameha Day Lei Draping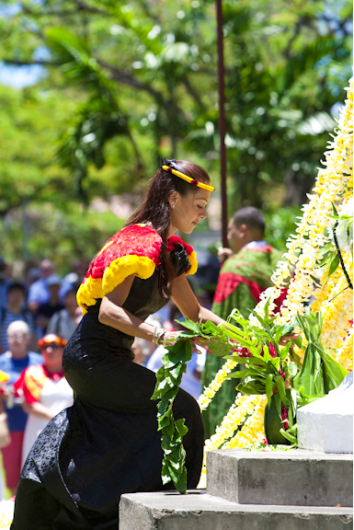 It's the most colorful moment of Kamehameha Day. Every June 11, Hawaii celebrates the first king of its united island kingdom, King Kamehameha I.
King Kamehameha Day is a holiday for most of the people in the state, but not the hardworking HAWAII Magazine staff.
Our staff photographer, David Croxford, was on hand to capture these images from the lei draping ceremony. The famous statue of Kamehameha I, across from Iolani Palace, is draped each year with fresh 25-foot lei, strung that morning by volunteers.
It takes a Honolulu Fire Department cherry picker to drape the lei on the 8-1/2- foot statue on its 10-foot concrete base.
The draping is accompanied by a full Hawaiian ceremony, with the Royal Hawaiian Band and a "company of warriors," or in Hawaiian, Mamakakaua, and a presentation of hookupu, or ceremonial offerings.
We thought you'd like a peek at the ceremony. Here's our photo slideshow from earlier this morning. (Click the slideshow frame to enlarge the photos.)